Taylor Swift Revives the Theatrical Concert Era
DIRECTOR: SAM WRENCH/2023
Two things you should know about the person writing this review:
Taylor Swift has been my favorite artist since I was 15
I did not see the Eras Tour this summer, though my attempts to get in included flying to Denver and circling Empower Field in the hopes of finding tickets for less than $900
Whether or not those things are true of you, you probably already know whether The Eras Tour is for you. In attempting to pawn off an extra (non-refundable) ticket, two of my former friends insisted they were not big enough fans to take it. Another friend, more aware of my level of generosity, preferred to wait until she and I drive to Indianapolis next fall—yes, more than a full calendar year from now—to experience the show in person. Never fear! The ticket did not go to waste. A fellow filmgoer's seven-year-old niece jumped in our group, and then her mother and a friend bought tickets at the last minute to join us, too. In total, a party of 8 women ranging from 7 to 60-something helped fill a packed theater opening weekend for an almost-34-year-old pop star.
The Eras Tour is not Swift's first concert film. Her 1989 tour released on Apple TV+ (remember when she was boycotting Spotify?), her Reputation Stadium Tour still lives on Netflix, her Lover show in Paris aired on TV early in the pandemic, and Folklore: The Long Pond Studio Sessions was a COVID bubble version of a show mashed with conversations about songwriting philosophy on Disney+. But Eras isn't bothering with discussions of artistry, and unlike 1989, there are no talking heads explaining staging or special guests. This is only performances of her greatest hits from the 10 eras of her career since 2006: Lover, Fearless, evermore, reputation, Speak Now, Red, folklore, 1989, Taylor Swift, and Midnights. For those of us who flew more than 800 miles and still couldn't get tickets, this is more than enough.
Because Swift is a "Mastermind" always "scheming like a criminal" to make us love her and "make it seem effortless," it's no surprise this is a home run for fans new or returning to the Eras Tour. I never heard a bad review from anyone who made it in, but part of its hype was the very scarcity driving Congress to investigate Ticketmaster, which makes this theatrical event a (self-aware and profitable) benevolent gesture to let more people in on the fun. That's even when concert and music documentaries are a dime-a-dozen on streaming: Billie Eilish is on Apple TV+; Coldplay performs on Amazon Prime; the Jonas Brothers have two films on Prime to promote their album Happiness Begins; Beyoncé's Black is King on Disney+ complements the Lion King remake, and her Coachella-centric Homecoming on Netflix is one of the few exercises transcending a genre that feels like most subjects' afterthoughts. Streamers would've plunked down any chunk of change for this show, but Swift and Beyoncé, with her Renaissance theatrical release in December, have graduated beyond that execution. (As an indicator of disposability, good luck finding a legal way to watch many of these features several years after their debut.)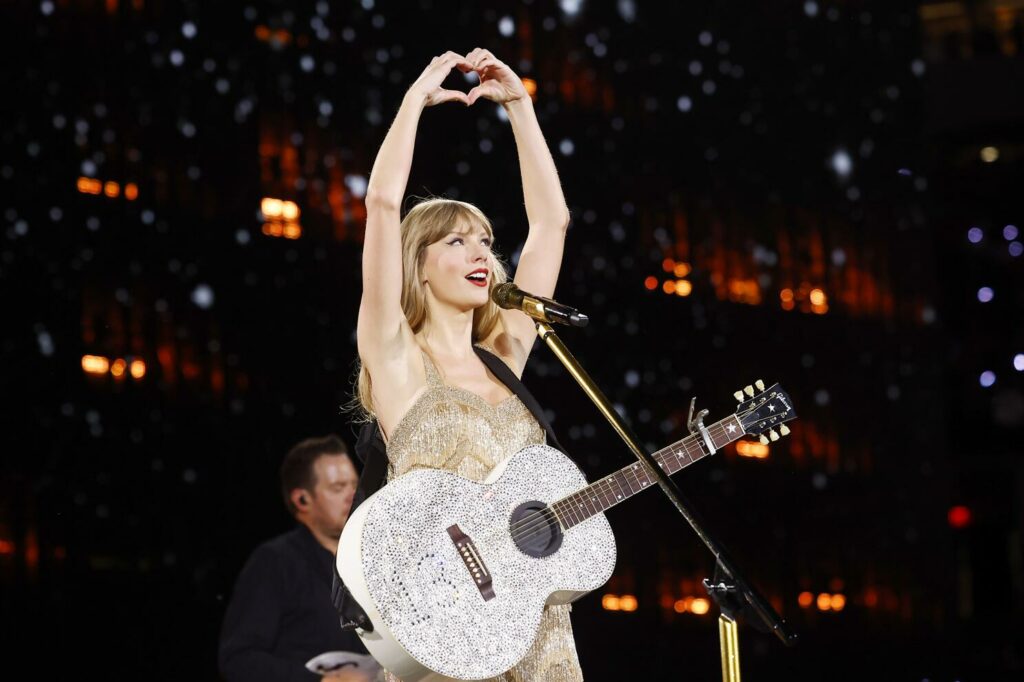 To be fair to those other musicians, theatrical releases are only an option for acts of a certain caliber. In this century, only Justin Bieber, Miley Cyrus, Michael Jackson, the Jonas Brothers, One Direction, and Katy Perry have been able to make a splash in the theatrical arena, and even then, conversation around those movies is often focused on divorcing Russell Brand or forgetting to wear a seatbelt (which, frankly, might drive me crazy enough to grind up on Robin Thicke, too). Only time will tell if The Eras Tour is this generation's A Hard Day's Night, The Beatles at Shea Stadium, The Last Waltz, Stop Making Sense, or Woodstock, but anyone who has seen it knows it has a better shot being remembered alongside those films than Cool as Ice, Glitter, or one of Prince's forgotten post-Purple Rain vehicles.
Eras is the closest I'll ever get to what I want on a deeper level than any seat in a football stadium: an up close, intimate show from an artist who has inspired me for 15 years. Nothing about Sam Wrench's directing feels revolutionary, but it's enough to make gymnasts under the age of 10 cartwheel through the aisles, teens dance on the stairs, and strangers swap friendship bracelets for almost 3 hours. Crowd shots are kept to the minimum needed to establish the fervor in SoFi Stadium in Los Angeles, and edits are matched so well that the footage is seamless. Jumbotrons are visible, but Wrench keeps the focus on the star as she sings, dances, and maintains impossibly-well-styled bangs through almost two decades of her iconography.
There's no need for filmmaking flourish when Swift's voice and moves are as strong as they've ever been, and she and her team have created a show to highlight her strengths. In the folklore and evermore eras, the moss-covered cabin and piano tap into the dreamy, feminine whimsy she discovered in her halcyon Speak Now days. The stage may be minimalist, but the choreography in the rutilant Red and reputation eras lets her vocalists and dancers (especially charismatic St. Louis native Kameron Saunders) magnify the spectacle with sequins, floor animations, colossal fans, and precise harmonies you might miss in an arena. In her dinner table diorama performance of "tolerate it," her theatrical emotionality is on such display it betrays her as a musical theater wonk, even a bit of a dork. In her 10-minute version of "All Too Well," the 360-degree rotation as she strums the guitar reveals she's a goddess who can ensorcel both crowd and camera. Off stage, she is swinging back to the "never complain, never explain" mentality of reputation, sitting for fewer interviews, minimizing social media use, and keeping relationships closer to her bedazzled chest than in the 1989 days. Even so, The Eras Tour captures the onstage vulnerability that makes millions of people believe she could be their best friend.
Releasing this without the support of a major movie studio confirms two more things about Swift:
Her puissance in an era (sorry) dominated by niche algorithmic content
If this film had been announced before her 2024 U.S. leg, my girlfriends and I still would've bought tickets for Indianapolis, but some might find this movie even better than the concert experience. Easy parking? Comfortable seats? No weather concerns? Fewer drunken neighbors? Movie theater tickets and snacks that feel cheap because they're not at stadium prices? I assure you Swift, who tweets out positive reviews (hey, Tay!) and Taylurks (or, interacts with fans online, occasionally replying with an appropriate heartfelt or silly comments), considered all of these things in her "cryptic and Machiavellian" mind.