Bale, Robbie, Russell, and Washington Fight for Love, Art, and Hope (in Semi-Historical Fashion)
DIRECTOR: DAVID O. RUSSELL/2022
If last week's box office is any indication, I may be the only person in America who liked the movie Amsterdam.
I've avoided reviews intentionally (and the few people who saw it unintentionally), so I can't be sure why this period dramedy filled to the brim with capital-M Movie Stars from a five-time-Oscar-nominated writer/director flopped its opening weekend. Perhaps it's because the premise wasn't clear from the trailer, which was more a mood piece than a SparkNotes summary. Perhaps the story is too complex, hopping decades and tangling dozens of characters in a forgotten historical conspiracy. Perhaps it's because its opening title card reads, "A lot of this really happened," but the credits end in the boilerplate disclaimer, "Any similarity to actual persons, living or dead, or to actual events or firms is purely coincidental."
My interest in why David O. Russell's latest didn't catch on, however, pales in comparison to my interest in the film itself. The short summary of Amsterdam: In 1930s New York City, Christian Bale and John David Washington must clear their names after being framed for murder. The longer summary: Well, where to begin?
Writer/director Russell begins just as Burt Berendsen (Bale) and Harold Woodman (Washington) witness a murder in circumstances so compromising a jury would have trouble finding reasonable doubt of their guilt. But with a near-literal record scratch and "I'll bet you're wondering how we got into this situation" freeze frame, Amsterdam flashes back to Burt and Harold's blossoming friendship with nurse Valerie Voze (Margot Robbie) while fighting in Europe during World War I. They sojourn into a post-war reverie in Amsterdam, but in present 1933, they are varying levels of miserable, Burt because of his floundering marriage (to Andrea Riseborough), Harold because of the racism he and fellow veterans (like Chris Rock) have returned to in America, and Valerie because—wait, where is Valerie? In their quest to prove they did not kill their former commanding officer (Ed Begley Jr.), his daughter (Taylor Swift) informs them of suspected foul play, wealthy patrons (Rami Malek, Anya Taylor-Joy) introduce them to General Gil Dillenbeck (Robert De Niro), and they team up with covert intelligence operatives (Mike Myers, Michael Shannon). Timothy Olyphant and Zoe Saldana show up as well, and if the runtime were any longer, I'm sure Matt Damon would've weaseled in one his surprise cameos.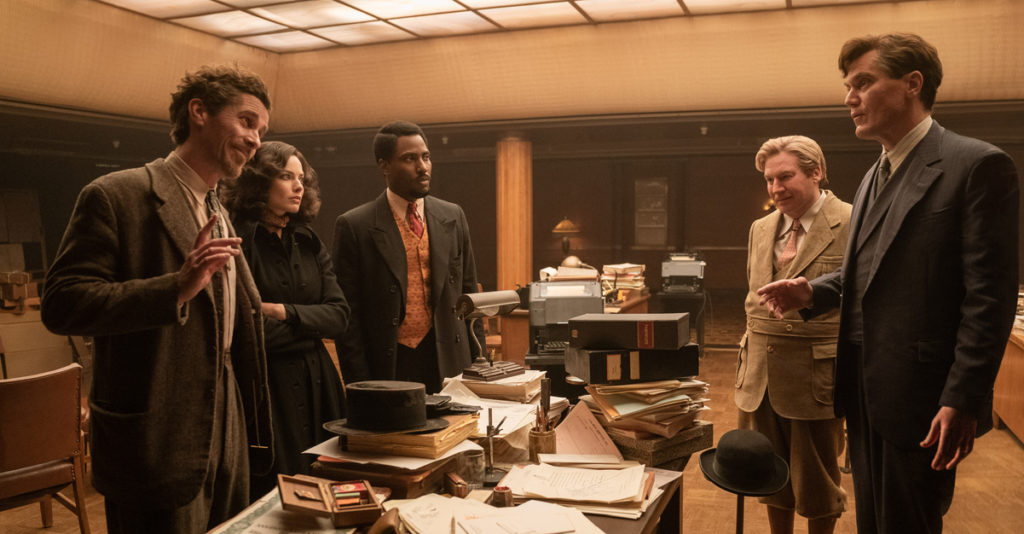 At times Amsterdam feels like a loose collection of episodes, and in some scenes I wasn't sure if the slack-laden thread would hold it all together. But I don't trust every film's architect like I do David O. Russell, whose semi-improvised techniques gave the 2010s two of its best character dramas (Silver Linings Playbook, Joy) and the only compelling parts for Robert De Niro outside of Nancy Meyers or Martin Scorsese projects. (Don't @ me about the Scorsese cosplay known as Joker.) Russell took inspiration from a real (though failed) political coup d'etat, but it's no political missive a lá Adam McKay, which I suspect is why De Niro's General bears resemblance to a real person but doesn't bear his real name.
I've had my share of cynicism in the last few years, and I'm happy to welcome back movies as sumptuous and sentimental as this one.
Filmmakers (and for that matter, film critics) are not historians, and Russell isn't as interested in accuracy or statements as in his fictional characters. If Amsterdam were more focused, it would be easier to explain its plot, and if it were accurate, it would feel more "important," but it would not be the impressionistic memory piece we were gifted. Burt, Harold, and Valerie are recalling their pivotal moments through a nostalgic filter of silly songs, abstract art, and spontaneous dance parties. Their found family is a trouvaille in wartime and a depression, and it's the only weapon powerful enough to threaten a cabal villainized as much for their philistinism as for their killing streak.
Their joie de vivre is part of why Amsterdam is so winsome, but it's not the only reason. Jewel tones drench the costumes, Daniel Pemberton's frothy score romanticizes the smallest moments, and the dialogue clips at the pace of Gilmore Girls patter. Its off-kilter humor comes in odd moments, such as Myers' pronunciation of the word "glass," which made me laugh every time, or with Malek's subtle facial tics. (If only 007 had known how to use him!) The whole cast seems to be having a delightful time, even players not used to their full potential, like Olyphant, Rock, Saldana, and Swift. Who knew one of Hollywood's favorite bad guys, Michael Shannon, could be so charming? Who knew the brooding Batman Christian Bale could be so kooky? And why can't more onscreen lovers spark with chemistry like Margot Robbie and John David Washington's?
I suspect Amsterdam hangs together better in a second viewing when less energy is needed to keep track of the overlapping storylines—this is, after all, a film about the dehumanization inherit to fascism, the dangers of big business, the healing power of art, the failure of the American Dream, how we fail our veterans, choosing love over selfish need, and the symbolism of birds. Grounding it all together, though, is a reckless hope we can make beautiful things out of a grotesque world. Not-just-a-Manic-Pixie-Dream-Girl Valerie sums up Amsterdam's worldview when she says love and art are the only things worth living for—I've had my share of cynicism in the last few years, and I'm happy to welcome back movies as sumptuous and sentimental as this one.