Richard Linklater's 12 Year Project is a Love Letter to Texas and the Difficulty of Growing Up
Director: RICHARD LINKLATER/2014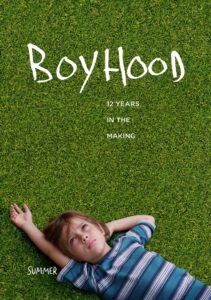 One of my favorite trilogies is Richard Linklater's "Before" Trilogy featuring the films Before Sunrise, Before Sunset, and last year'sBefore Midnight.  Before Sunrise came out in 1995 and ended with an obscure ending that left the outcome in doubt, perfectly fitting the conversation Ethan Hawke and Julie Delpy had while walking around Vienna.  9 years later, Before Sunset debuted, picking up 9 years after Before Sunrise.  Another 9 years passed and we got one of the best films of 2013 with Before Midnight.  Each film saw the story pick up another 9 years later.  We saw Hawke and Delpy as 20-somethings, then caught up with them in their 30's, seeing if they lived up to their idealized notions from the first film.  For Midnight, we now find them in their 40's wondering if their relationship can withstand the reality of their life and how it has fallen short of their romantic notions of yesteryear.  The amazing thing about these films is how organic they feel and how we've been able to watch one couple age on screen through this trilogy over the course of 19 years.  But with the "Before" Trilogy, we only got snapshots.  Vignettes.
With Boyhood, Richard Linklater has taken the next natural step.  Taking the "day in the life" feel of his cult-classic Dazed and Confused, Linklater has put together a film that chronicles the life experiences of Mason as he grows from age 6 to 18.  What makes this unique is that Linklater cast Ellar Coltrane as Mason when he was 6, and every year filmed more of the story of Mason's life.  By the end, we see young Coltrane literally age 12 years on screen with the same actor playing Mason at every age.  Patricia Arquette and Ethan Hawke play Mason's divorced parents, and we also see them age 12 years on screen as life marches on.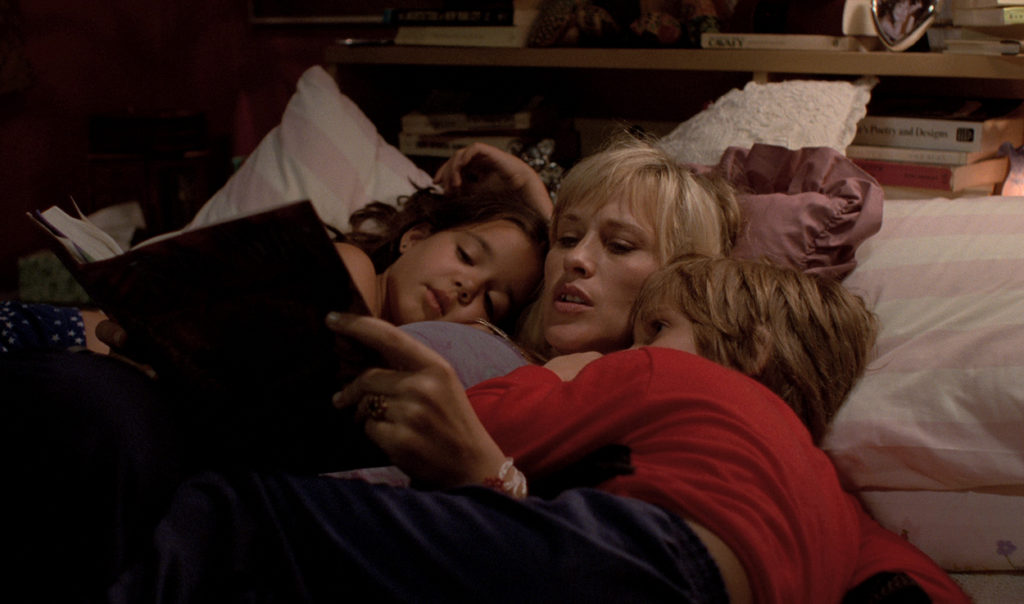 And while we have seen this somewhat with Hawke's character in the "Before" films, to spend 12 years filming the same actors for one movie is a cinematic first.  So much that could have gone wrong didn't.  To see a child literally transition from being a 1st grader to entering junior high, experiencing puberty, then high school, and ultimately college is an amazing feat.  For this, Linklater is to be commended. Linklater also cast his daughter, Lorelie Linklater, as Mason's sister Samantha. Like Mason, she too grows up before our eyes.
The film itself is equally amazing.  The story simply captures one boy's journey to survive growing up with a single mother who can't seem to stop finding and inviting alcoholic and abusive men into their lives, and a father who can't seem to grow up and accept responsibility.  Grounded in Linklater's home state of Texas, the audience will get an authentic feel of what Texas is all about.  In a love letter to the Lone Star State, Boyhood sees Mason's journey begin in East Texas, then on to Houston, then San Marcos, up to Austin, and finally out west, culminating in Big Bend National Park.  This westward movement also mirrors a poetic manifest destiny happening in Mason's life as he finally grows up and begins his independence.
Linklater gives us slices of Mason's life, never telling us which year it is directly, but giving us the means to discover it as the story unfolds.  For some this might cause frustration as Mason looks different at some of the ages, and this asks the audience to reorient themselves to Mason and connect the details of what has come previously.  For me, it was a natural way to progress the story by disrupting us in much the same way that everyday life disrupts us all.
Having become a voice for youth in the way he displayed the 1970's in Dazed and Confused, and by capturing the spirit of Generation X in the "Before" Trilogy, Linklater forges forward in Boyhood, capturing the spirit of this millennial generation.  Beginning in 2002, and culminating in 2014, today's high school demographic will still feel as if Linklater is a director for them, much like he is for Generation X.  From the vantage point of youth throughout the film, to the modern 2000-era soundtrack, Boyhood hits all the right notes.
For those unfamiliar with Linklater's work, the appearance of a lack of plot and a nearly 3 hour run time might scare off the uninitiated.  But if you sit and watch, you will find yourself, no matter your age, identifying with the journey.  What is shown at every age of Mason's life connects us to our own growing up experience, and the cultural and youth-based milestones we all had to survive before we could emerge into adulthood.
Boyhood debuts in July, the middle of the action-packed summer break, and will no doubt find itself in a struggle to reach the youthful audience it represents in its story.  For those who are able to see it, Boyhood will a feel like a long lost friend who has finally found you and is ready to bring you back home again.