A Dog, His Boy, and a Cinematic Trip in the Wayback Machine
DIRECTOR:  ROB MINKOFF/2014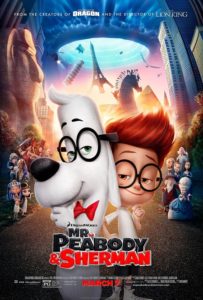 This is Ty Burrell's moment. He is TV's reigning dopey dad as Phil Dunphy on Modern Family; he has a supporting role in the upcoming Muppets Most Wanted, and this weekend he becomes the voice of a decidedly less goofy dad, Mr. Peabody, in Mr. Peabody & Sherman.
Mr. Peabody is not just a dad, of course. He's also the world's most accomplished dog. In fact, despite being a dog, he's the world's most accomplished person. Inventor, explorer, entrepreneur, musician, scholar, and the adoptive father of young Sherman (Max Charles) – is there anything Mr. Peabody can't do? (Perhaps constructing a good joke is beyond him, as he delivers one groaner of a pun after another throughout the movie.)
The role is a win for Burrell who uses his smarmy delivery to good effect as the upright, devoted, but somewhat supercilious canine extraordinaire. Whether the movie is a win for it's source material is a bit harder to determine.
Mr. Peabody and Sherman were part of the anarchic world of Rocky and His Friends (later renamed The Bullwinkle Show), a pioneering animated TV show created by Jay Ward in 1959. Peabody's Improbable History was a show-within-a-show, offering warped time travel tales in which Mr. Peabody set historical figures on the right track. Beethoven wants to bake instead of composing? Edgar Allen Poe needs a proper scaring in order to write horror stories? Mr. Peabody is the man, er, dog for the job. In 91 episodes, Mr. Peabody and his boy traveled in their Wayback Machine to fix the past by any means necessary. The animation was bare bones, the jokes were often aimed at adults, each story ended with one of those terrible puns – and the show entered the public consciousness in a lasting way. After all, the largest internet archive is called The Wayback Machine.
Dreamworks' Mr. Peabody & Sherman tries to honor the memory of Jay Ward's work while still updating his world. The animation is now shiny CGI and the Wayback Machine is a glowing red orb rather than the clunky scientist's lab of yore. And in this new version of history, Mr. Peabody and Sherman are more likely to break the past than fix it. The problem is Penny (Ariel Winter), a first grade mean girl who finagles her way onto the Wayback Machine with Sherman. The two unaccompanied minors travel to ancient Egypt (for starters) and mayhem ensues.
The animation is now shiny CGI and the Wayback Machine is a glowing red orb rather than the clunky scientist's lab of yore. And in this new version of history, Mr. Peabody and Sherman are more likely to break the past than fix it.
That's the framework for what's best about this movie. Unfortunately, the filmmakers wanted Mr. Peabody & Sherman to have a heart, and something important at stake. Consequently, the father/son relationship is initially strained, and then genuinely threatened when a child welfare worker, Ms. Grunion (Allison Janney), threatens to revoke the adoption that binds this family together.
(This leads me to an aside. Has anyone noticed how many children's movies revolve around adoptions?Stuart Little, Despicable Me, Kung Fu Panda 2, Meet the Robinsons, Elf – and a new production of Annie is in the pipeline. What's the deal?)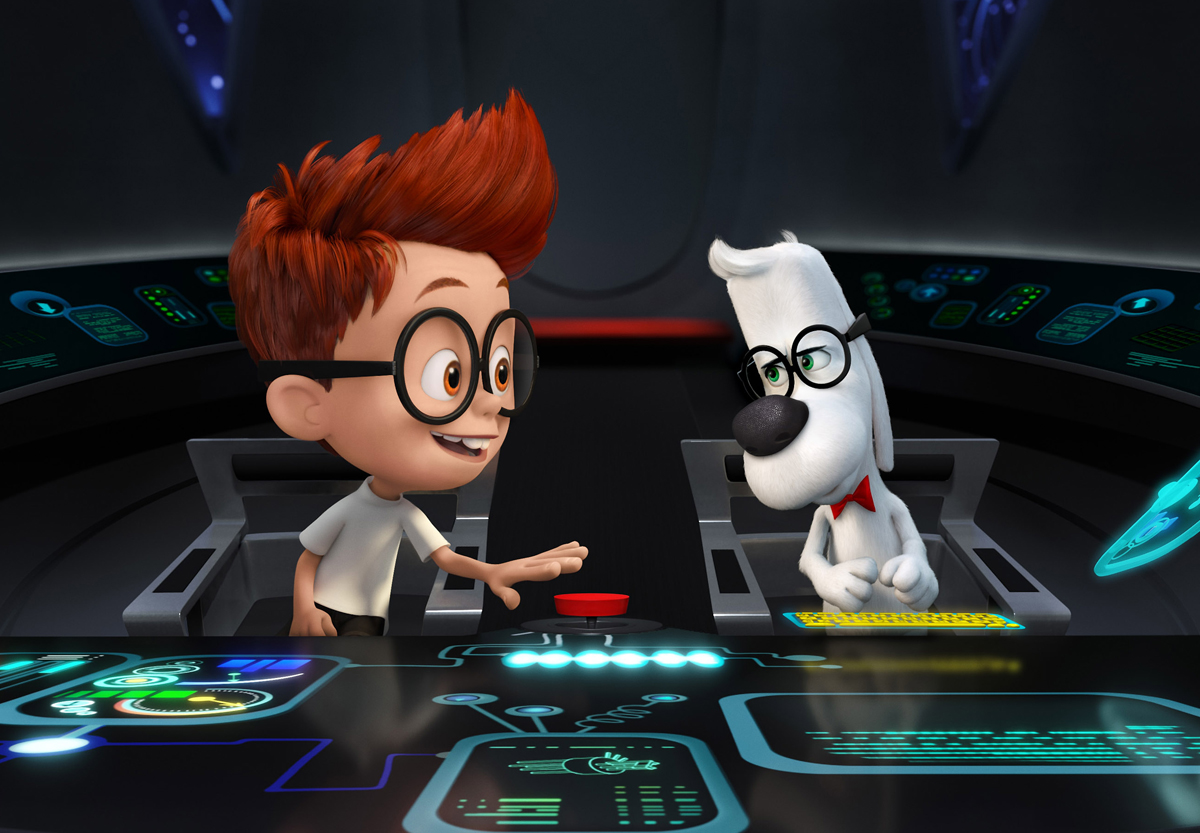 But back to Mr. Peabody and his boy. The themes of Sherman's growing up and wrestling with his identity ("I'm not a dog!"), as well as the peril represented by the ferocious Ms. Grunion, are far less fun than the silly historical humor. Watching the ruination of King Tut's wedding, or seeing how Mr. Peabody finally gets a smile out of Mona Lisa (Lake Bell) brings back memories of Jay Ward's absurdity and satire. And as in Peabody's Improbable History, there are some jokes that are aimed right over children's heads. I saw the movie with my two young daughters and made a vain and, I think, misguided attempt to explain an Oedipus joke. When Bill Clinton showed up later and delivered a line that had all of the adults in the theater laughing, I decided my daughters would just have to stay confused about that one.
The cast is strong, with Stephen Colbert and Leslie Mann as Penny's parents, Stanley Tucci as Leonardo da Vinci, and Patrick Warburton in full lunk mode as Agamemnon. Many other historical figures show up for a sequence in which the past visits the present, and memories of Bill and Ted's Excellent Adventure are impossible to ignore. Let's call it an homage rather than imitation.
Despite its fair share of potty humor, Mr. Peabody & Sherman seems tamer and less pointed than its source material. If you're looking for social satire you're better off going to see The Lego Movie. But unlike George of the Jungle, Dudley Do-Right, or even Rocky and Bullwinkle themselves (all characters who have wound up in dreadful live action movies), Mr. Peabody and Sherman have survived the transition to film largely in tact. As in the old days, they charm the kids and get knowing laughs from the adults. And Mr. Peabody is able to give us more of his terrible puns. Admit it: you always looked forward to those puns. Maybe Mr. Peabody knows how to tell a joke after all.