Heart-wrenching Horror for Believers and Sinners
DIRECTED BY COLIN WEST/2021
BLU-RAY STREET DATE: JANUARY 11, 2022/CRANKED UP FILMS (VIA KINO LORBER)
There aren't all that many characters in the ghostly female vengeance film Double Walker. Still though, its cast credits are almost as long as its crew credits- and often, the two overlap. One needn't have filmmaking experience to deduce that this signals a very low budget film. The film, though, is so well accomplished, that the closing credits are the biggest signifier of this. In the realm of scary stories for grown-ups, Double Walker is an exceptional, malcontent, and ultimately heart-wrenching accomplishment. It is also quite apt for today's world.
Sylvie Mix takes the lead as an enigmatic wandering apparition. The actress, who co-wrote the film, demonstrates a perfect grasp on just what her unusual character is, and exactly how to portray her. (This even though Mix only appears to have three other acting credits, all very recent).
As most of Double Walker is spent following Mix from one situation to the next, the film unfolds as a kind of A Ghost Story meets Titane; two parts peak Shyamalan, one part fly-by-night exploitation picture.  The latter elements come through in service of Double Walker's #Time'sUp sensibilities as our quiet heroine commits seemingly arbitrary gristly killings after being lured naked by men with less than noble intentions.
Not all Double Walker's thematics are laid out quite so blatantly.  The film's unglamourous holiday setting is accompanied by reoccurring shots of staticky TV broadcasts of director Henry Edwards' Scrooge, a 1935 adaptation of Charles Dickens' A Christmas Carol.  The story's central theme of redemption by way of temporal ghostly intervention is an unexpected if also rock-solidly consistent point of commentary.  
Mix's unnamed character, draped in white, is, as mentioned, a ghost herself. In a particularly oneiric flashback of hers, we learn that she, upon entering the afterlife, was visited by three ghostly beings. Her visit, quite differently from Scrooge's otherworldly guides, all appear at the same time, the "ghosts" identical. Here, she is given a choice: eternal rest, or continued existence on Earth, but only present to "believers and sinners". For reasons we eventually learn, she opts for the latter. It may be the turning of a new year for the living, but what significance is time to a specter? Our mysterious protagonist is dealing, all at once, with the past, the present, and even the future.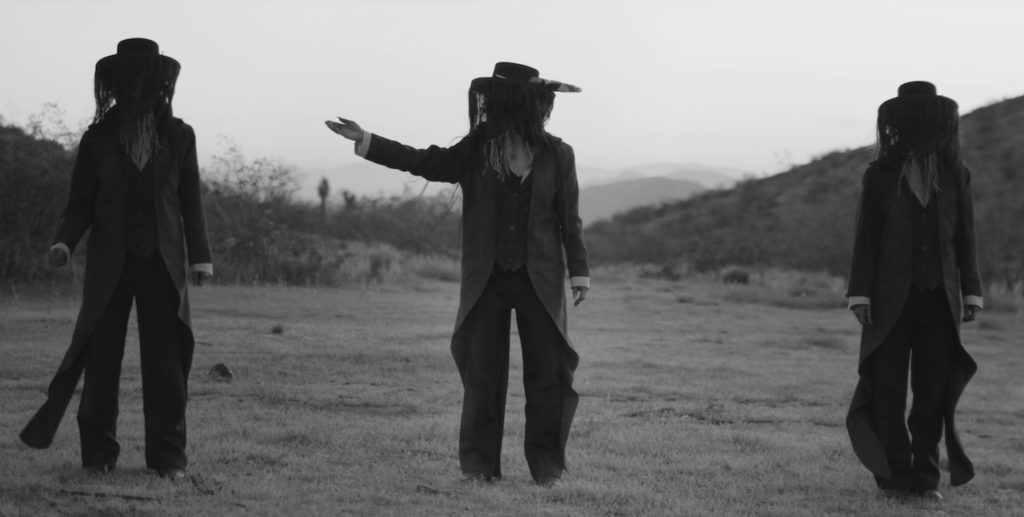 To the great credit of director and co-writer Colin West and said cast and crew, Double Walker makes a point of working terrifically within its limitations. While the story would most certainly be better served by visual veneer of old-fashioned film grain and flatter lighting, the necessary digital trappings of its aesthetic are made to serve well enough. West shows a solid knack for framing and pacing, both of which go a long way in shoring up the project's bona fides. The result is a highly effective vibe of the everyday rendered eerie. The very fact that West's raw footage may not appear technically much different from video footage most anyone can shoot is what makes his ace assembly of it all the most unsettling.
Double Walker arrives to Blu-ray via the far-reaching Kino Lorber, and its partnership with apparent newcomer, Cranked Up Films. "Cranked up", however, does not accurately describe the subtlety haunting nature of this title. I took on reviewing Double Walker out of pure curiosity regarding what this sub-label has to offer. On the grounds of this first disc, color me impressed. Though unmistakably low budget, Double Walker (a 2021 film) looks and sounds quite good. Unfortunately, there are no extra features.
Double Walker, though reticent for most of its efficient seventy-one minutes, tells us just enough of its own internal rules. Knowing that "only believers and sinners" can see her lets us in on the motivations of the ghost, but also singularly clarifies the whys and hows of what's going on. The final denouement pulls everything together in a most unsettling campfire story tradition, albeit with a particularly twisted twist. The who's who of "believers and sinners" among seers is sometimes obvious, sometimes less immediately clear. Though their differentiation is radical, they can all see her. But then again, so can we. Which leaves us to wonder… what does that mean about us…?