A Caper Film That's More Focused on Character.
DIRECTED BY BILL FORSYTH / 1989
BLU-RAY STREET DATE JANUARY 11, 2022 / KINO LORBER STUDIO CLASSICS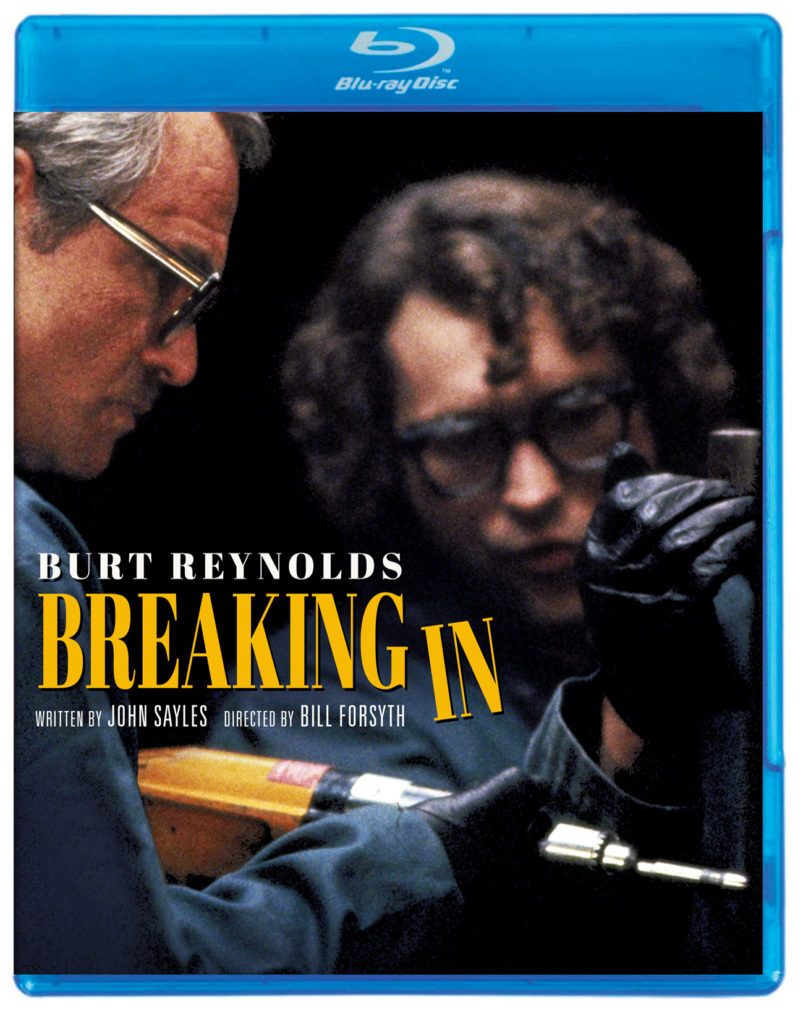 Breaking In is a light, breezy comedy about a pair of thieves who team up to pull off their dream job. It stars Burt Reynolds as Ernie Mullens, the older, more experienced burglar who serves as mentor to his young partner, Mike, played by Casey Siemaszko. The relationship between the two men form the backbone of this enjoyable caper flick.
The two meet when they both break into the same house on the same night. Ernie is after the money stashed in the house safe, Mike just wants to raid the refrigerator, watch TV and short sheet the bed. Seeing something in the young man, Ernie invites Mike to be his partner and begins teaching him the tricks of the trade.
Breaking In's script, by John Sayles, contains plenty of details regarding the mechanics of safe cracking and burglary, but it's primary focus remains centered on the characters. Ernie is content to live a solitary existence of modest means. He keeps a low-profile because that keeps him away from the attention of both the authorities and the larger criminal organizations that might want a piece of his action. He's another in a long line of ascetic monk criminals, the kind that regularly populate the films of Michael Mann for instance, who have little, care less, and are able to walk away from it all in thirty seconds flat.
But Ernie's growing fondness for Mike challenges that. Ernie's had partners before, but this is the first time it seems he's found himself in a father-like role. It's also the first time in a long time at this stage of his career, that Reynolds finds himself playing a character – and an older one at that. Reynolds was in his 50s when he made Breaking In, but Ernie's 60-something, and Reynolds spent time in the makeup chair adding the years onto his appearance. His hair has thinned and grayed, he walks with noticeable limp, complaining about his knees. Ernie has slowed down and that was a change of pace for the movie star. "I've spent an entire career… making the characters me." Reynolds told the Los Angeles Times in an interview during the shooting of the film. "This is the first time I've done it the other way around."
Reynolds was drawn to the project on the strength of Sayle's screenplay and Forsyth's involvement. Forsyth was hoping to break out of the art house circles he was mostly known for and have a more mainstream hit. For the chance to work with the Scottish director, Reynolds agreed to work for scale. Unfortunately, though the film was warmly received by critics at the time, it wasn't a very big hit.
Still, box office success doesn't equate with quality, and Breaking In is a quality film. It's as fleet and effortlessly charming as its star, and Reynolds and Siemaszko work very well together. The movie has a lot of fun moments, like an early job where the two thieves encounter a watchdog, or a poker game featuring appearances by Albert Salmi and Harry Carey. Breaking In also features Lorraine Toussaint and Sheila Kelly as a pair of call girls who serve as counterpoints to Ernie and Mike. Maury Chaykin and Stephen Tobolowsky show up as a pair of dueling attorneys late in the film.
By far the biggest highlight on Kino Lorber's recent blu-ray release of Breaking In is the audio commentary track by director Forsyth and writer Sayles. Kino Lorber's audio commentaries are often entertaining and informative no matter who is recording them, but having the filmmakers on hand to discuss their work is always a huge plus. Film historian Daniel Kremer is also on hand and serves as a moderator of sorts that helps keep Forsyth and Sayles on track. The blu-ray, made from a new 2K transfer, also includes the theatrical trailer.