Dare to Survive Jess Franco's Edgar Allan Poe Adaptation… but First you Must Stay Awake Through it!
DIRECTED BY JESS FRANCO/FRENCH/1985
BLU-RAY STREET DATE: JULY 7, 2020/REDEMPTION
Sometimes it's scarcely worth it. Sometimes, if you, the critic, are not careful, the practice of comprehensive film criticism can become a taunting thing.
I've been open about my pursuit and subsequent struggles to grasp and understand the legacy of Spanish genre filmmaker Jess Franco. Several attempts have been made by yours truly via Blu-ray reviews over the years. I even purchased a major hardcover book on the director, the respectable deep dive known as Stephen Thrower's Flowers of Perversion: The Delirious Cinema of Jesús Franco, Volume Two. Having this definitive tome on hand has helped greatly in managing this review.
1985's Neurosis is smack-dab in zone of the later-era Franco work covered by Flowers of Perversion, Volume Two. In the interest of full disclosure, I find myself running for it too little too late in the face of Neurosis. Neurosis is newly released to Blu-ray by way of Kino Lorber's "extreme horror" off-shoot, Redemption. The only thing extreme about Neurosis, however, is how aggressively boring it is.
But then again, if grasping a movie on a basic level requires additional research after the fact, then, generally speaking, that is a failure. Another confession, though: after two unsuccessful attempts at watching Neurosis for the purpose of this review, I opted to go forward and begin typing. This review will not see publication until I've completed Neurosis, meaning that it is being written about while I deal with the disc "in progress". Meanwhile, the Blu-ray sits, taunting me…
*****
A movie this bad usually has a story behind why that is the case, and of course Neurosis is no exception. To no surprise whatsoever, it turns out that the film is a patchwork attempt; a transparent salvage job. It is the third of three separate versions of Franco's adaptation of The Fall of the House of Usher by "Edgard Allan Poë" [sic] that have seen the foggy, muted light of day.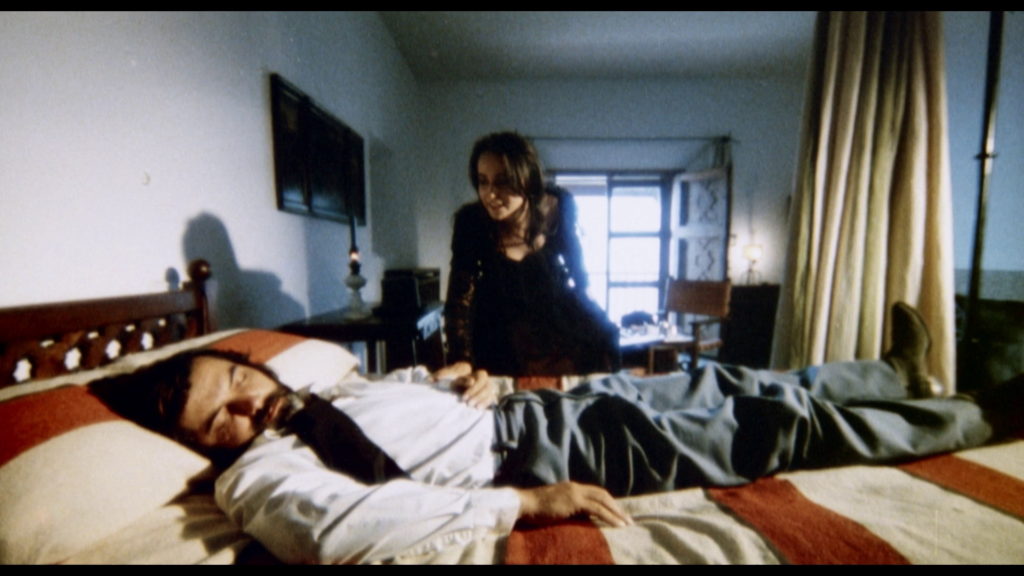 It is comprised mainly of footage from three separate Franco films, including Franco's initial take at the Poe source material (which is dated 1982). That film is said to be "an extremely loose" adaptation to begin with, though conceived with an apparent gothic and literary dignity. Per the altered titles that have been associated with this version- "Revenge of the House of Usher" and "Revenge in the House of Usher"- the adherence to the source material has seemingly only loosened all the more as the alterations piled up. (For the record, the second source of footage pillaged for this fatally mishmashed project is said to be called The Crimes of Usher, though that fact is muddled by an abundance of alternate titles, release dates, and subsequent video releases surrounding this whole of this mess). (Good lord, even the film's backstory is taxing).
By the time this third version surfaced, courtesy of the French distributor Eurociné, replete with thirteen or so minutes of black and white "flashback" footage from the unrelated 1962 Franco film The Awful Dr. Orlof (the director's debut, used because it also stars actor Howard Vernon, appearing many years younger, of course), Franco himself is said to have been minimally involved, begrudgingly filming a few new linking scenes.
Nevertheless, the various permutations resisted the more-than-obvious expectation to resort to sensationalism (per Franco's own numerous and infamous forays into sex & gore exploitation). The film's IMDb user reviews section is overflowing with harsh naysayers, many of whom are disappointed by its complete lack of nudity (especially considering the presence of Franco's eventual wife Lina Romay, known for frequently being very naked throughout his oeuvre) and its considerably dialed-back amount of blood. Franco historian Tim Lucas (author of his own Franco book, Obsession: The Films of Jess Franco), however, points out in his Blu-ray audio commentary track that the director was simply not interested in making the The Fall of the House of Usher into an exploitation movie. While such elements would've injected the occasional momentary call to attention, they also would've been hollow and inorganic.
In his book, Thrower says that Revenge in the House of Usher "is a slow, haunting, gossamer creation, and the last bittersweet visit to the Gothic horrors which so enthralled Franco in his youth". In acknowledging its reputation while also looking to exhume whatever positive aspects he can on the matter, he goes on to say that the film "may be cheaply made, it may lack excitement, it may creak and groan at a slow, slumberous pace that will send many an unsympathetic visitor (and even a few believers) to sleep, but one thing that no one can criticize is Franco's compositional clarity, the care with which each shot has been created. One could take still images of nearly every camera set up and create a stunning book of photographs that would make the film seen a classic of its kind." Fair enough. The production value of the central dark old gothic castle location is utilized tremendously to this degree. To drive his point home, Thrower, in his book, does indeed showcase some choice screengrabs in the few pages he's devoted to the movie. Franco's atmospheric vision and the way he realizes it cannot be denied. But first, one must fight to stay awake for it.
*****
Having now made it through the whole of Neurosis fully conscious (third time's a charm?), I can officially report that the film is not the unwatchable disaster I thought it was. It's true that there remains no way around the film's weapons-grade induction of sleepiness other than sheer will power and maybe a full pot of coffee. But in choosing the French language track with English subtitles rather than the gawdawful and truly embarrassing English language dub was key.
The transfer itself on the Blu-ray is very hit and miss, though likely as good as it's going to get for something like this. There's a washed-out veneer throughout, with occasional softness from perhaps too many times through the optical printer. But at other points, it looks just fine. But again- and this obviously cannot be overstated– to get to this tier of basic comprehension to level any kind of honest judgement, you first must legitimately make it to end, eyes wide open. That's ninety-plus minutes of Howard Vernon (as good as he is) as the aging Lord Eric Usher and company trying to use the blood of captive young ladies to somehow save his love Melissa from pending death. Which doesn't sound dull in and of itself but bear in mind that every time someone walks up or down a staircase, you must watch them walk up or down that entire staircase.
Sometimes the pursuit of understanding and getting to the point of posting a review in good conscience is its own reward. And other times, it's just indicative of a film critic's Neurosis.