The Actress-Turned-Director was an Outsider, Rebel, and "Mother of us all…"
BOX SET STREET DATE: SEPTEMBER 24, 2019/KL STUDIO CLASSICS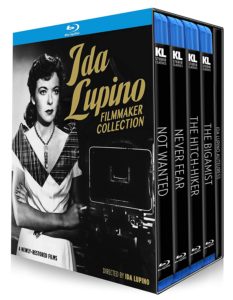 "The Filmakers present…"
Per the name of Ida Lupino's independent production company, perhaps the word "Filmmaker" in the title of this fine collection ought to have only one "m". Though the two-"m" version of the word is now the accepted spelling, the single-"m" name of The Filmakers, which, starting in 1949, Lupino co-ran in San Francisco (just far enough from Hollywood to be legitimately apart from it) with then-husband Collier Young (who was a collaborator on several creative fronts with the four films discussed below, from screenplays to cameo appearances), now retroactively signifies a company that wasn't afraid to be different from the norm.
One of several such exceptions to the said norm is The Filmakers' conceit to have Lupino, an established Hollywood star, co-create and direct their various and sundry films. Prior, Lupino had been a Hollywood starlet and later a leading lady, sometimes called "the English Jean Harlow" due to her London origins. Despite what many would consider to be a prolific and successful acting career, Lupino was bored watching other people make the bigger creative decisions.
And so, at a time when female directors were virtually nonexistent, the plunge to gravitate behind the camera became a reality for her- perhaps even sooner than she had planned. (1949's Not Wanted was not intended to be helmed by her, but rather Elmer Clifton, whom she replaced. For more on that, see the film's specific review directly below.)
Lupino described herself as a "bulldozer" when it came to financing and running her company but "a mother" while directing. Yet, despite such matronly labeling, the sensibilities and in some cases, the subject matter themselves, defy traditional expectation of what approach and interests a female filmmaker (or, shall we say "filmmaker"?) would commit to.
While this four-film box set is not a complete gathering of Lupino's directorial output, it is quite representational of that tremendous aspect of her career.  In it, we get her two earliest such efforts, the runaway teen/pregnancy tale Not Wanted and the polio drama Never Fear, both from 1949.  Then, it leaps ahead to 1953 for her most acclaimed film and essential Film Noir The Hitch-Hiker, as well as her self-described tale of marital deceit, The Bigamist.  
What follows here are individual considerations of each of the four discs in this exceptional Blu-ray set. Taken collectively, we get to know and understand Ida Lupino in a particularly relevant way.
Not Wanted
DIRECTED BY ELMER CLIFTON, IDA LUPINO (UNCREDITED)/1949
Sally Kelton is a girl in trouble, in the old-time sense of the phrase. Around the fifty-five-minute point, it becomes official: she is going to have a baby. Or at least, that's the circa-1949 production code-approved assumption. Sally is, as it's easy to deduce, in a condition that cannot be uttered on film at the time: pregnant.
Unwed and undeniably a victim of her own drama, Sally has long since run away from home. (She leaves behind two loving parents whose only sin is the habit of erring to the side of nagginess). She soon makes the worse mistake of falling in love with Steve (Leo Penn), an unreciprocating struggling piano player who will only go as far as taking her virginity before skipping town himself. (Yes, this how she gets knocked up. Let that be a lesson, fearful viewer!). Soon, the limping yet upright service station owner Drew Baxter (Keefe Brasselle) takes an interest (real and true) in her. But Sally, being not just pregnant, but late-1940s movie pregnant, is too far gone, what with her regular fits of overwhelming dizziness and trancelike delirium. Yet more running away.
Not Wanted is the kind of vintage "cautionary tale" intended to scare young girls into staying home and staying chaste. In this sense, it's rather easy to watch the film ironically- not just for the zombie-like state that Sally finds herself in, but for just how extreme things get. She starts the movie in jail, for crying out loud. This after attempting to walk off with someone else's baby. Most of the movie is a prolonged flashback triggered by her incarcerated breakdown, "How did I get here?? How did I get here???"
But Not Wanted also marks the directorial debut of Ida Lupino (hence its spot in this Ida Lupino Collection). She's uncredited in this capacity, having granted the credit to original director Elmer Clifton, who suffered a heart attack at the time. (Clifton died that year). This is unquestionably a movie Lupino wanted to be made, as she co-produced and co-authored the screenplay (with Paul Jarrico). According to the expertise of the Blu-ray's audio commentators (Barbara Scares, Director of Programming at Gene Sissel Film Center and Filmmaker/Historian Greg Ford), the film's many admirable visual flourishes and earnest grace notes are entirely her doing. This is where the overly melodramatic Not Wanted exhibits moments of brilliance amid its embarrassing qualities.
Not Wanted is terrifically acted by all three leads, particularly by Sally Forrest, who completely commits to the film's extremes while carrying the whole thing on screen. When it's time for our hearts to break, she sells that, too. As for the blu-ray itself, classic cinema buffs have certainly seen better restorations. The black and white photography of this low-budget independent production is at times transferred vibrantly but at other times murky. Thankfully, vibrancy wins out. Sally may be in trouble, but this disc generally is not.
Never Fear
DIRECTED BY IDA LUPINO/1949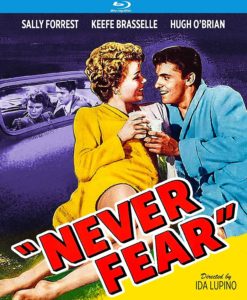 With Never Fear, Ida Lupino officially comes into her own as a director. Though the film's description- love challenged in the face of polio- might not stir up much enthusiasm, it is in fact nothing short of a real grabber.
Sally Forrest (star of Not Wanted) returns, this time in a far more physical role. Right away, Forrest gets to show off her formidable skills as a dancer during an elaborate nightclub show with her partner played by Keefe Brasselle. Together, they are the up and coming duo of Carol Williams and Guy Richards. They may be relegated to run-of-the-mill dinner clubs in out-of-the-way towns now, but looking ahead, nothing can stop their promising rise! That is, nothing but Carol's sudden and deadly polio affliction.
The diagnosis is, of course, devastating. Not only were Carol and Guy partners on the dance floor, they were ramping up to being a bona fide long term romantic couple. As polio lands Carol in a wheelchair and a full-time treatment facility, their relationship is strained, tested, and finally severed. Interestingly, it's not Guy who's looking for a way out. As played by the engaging Brasselle, Guy is empathetic and fully committed to Carol. He's gonna marry her, see, and she'll get better, just you wait!
But Carol is convinced that reality is very different. Amid the ebbs and flows of therapeutic progress (shot in a real facility with a very authentic vibe), Carol finally decides that she's gotta tell Guy to get lost and go find a life without her. But will he give up on her so easily…?
Never Fear was co-written by Collier Young, who was married to Lupino for a three-year period that included the making of the film. Young, just starting out, would go on to have a long career and a couple more wives, including Joan Fontaine immediately following his divorce from Lupino. Lupino, though, shares the Never Fear writing credit with him, though the project is very much her passion project. As film historian Alexander Heller-Nicholas tells us on her audio commentary track, Lupino suffered from Polio as a young girl, no doubt giving birth to the central conflict of the story.
Never Fear is a terrific and never uninteresting watch, as Lupino directs with a pulsating flair that one might not otherwise associate with illness-based movies. In the bonus features on the set, some historians make note of Lupino's tendencies to objectify her female characters the way a male director would. While Not Wanted doesn't particularly allow for such a thing, Never Fear, in certain moments, is guilty as charged. Never before has there been such a latent-sexual physical therapy montage. That established however, it must be said that Carol is never anything other than outwardly human. Without that baseline relatability, Never Fear would fall off real quick.
Sweetening the deal, film historian Alexandra Heller-Nicholas is on hand with a fine audio commentary. The new 2K restoration does fine justice to this lesser-known Lupino effort, her first with sole directorial credit.
The Hitch-Hiker
DIRECTED BY IDA LUPINO/1953
With 1953's The Hitch-Hiker, Kino's Ida Lupino Filmmaker Collection jumps ahead several years in her directorial career, bypassing 1950's Outrage and 1951's Hard, Fast and Beautiful, for both of which she went uncredited as filmmaker.  The Hitch-Hiker, though, is an ideal landing place, insofar as it's her most popular film, and noteworthy for being the first American Film Noir directed by a woman.  It is her fifth directed film overall, and the first to be completely male-centric in its focus.
The cultural affection for The Hitch-Hiker is not misplaced. It is, as film historian Imogen Sara Smith states upfront on her accompanying audio commentary track, "one of the tightest, sparest, most minimalist films of its era." For the whole of the film's taut seventy-one minutes, the focus is almost exclusively on three men driving through rural Mexico, a supposed fishing excursion gone very wrong. The two men in the front seats, Roy (Edmond O'Brien) and Gilbert (Frank Lovejoy) are on the business end of the third man's gun, their vacation literally hijacked by one Emmett Meyers- a notorious dead-eyed criminal with a murder rap (William Talman, intense in his character's gleeful sadism). Do as he says or he'll murder you without thinking twice. You wouldn't be the first.
Watching The Hitch-Hiker, there are likely those who'd be annoyed that Roy and Gilbert are so unable to escape. There must be at least a dozen instances when they'd yell at the screen, "Now's your chance- slug 'im, get his gun, and get out of there!" Maybe there are opportunities not taken, or maybe this sort of thing isn't as simple as all that. In any case, the point of The Hitch-Hiker isn't heroic fantasy of overpowering one's captor. Nor is it the flip side of that, stewing audience torture. The point is helplessness; specifically, the helplessness of the postwar American male in a changed landscape of distrust and displacement. The Hitch-Hiker actualizes all such notions with slow-boil intensity and unblinking focus on behalf of Lupino.
Imogen Sara Smith explains that the film came about because Lupino was looking to break out of the "women's picture" niche in which she'd found herself pegged. The Hitch-Hiker is, in turn, an unflinching thing. It only allows all parties involved, including the viewer, to unclench once it says "The End" on screen. Truly, before there was Kathyrn Bigelow, there was Ida Lupino.
While The Hitch-Hiker may be less thematically challenging than much of Lupino's other directorial work, its perpetually desolate terrain of otherworldly rock formations (Twin Pine, California standing in for the Mexican desert) literalize foreign isolation and the growing awareness of arbitrary domestic threat. Suddenly, that everyman-in-rough-times practice of hitchhiking became a deadly reality. The movie is based on the contemporary true crime hitchhiking crime spree of Billy Cook, a well-publicized case at the time. Lupino makes the absolute most of her stark premise (a screenplay she co-wrote with soon-to-be ex-husband and business partner Collier Young) and locations.
This Blu-ray edition of The Hitch-Hiker with its new 2K transfer is said to be a marked improvement on the condition of Kino's previous 2013 release. That said, there's still occasional scratchy evidence of the film's hard life in the public domain. Kudos to Kino Lorber for doing right by this important classic, even as it continues to legally exist in no man's land. Imogen Sara Smith's commentary track is a welcome new addition, to boot. This, without question, is the version of The Hitch-Hiker to own.
Never mind the film's old tagline, "When was the last time you invited death into your car?"- Now's the time to invite The Hitch-Hiker into your Blu-ray player!
The Bigamist
DIRECTED BY IDA LUPINO/1953
Though effectively re-evaluated nowadays, one thing that the directorial career of Ida Lupino was often dismissed for was engaging what later feminists would term "the male gaze". Though a reference to this is brought up in one of the earlier commentary tracks on this box set, the three included films that chronologically precede this one bear little if no evidence.
With 1953's The Bigamist, the accusation surfaces once more as mildly legitimate. Though far from gratuitous, both female stars are, by early 1950s movie standards, physically objectified at various points. That one of the stars in question is Lupino herself only serves to complicate the assertion. That said, the depictions of her in a tight, off-the-shoulders angora sweater or co-star Joan Fontaine in a sexy slip are fleeting, and perhaps not even remarkable were it not for the observations. (Perhaps Lupino's other films not included in this set are the bigger offenders?)
Furthermore, the female sexiness in question (as modest as it is, really) is explained away to some degree by the fact that The Bigamist is told primarily in flashback of the title character, Harry, played by Edmond O'Brien (fresh from being held hostage in the desert in The Hitch-Hiker). The trouble with Harry is that he has two wives. Neither knows of the other, as his first wife, Eve (Fontaine) resides in San Francisco while his second wife, Phyllis, lives in Los Angeles, where Harry frequently must travel on business.
He tells the tale of how, while in L.A., he met and became smitten with Phyllis. Though he was resistant to her hard-edged charm at first, eventually he caved, resulting in her pregnancy, a situation that he couldn't walk away from. All the while, he and Eve are in the midst of adopting a child, a drawn-out process with a character investigation that raises a red flag on Harry. When the tenacious, almost Columbo-like investigator, played by the beloved supporting player Edmund Gwenn, stumbles into the truth, the backstory then flows forth.
As film historian Kat Ellinger observes on her audio commentary track on this Blu-ray, The Bigamist's storytelling is of the striped-down, economic variety. This results in a tightly flowing seventy-nine-minute narrative that in more conventional hands, could easily decompress to a stodgy two-plus hours. Most interesting, though, is how Lupino manages to both condemn and thoroughly sympathize with Harry. The film acknowledges that if Harry had simply had a fling with Phyllis, or had he chosen to conveniently forget about her and the baby (a course of action that Phyllis herself initially suggests he takes), the world would've likely never known of his transgression.
The complication comes in Harry's trying to do right by his choices and their consequences. Learning more about the real-life personal goings-on for Lupino and Filmakers cohort and by-then ex-husband Collier Young sheds a degree of light on the film's attitude, as Young had just recently married Fontaine, and Lupino had married Howard Duff, with whom she'd conceived a child three months prior. A tangled web, and one that was not lost on the gossip press. But all parties involved rolled with it well enough.
The Bigamist, another public domain save by Kino Lorber, fares quite well on Blu-ray. As usual, Kat Ellinger's commentary is exceptionally well researched, veering this way and that through film history and individual filmographies. While the movie itself is merely an above-average soapy drama, it, not unlike Not Wanted in that sense, earns its keep on its own accord. All four of the main performances are spot-on, fully resisting any urge to go schmaltzy. In the Lupino canon, however, it is indispensable, and an ideal culmination for this box set experience.
*****
In addition to the four individually cased Blu-ray titles detailed above, Kino Lorber's Ida Lupino Filmmaker Collectionincludes a formidable square-bound paperback book entitled Ida Lupino: Auteuress, by the late film critic Ronnie Scheib. Scheib's writing on Lupino goes above and beyond the scope of many a Blu-ray bonus essay, both contextualizing her directorial filmography as "a product of a postwar consciousness", but also in terms of feminist criticism and how, despite her standing as a rare female filmmaker of independent means, her work has not and cannot be viewed "comfortably liberal".
Lupino was not above painting a character such as Joan Fontaine's Eve's career aspirations as detrimental to the overall situation of The Bigamist, even though Eve is in fact the foremost victim of the piece. Creative decisions such as this mark both Lupino and the films as particular products of a particular time and place. Politically, there's no way around the fact that today's progressives will find plenty to take issue with, even for her time period. But to leave it at that would be to miss the bigger point that Lupino was successful in not only carving a directorial niche for herself in a male-powered system, but she did so with formal confidence and a bold narrative economy that absolutely eluded most Hollywood studio directors.
After The Bigamist, Lupino would not direct another film until 1966's The Trouble with Angels, which would be her last. It would come eleven years after the shuttering of The Filmakers, which effectively halted her ability to operate as a director. Her acting career would continue more readily, eventually taking her to television. Beyond that, her reputation and legacy would rise and drop as filmdom alternately was either dismissive of her talent or adoring of her outsider status, all in various degrees. But only now has a physical stock been taken of Ida Lupino's primary films, on their own terms. This is the overall value and significance of Kino Lorber's Ida Lupino Filmmaker Collection.