Truffaut's Hitchcockian Noir Through A New Wave Filter
DIRECTED BY: FRANÇOIS TRUFFAUT/1969
BLU-RAY STREET DATE: FEBRUARY 14, 2023/KINO LORBER STUDIO CLASSICS
The spark of lust amidst the palm trees is immediate when Catherine Deneuve's "Julie" arrives on the French colonial island of Réunion, though we're already suspecting, in a way that Jean-Paul Belmondo's "Louis" is not, that she's not the woman he thinks she is. The story is simple but hopscotchy, plotty but you can hold it in one hand. Luckily, the extent to which the film succeeds is not reliant on how caught up we are in Truffaut's tonally-arbitrary suspense, but in how much we might say to ourselves, yeah, if I were them I'd probably do that too. 
In the opening moments, Truffaut dedicates the movie to his filmmaking idol Jean Renoir, even using clips from Renoir's film La Marseillaise, about the French Revolution, to illustrate the history of the French colonial island where Truffaut's action takes place. But this is the film's first red herring, as it's clear the real influence on the plot (with appropriate nods to the original Cornell Woolrich novel, Waltz Into Darkness) is his other filmmaking idol, Alfred Hitchcock, with its unsuspecting male romantic lead, criminal manipulation, melodramatic reversals, descents into near-obligatory murder, and all at the hands of a duplicitous blonde woman. There's even a hint of Hitch's winking humor in the contrary casting: the image of Belmondo, in his smoldering prime, playing a lonely tobacco magnate who has to find love in the personal ads is almost perverse. We wonder, how can this man have trouble finding love, especially in the percolating environs of a sweaty tropical island. Then the entrance of Deneuve, all icy elegance and distant allure, begs the question in reverse: why does she need to go to all this trouble for love? But if we're looking for logic, we're as doomed as the characters; the point of these beautiful people tangled up in contrived one-upsmanship is the beautiful people themselves.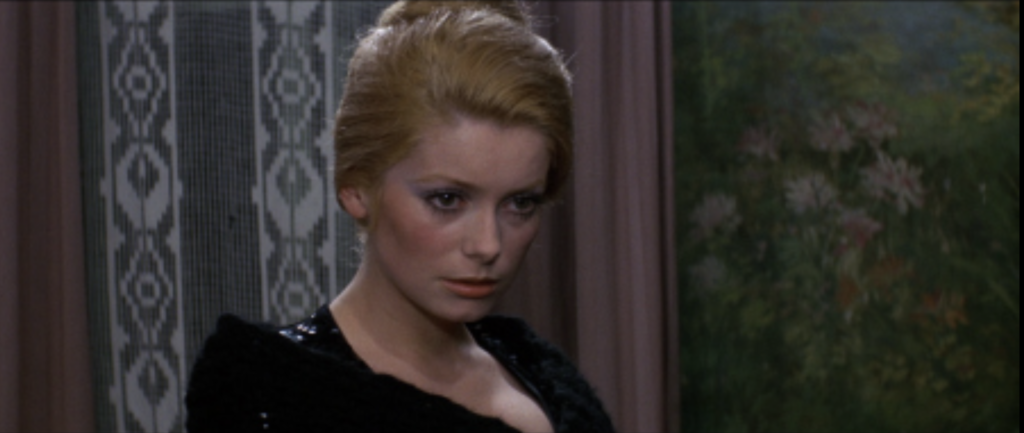 And these two actors, at a point in their careers when nothing they did on screen was less than magnetic, should nearly cancel each other out, were it not for the clear imbalance in interest Truffaut's camera gives Deneuve. While we wait alongside Louis dockside for the arrival of his love, a woman whom he's not met in person, we're lulled by Belmondo's easygoing charm to expect a soft, French meet-cute in that particular New Wavy style. But his urgent need for a companion at least up-ends – you could even say castrates – that particular Belmondo cool-calm enough to ground him as a kind of everyman. A vibrant and virile iteration of one, but still recognizable as a typical man of the earth, emphasized visually by the constant, swelling encroachment of nature itself all around him.
We need that grounding to keep us steady when he finally sees Deneuve. Louis's shock is our own as the camera glides toward her, ever closer, yet never fully touching who she is. Truffaut's camera is too much in love with her to quite make her human. She is the object to be worshipped, yet she's not one-dimensional. When she tells her story, later in the movie, on the run and at gun-point, we learn that it's her beauty that's made her the accomplice of choice by evil men, and her talents, brandished with the cold calculation of a spy, are merely the extension of her unwilling bondage to the dark side. She contains a mystery, but it's not artificial for the sake of the typical femme fatale; she's somehow automatically broken, and the suspense of the movie is connected to the eventual revelation of how she got that way.
But the movie is never weighed down by these darker aspects of the story. As is true of nearly every Truffaut movie, there's an unmistakable joy in the very act of creating a movie that cannot be suppressed by mere plot or theme. The quick clip of the storytelling, the rich visual environment, the romantic, on-the-run tropes given new life by Truffaut's special use of them because they are tropes (along with a myriad of short-cutting contrivances), and the – for lack of a better word – fun manipulation of cinematic techniques, are all reconstituted by Truffaut's nimble ebullience into something that can only be characterized as "for our enjoyment," a product that must be in contention for the world's brightest noir. 
Mississippi Mermaid is at the very least a think piece on beauty, the corruption of that beauty, and the redemption of that beauty by the broken. And if that doesn't float your boat, maybe you'll like Belmondo scaling the outside of a hotel from the ground floor to a fourth floor window with the physical ease of Keaton in his prime – an act of death-defying revenge-seeking that might be worth the price alone. Besides the welcome event of any Truffaut offering at all, there is nothing special about this Kino Lorber release except for its commentary track, dutifully carried by film historians Julie Kirgo and Nick Redman, who tackle scene-specific facts and impressions along the way – a comfortably amiable and informational history of an oft-overlooked Truffaut film, surrounded as it is by your various Doinel updates and a shortlist of higher profile masterpieces. This one, bolted down onto celluloid by the magnetism of its two leads, fits easily among them, and acts as a bit of an extra in its own right, if considered alongside the same-day release of Kino Lorber's Truffaut box set, previously reviewed on this site. 
Images courtesy of DVDBeaver.com.