Two Of Vincent Price's Very Best, Now Available On Blu-ray.
STREET DATE: SEPTEMBER 7th, 2021/KINO LORBER STUDIO CLASSICS
Vincent Price headlines the long list of spectacular Kino Lorber Blu-ray releases this September, starting spooky season off right with two of the fright master's very best films.
Roger Corman's The Tomb of Ligeia, from 1965, brings the Price-Corman-Poe cycle to a stunning close while Douglas Hickox's Theater of Blood, from 1973, raises the curtain on a new performative chapter on Price's long life and career; both films were later claimed by the actor as personal favorites. With fancy slipcovers, reversible art cover for Theater, and no less than five commentaries included, KL gives appropriate due to a deserving artist and pop culture figure who nevertheless received scant legitimate recognition during his again long and extremely varied life and career.
Whether first introduced to Price as a rock-vocal performer on Alice Cooper's 1975 album Welcome to my Nightmare or Michael Jackson's Thriller (1982), as a guest host of The Muppets (1977), or as the kindly father-inventor to Tim Burton's Edward Scissorhands (1990), Vincent Price lays rare claim to the title of "universally beloved" – but also "easily overlooked" – in a six-decade show-business legacy that uniquely encompasses stage, screen, radio, TV, cooking, art collecting, and philanthropy. Such is Price's possibly confusing position as a near-omnipresent entertainer that one need not look very far at all, say, to entirely unintentionally encounter his unmistakable face on both the 1969 spoken-word double-LP Witchcraft-Magic, in which his mellifluous voice waxes poetic on the involved history of superstition, demonology, and devil-worship, and the 1975 DIY craft-kit Shrunken Head Apple Sculpture, where Price's canny expression irresistibly invites unwitting families to create their own "collection of delightful shrunken heads".
My personal introduction to Vincent came with a series of locally-produced commercials for the Milwaukee, Wisconsin-based sandwich chain Cousin's Subs during the mid-1980's. To this day I have no idea how a small regional restaurant franchise claimed the great Vincent Price as their spokesman, but also to this day the grand, bow-tied authority with which Edgar Allan Poe's definitive twentieth century interpreter intoned Cousin's list of ingredients – "fresh bread, crisp lettuce, ring-cut onions!" – continues to make my mouth water and my stomach growl. It is no small thing to say that Mr. Price made truly devoted sub-sandwich fiends out of a whole generation of Wisconsinites.
From the off-fringes of pop culture to the lofty pinnacles of great art, Vincent Price undoubtedly commanded attention across many levels of media; a closer look at two of his greatest achievements, in his best-known medium – the fright film – may hopefully reveal the sure hand, voice, and "presence" of a born artist working at the height of his craft.
THE TOMB OF LIGEIA
DIRECTED BY ROGER CORMAN/1965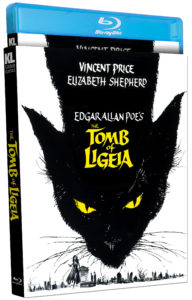 The second of two films co-produced by Britain's Anglo-Amalgamated Productions, following 1964's The Masque of the Red Death, The Tomb of Ligeia was the last of an influential series directed by Roger Corman for American International Pictures, adapted from (and sometimes more "inspired by") the works of Edgar Allan Poe. Seven of these starred Vincent Price, excluding 1962's The Premature Burial, which starred Ray Milland — who was at one point considered as possible lead for Ligeia — but Price fortunately being the favorite of both the public and the production office for anything Poe fairly dictated that the romantic but sinister Vernon Fell (unnamed in the short story, but beautifully suggestive of his character's nature) be played by a returning Price, tormented beyond the grave by the late and lamented Ligeia.
Screen-translating Poe's 1838 story, titled simply "Ligeia", scriptwriter Robert Towne takes many liberties with Poe's original, including a major addition of a malign, possibly supernatural black cat (seemingly lifted from the later 1843 Poe story; itself adapted as a segment in Price/Corman's earlier Tales of Terror [1962]), and Corman himself departs from both the studio-bound, hallucinogenic style of his previous Poe movies and the claustrophobic intensity of the short-story for an at times open-air, naturalistic Gothic fairy-tale, shot on real English countryside locations, that all nonetheless manages to raise the spirit and pin the flavor of a Poe story better than any previous Poe film. Much of the credit belongs to the highly literary script by Towne, but Corman's imaginative visualization — taking special advantage of a romantically ruined abbey in Norfolk, England — and a (doubling) pair of darkly romantic performances from Price and his brilliant co-star Elizabeth Shepherd — playing both the dark-haired, departed Ligeia and her fairer-hair successor, the spirited Lady Rowena — strongly captures the dread force of a waking nightmare with every stone stairway climb and long hallway passage.
So while the details between the original story and its screen adaptation are very different, the point (and effect) remains the same: the soul of Vernon's dead wife, Ligeia, superimposes itself on the living wife, Rowena. Opening up the compressed Poe story-space of an oppressive, shuttered study to an autumnal graveyard, verdant hunting ground, stroll-through castle ruin, and vast abbey interior — along with hidden passageways and secret rooms — the filmic relationship(s) between Vernon/Ligeia, Vernon/Rowena, and Ligeia/Rowena undergoes a similar process of story-to-screen transformation, encompassing soul migration/spirituality, the supernatural/the unexplained, mesmerism/psychology, and possibly a combination (or conflation) of all three; building to the (inescapable) Cormanesque purification of flame. (Yes, the castle burns at the end, but the open question remains whether anyone dies…)
Throughout eight Poe pictures, of which this was again the last, the essential point Corman attempted to convey with every trick of "pure cinema" at his command — including lens diffusion, set perspective-distortion, tilted framings, gliding camerawork — was his major insight that Poe was "writing from the unconscious". Here, at different levels of mental and spiritual awareness, Vernon Fell buried his first wife while enthralled to her living spirit, married a second woman, who became possessed by the spirit of the first wife, and unknowingly lived with both women while destroying himself. Possibly Price was the voice of Poe because its richness and (studied) complexity of tone so strongly embodied these many layers to the extent that all such readings are possible. Any part of the story or its development may falter from a rational point of view, but such is their fell authority, the combined power of Poe's prosody and Price's voice, that they not only remain rationally impossible but essentially true.
THEATER OF BLOOD
DIRECTED BY DOUGLAS HICKOX/1973
That commanding vocal authority carries over to our next film, which had seen Vincent Price's cinematic stay in the British film industry extended across eight years. Moving from the English countryside to urban London, and also updated from the early nineteenth century to contemporary A.D. 1972, Vincent Price similarly recasts his resourcefully vengeful, acid-scarred organist Dr. Phibes from two previous films by director Robert Fuest (The Abominable Dr. Phibes [1971], Phibes Rises Again! [1972]) to the ingeniously murderous, porcine-inflected Shakespearean actor Edward Lionheart. Director Douglas Hickox and screenwriter Anthony Greville-Bell, invaluably aided by composer Michael J. Lewis's irony-tinged score, unleash an unrestrained Vincent Price on four hundred years of English theater tradition, a near-century of Grand Guignol, and specifically, and fatally, on nine of the United Kingdom's most esteemed character actors.
In order of dispatch, that royal Shakespearean list includes Michael Hordern, Dennis Price, Arthur Loew, Harry Andrews, Robert Coote, Jack Hawkins, Coral Browne, and Robert Morley. (The sole female among which Price first met on this film — in the scene where he is dressed as a gravedigger, appropriately — and later married, which they remained until her death in 1991.) Ian Hendry is the chief critic of this toxic circle of play-reviewers, whose nastily negative notices has driven Lionheart to grandly-attempted waterfront suicide — a spectacular nose-dive into the Thames River, Hamlet's "so long life!" echoing all the way down — where he was revived onshore by a band of unmerry Meth drinkers (homeless people subsisting on and driven insane by blue-colored, denatured alcohol), and has taken post-life refuge at the shuttered Hippodrome Theatre. Here, he has plotted revenge nine-fold on his many critics, all based on his last nine-play schedule, from Hector in Troilus and Cressida to the title role of Titus Andronicus, of great, albeit murderously violent Shakespearean roles. Aiding Lionheart at varyingly equal levels of play-performance is his devoted daughter Edwina — also encompassing multiple roles and disguises — performed by the great (and sadly, recently late) Diana Rigg, possibly the only actress in film history who could convincingly play (and plays very convincingly indeed) Vincent Price's daughter.
What might strike some viewers as a successful black comic translation of contemporary Italian Giallo film elements, or still others as surprisingly effective proto-slasher flick, is in fact a perfection, and more precisely a perfect exaggeration, of the revenge cycle of films that had begun with the first Phibes film and that had come to dominate this stage of Price's film career. Stage is in fact foremost on Price and his film collaborators' approach to the classical stabbings, impalements, beheadings, drownings, strangulations, burnings, and, um, "stuffings", the visual presentation of Shakespearean mayhem perfectly balancing the poetic reverie of the plays' verse; carefully and cunningly enacted here on life's grand proscenium, which include several unmistakable circa 1972 London locations. Like director Hickox's later Brannigan (1975), broad river-, narrow street-, crumbling buildings-, and luxury flat-scenes present a vividly realistic dream-view of a now-vanished London — scrolling furiously past the screen like a scenic progression of dramatically-intensifying tableaux — that builds to and ::SPOILER:: ends with, an historic English theater billowing out blockrow-destroying flames.
Holding all described elements of hilarious, horrifying, heart-rending, and in the end honorable stage- and film-craft is again the towering voice of Vincent himself, sorcerer-like bending the Bard's familiar words to every scene's specific end(s). Tragic, comic, dramatic, parodying, and ultimately touching — and sometimes all at once — Mr. Price's major reading(s) of the greatest dramatist in English theater history definitively answers all his critics.
…
One may feel a curious deflation at the end of a review, a certain dread of having failed to adequately describe, criticize, or explain the subject under discussion. Indeed, reading back over the preceding paragraphs, one may see every phrase, pronouncement, and point ring hollow, and any ambition to Film Comment or Sight and Sound-level discourse, say, withering apart into mere specious puffery.
In short, in terms of a more general fear, the profound suspicion of making a poor showing or giving an inadequate performance. If such is so, however, one has welcome company in a subject like Vincent Price, whose greatest work was in service of a genre many of his contemporaries may have disdained, and who personally may have absorbed much contemporary cultural prejudice to doubt himself. Fortunately, Kino Lorber has again redressed this terrible wrong by virtually enshrining two career highlights from this unequivocal Master of Fright, and indeed restoring the title to the honorarium it actually is.
Film historian Tim Lucas, director Roger Corman, and co-star Elizabeth Shepherd provide a whopping three separate commentaries to The Tomb of Ligeia, and although the Corman and Shepherd tracks were recorded for previous home video releases, Lucas's specially-recorded commentary ties their major insights and first-hand reminiscences together within their historical and artistic contexts. Alan Spencer provides an appropriately witty commentary for Theater of Blood, and an older accompanying track, moderated by the late Nick Redman, gives equally warm insight into Vincent Price's life and career from film journalist David Del Valle, based on his friendship with Price during Price's later years.
Also included are Trailers From Hell spots, from Joe Dante and, again, Alan Spencer. Joe Dante (of course) saw Ligeia during its first run, so obviously knows of what he speaks, and while nice that Spencer got to expand his funny Theater observations into an entire commentary track, the screenwriter and producer's original TFH spot has the distinct advantage of forceful compression.
Having said that, however, and as big a fan as I have been throughout the years of TFH, MST3K, RiffTrax, and other such commentary combining information and entertainment, I wonder if my initial, slightly wearied reaction to Spencer's equally funny and knowledgeable insights may have been colored by having listened to five commentary tracks over the course of two evenings? A critic shouldn't criticize needlessly, as any cursory reading of the movie under discussion, Theater of Blood, would (very) strongly attest, but possibly expecting more information than entertainment made me hear more on the first listen about the wronged actor's revenge I was already seeing on the screen than about the craft of that actor artistically revenging himself on his critics — both in the film and in his career — that I was hoping to hear about in the commentary.
As I recall, though, Spencer does point out that Price, the actor, is giving a purposely bad reading in his first stage scene, to show that Lionheart is in fact a bad actor, but that Price as Lionheart also gives a heartfelt and entirely brilliant reading of Hamlet preceding his suicide attempt, complicating and deepening the impression of that earlier scene. I will go back and listen to Spencer's commentary very soon to hear the layers I may have missed where Spencer as comedy writer and film historian elucidates Price as serious actor and skilled comedian. (As sure as I am that Price's performance carries both levels, I can also assume Spencer's commentary contains them as well.)
Finally, KL's Blu-ray upgrade of previous Midnite Movies DVD releases, which will now be leaving my video library, improves both by merely widening their respective images to anamorphic widescreen, while also adding clarity and depth to the carefully-balanced compositions, particularly in the case of Ligeia. Regarding the latter, it is someday my ambition to see the Bell Sequence — with Rowena attempting to wrest a pair of Vernon's dark glasses from Ligeia's spirit-cat's hissing maw, somehow audible behind the deafening, swinging peals of the massive tower bell — projected on a big screen, but KL here offers me the next best option.
If nothing else, and although one may have spent several successive mornings before work on a review that probably would have been more effectively (and succinctly) written in a single sitting, one hopes Vincent would appreciate a few kind if ungainly comments here, however poorly expressed. The preceding 2,000 words may be a tale told by an idiot, but Vincent Price was certainly no poor player.
In closing, then, let's raise a party-size sub-sandwich this Spooky Season to the great Vincent Price!
Images used in this review are credited to DVDBeaver and reflect the visual quality of Kino Lorber's Blu-ray releases.