Rock Hudson & Gina Lollobrigida Take Bobby Darin & Sandra Dee Under Their Wings in Happenin' Italy.
DIRECTED BY ROBERT MULLIGAN/1961
BLU-RAY STREET DATE: OCTOBER 19, 2021/KL STUDIO CLASSICS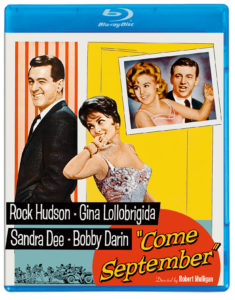 As charming as the characters are in the 1961 romantic comedy Come September, there's a big lingering "not quite" about it. It's only fitting, then, that the film's Blu-ray release occurs in October. So, so close to the title month… but not quite.
Colorful and ornate escapism is the order of the day, and for the most part, it's satisfying. At times, the film even registers as delightful. Shot in and all over beautiful doggone Italy, Come September arrived concurrently with the cresting phenomenon of "Hollywood on the Tiber"- though it narrowly misses that classification for lack of any filming at the legendary Cinecittà studios.
Instead, they used Rex Harrison's place. (Though the notorious Rex Harrison does not appear in this film). It's an incredible palatial villa, replete with a breathtaking view of the river, Old World architecture, floral life, classy artwork galore, and a room-count that could enable it to feasibly double as a hotel. Which is precisely what occurs in the story.
Rock Hudson, hot off the suggestively flirtatious hit Pillow Talk, stars as ultra-wealthy playboy Robert L. Talbot. Come September every year, he spends the month at his afore-described Italian villa with one Lisa Helena Fellini, a local fireball beauty with a short fuse played by Gina Lollobrigida. Lisa spends the other eleven months of the year falling out of love with the gallivanting Talbot (this time, she's gone so far as to plan a wedding to another man!)- until he calls for her. Then, to her own irritation, she becomes sexy putty in his manly hands. (All off screen and heavy implied, though never, ever overt).
As for the villa, it moonlights as a commercial hotel known as "La Dolce Vista", all courtesy of its entrepreneurial overseer (played mischievously by character actor Walter Slezak). The only thing is, Mr. Talbot has no idea about "La Dolce Vista".
When Talbot shows unexpectedly, the panic-stricken house crew has barely enough time to tear down and hide all the hotel signage. They cannot, however, clear out the checked-in clientele- a half-dozen vacationing American young ladies, including perennial screen sweetheart Sandra Dee. It seems that if Come September is remembered for anything today, it's for being the movie shoot where Dee met rising recording star, Bobby Darin. (Who gets a couple songs included in the film). Like their characters in the film, Dee and Darin fell in love. Shortly after wrap, they were married. Darin plays the leader of a quartet of roaming red-blooded American young guys (which included a young and dopey Joel Grey). When Talbot denies them stay in his not-a-hotel villa (still occupied by the girls, whom he just can't seem to bring himself to kick out), they pitch a tent out front.
But the real story is supposed to be the ever-frustrated bachelor Talbot and his wearying pursuit of the glamorous but fed-up Lisa Fellini. Hudson and Lollobrigida hold their own despite a screenplay that leans too heavily on sit-com-quality laugh lines and an increasingly strained cultural dichotomy between the Hays era default of depicting a world where everyone is chaste and waiting until marriage and, well, reality. Come September gets tripped up in its Pillow Talk-y intention to playfully play on the quickly shifting social mores of the times. Ultimately, like most romantic comedies, the old-fashioned values win out. But getting there is an overlong and bumpy road, not at all conducive to the Vespas, sleek convertibles and feather-flurried stolen chicken truck (don't ask) of the movie.
The fact that Come September, for whatever reason, opts to evoke Federico Fellini numerous times ("La Dolce Vista"? "Lisa Fellini"??) does it no favors. By 1961, Fellini was not only all the rage on the happenin' and vital international cinema scene, but his unflinching depictions of his native land were quickly and widely recasting perceptions of it. Italy itself is literally the only primary connection that this film actually has to Fellini's oeuvre. Come September is far more Roman Holiday (1953) than La Dolce Vita (1960)- though it must be said that "the sweet life" permeates every frame.
This Kino Lorber Studio Classics release of Come September ought to particularly pleasing to longtime fans of the film and its cast. The high-definition image of the Blu-ray transfer is sure to showcase the amazing Italian scenery (not to mention Gina Lollobrigida's customized million-dollar wardrobe) in ways not before feasible for home video. Besides a fun array of trailers for this film and others, the other bonus feature is a newly recorded audio commentary by film historian David Del Valle and, for some reason, Full Moon filmmaker David DeCoteau. Del Valle and DeCoteau, who are clearly good friends, make a good pairing here. Del Valle provides a steady flow of facts and information about the appeal and significance of Come September while accurately stating that it's not at all Rock Hudson's best film. Most of the specific factoids in this review are courtesy of his sharing. As for DeCoteau, it seems he hasn't even seen the movie prior to the recording session- which, in this case, makes for some funny questions and observations.
If a movie like Come September perseveres at all, it does so almost purely as a time capsule with a keen nostalgic component for those who recall it from way back when. It's a big, deliberate, cheeky wink from an era that is very much gone by- when feigning innocence (among other thing) was, for better or worse, a collective virtue. (But not quite).