One Of The Greats!
How do you introduce someone like Meryl Streep? Where do you start and how can you stop? I'll start by saying this, we have a Streep professional on staff with ZekeFilm and… I'm not her! Our resident Meryl Correspondent is Maddie Broph and I can't wait to read her take on Suffragette. Maddie can give you the scoop on what roles to watch, Meryl's best work and where to start when planning your Meryl-a-thon this weekend in honor of her June Birthday. (Happy Birthday Meryl, 70 sure looks great on you!)
But remember, I'm not Maddie and my introduction to Streep was with the 1989 classic She-Devil. I'm using the word classic as in old… not prominent. I was twelve years old and the show Roseanne was a weekly family watch. So of course we went to see the movie where Roseanne Barr plays a wife that seeks revenge on her husband who's having an affair with pastel loving, romance novelist Mary Fisher, Streep. Thirty years later I vividly remember her head to toe pink outfits, ridiculous accent and her drama filled reactions. And while that movie is pure 80's cheese, Meryl's performance is over-the-top fun. You hate her and pity her at the same time. So if that's my start with Streep, it can only go up from there and boy oh boy did it ever!
There are many critics that claim Streep to be "the greatest living actress" and I would agree. She's a master of accents, (The Iron Lady) she's not afraid to sing and dance (Mamma Mia) and she can cut you from across the room with her side eye! (The Devil Wears Prada) But can we limit Meryl to the word "actress"? I would contest that she's one of the greatest living actors on the same tier as Jack Nicholson, Daniel Day Lewis, and Tom Hanks. She holds the record for most Academy Award nominations with a total of twenty-one and she's won three times. She's received thirty-one Golden Globe nominations and won a total of eight times! That's incredible!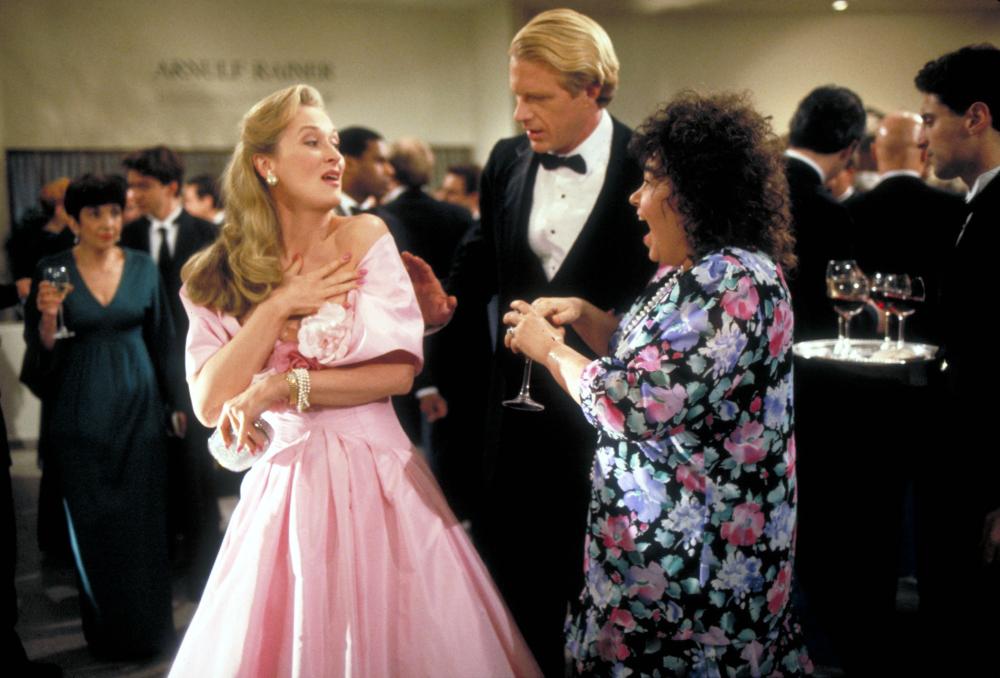 But let's not base this on awards; let's look at the work. She has 82 acting credits on her IMDB account, and her first listing was in 1976, so that's roughly two credits per year. She's consistent and she gets work done, but this is not all quick-and-easy-paycheck work, it's quality. Some of her credits include classic roles in films like Kramer vs. Kramer, Manhattan, The Deer Hunter, Sophie's Choice, Out Of Africa, Postcards From The Edge, The Bridges Of Madison County, Marvin's Room, Adaptation, The Hours, Doubt, Julie & Julia, Into The Woods and The Post! She's worked with directors Steven Spielberg, Rob Marshall, Wes Anderson, Nora Ephron, Robert Redford, Jonathan Demme, Robert Altman, Spike Jonze, Wes Craven, Clint Eastwood, Robert Zemeckis, Albert Brooks, Mike Nichols, Woody Allen and Sydney Pollack. I know that's a lot of info, but how can she not be one of the greats?!? Think about everything she's learned from all those amazing directors, roles and experiences. Maybe we shouldn't limit her to the word "living" either? Is it too bold to say she one of the greatest actors ever? I think not. In the same way that folks revere the names of Orson Welles, James Stewart and Ingrid Bergman, I think they will esteem the work and art of Meryl Streep for years and years to come.
So I wanted to celebrate Meryl this month because of her birthday (June 22nd) but also because of her new role as Mary Louise Wright on HBO's hit Big Little Lies. I'm a fan of the show but I wasn't sure it needed a second season, until I saw Meryl as a disapproving mother in law. She's in top form, making passive aggressive remarks to daughter-in-law Celeste, Nicole Kidman and aggressive aggressive insults to Madeline, Reese Witherspoon. It's a great role, another nomination on the way and proof that Meryl has no intension of slowing down in her 70's! So read on, enjoy our thoughts on Meryl Streep films that somehow slipped through the cracks, and watch one this week. 
Suffragette
2015/Ruby Films/dir. Sarah Gavron
by Madeline Brophy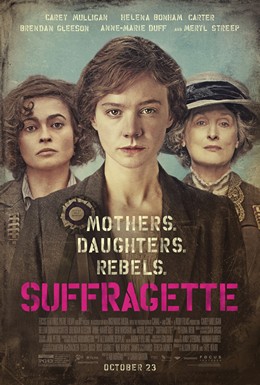 Thirteen year-old Maddie had some significant crushes in her day that did not pan out. It started with Patrick Dempsey riding a tractor in Can't Buy My Love (1987). Then Hugh Jackman caught her eye in movies like Australia (2008) and the long-winded X-Men franchise. Finally, it was the loveable Jon Hamm (HEY BLUES FANS!) playing a dweeb on NBC's 30 Rock (2007) that really got to her. And while I am happy to share that I have moved on from these crushes, one love has been with me for over a decade – Mrs. Mary Louise Streep.
A consistent relationship (mostly not reciprocated), I started watching Meryl Streep movies from an early age, fascinated to see someone who had a nose like mine, could act, sing, and dance (you name it!) and now, age 70 as of Saturday, she's full of accomplishments! She has the family, the talent, the success, and academic degrees… and I grew up with that woman as my role model. How lucky am I? How lucky are the many other actresses and creatives she's inspired?
Here we go! Suffragette (2015) is one of, if not the only Meryl movie I'd never seen. I remember the promos and the excitement to hear that the female movement would be reflected on the big screen, led by none other than Carey Mulligan. But Meryl had a small role, no Oscar in sight for this one, which must have been why I skipped it. Still, it's been on my watchlist and I am happy to say I've screened it! However, I'll share, it's hard to watch movies like these with the current news cycles while ALSO reading The Handmaids Tale novel. Yikes!
Briefly, (as brief as Streep is in the film), Suffragette follows a particular set of characters portraying real women who find themselves on the brink of arrest after arrest, vying to get the vote for (white) women. The year is 1912 when Maud Watts (Carey Mulligan), a 24-year-old laundry worker, is pressured to give a speech to testify to a Parliamentary committee. She very hesitantly does so and later finds herself labeled a suffragette in the local paper. Maud ultimately does join the movement, even after her husband kicks her out of their home and delivers their son to adoption services. The film is heartbreaking and I don't know if I'd recommend the watch (it's quite depressing and not nearly interesting enough) besides for the performances by Mulligan, Helena Bonham Carter (as Edith Ellyn, another Suffragette), and Meryl Streep (as Emmeline Pankhurst, lead political activist). Meryl's presence in the movie is quite strong in the short minutes she's on screen. I'd wondered if the movie was made around Streep's character rather than Mulligan's, how much more invested in the story I'd have been, but perhaps I just want as much Streep as I can get!
A big thank you to Streep. For female actresses all over, I know Meryl's ultimately helped push the buttons of directors and producers alike in letting 40+ year old females lead in films, opening the door to many more diverse female roles. As a fan, critic, and eager movie-lover, I feel that she has helped make the film and television industry better. Now go watch her SLAY in Big Little Lies (HBO).
Kramer vs. Kramer
1979, Columbia Pictures, dir. Robert Benton
by Jeffrey Knight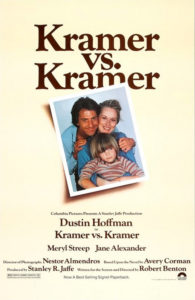 Kramer Vs. Kramer, the Best Picture winner for 1979, is a movie full of surprises. It's Oscar win over films now regarded as classics such as Apocalypse Now and All That Jazz is surprising (though less so to those well-versed in the Academy's history of questionable choices). The fact that it was the movie with the highest domestic box office for 1979 is surprising, considering competition like The Amityville Horror and Alien. But perhaps most surprising of all, and most relevant to this Film Admissions' entry, is just how little Meryl Streep actually appears in it. She is in the movie for just about a quarter of its total runtime, but when she does appear, she commands the screen with a subtle yet heart-rending performance.
Streep plays Joanna Kramer, one of the eponymous Kramers who are fighting over custody of their young son after Joanna leaves her husband, Ted (Dustin Hoffman). Joanna leaves Ted within the first five minutes, and the bulk of the film concerns Ted's efforts to balance his responsibilities at work (he's works in advertising, has just landed a big account and is on the fast track to a Vice President position) with his responsibilities to his 7-year old son, Billy (Justin Henry, who was also nominated for an Oscar). Joanna reappears in the film just a little over the half-way mark. At first, she's just a ghost, silently observing her son's life from afar. Soon, though, she tells Ted that she has moved back to New York City and demands custody. The resulting court case compromises the last half of the film.
Streep's performance in Kramer is relatively naturalistic, at least as compared to the parts for which she is best known. She doesn't wear a wig, nor use an accent. Her portrayal of a young woman who feels that she is trapped in a loveless marriage to a demanding husband and believes that she is unsuited for the role of a mother to a young child is tender and vulnerable. She could easily have been made an overt villain of the film, but there is never any doubt about how much she cares for her son and how much having him in her life means to her. Streep reportedly fought to include a monolog at the trial that provides much needed insight into Joanna's mindset, and it was absolutely the right choice for her character. The movie's deck is stacked against Joanna, and we're meant to root against her. But the audience is never made to hate her- not for very long at least. We sympathize and we can understand that what she does she does for the love of her son.
Kramer Vs. Kramer was only Streep's third feature film, but it was her second Oscar nomination, and her first win. Having never watched it before, I was wondering if this might be a good look at Meryl Streep before she became MERYL STREEP. But it turns out she was always MERYL STREEP. Streep was nominated for Best Supporting Actress for her debut in The Deer Hunter, and won the next year for Kramer Vs. Kramer. She was nominated 6 more times during the 1980's (winning again in '83 for Sophie's Choice). And Streep has been more or less (more more than less) a fixture during awards season for her entire career. She is the First Lady of American Cinema, and a true national treasure.
Death Becomes Her
1992, Universal Pictures, dir. Robert Zemeckis
by Lydia Hardy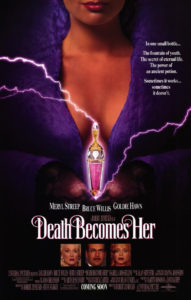 Death Becomes Her is a movie I have been meaning to see for longer than I've been an admirer of Meryl Streep, and that's a long time. And maybe that's because hers is not the only outstanding performance or remarkable thing about the movie. I had heard the plot outlined by a number of friends who had loved it as children drawn to its broad comedic moments, but I wasn't expecting the nihilistic overtones and not-so-subtle social commentary that have led adults alike to appreciate the movie over the years.
Death Becomes Her opens on a 1978 Broadway show, pronounced a flop before we even get to see Madeline Ashton (Streep) strut across a stage belting a show-tune with all the frivolity such a performance calls for. In the audience, which is rapidly disappearing, sits Madeline's longtime frenemy Helen Sharp (Goldie Hawn) an aspiring writer who has brought along her plastic surgeon fiancé, Ernest Menville (Bruce Willis). At the end of the show's opening number, which already has its audience largely bolting for the exits, Ernest stands applauding and shouting much to Helen's chagrin although we learn later not to her surprise. After the show Madeline receives Helen and Ernest in her dressing room and goes straight for the exposed jugular of their relationship, an act clearly motivated by a desire to take what is Helen's and not by any real interest in Ernest.
Seven years later Ernest and Madeline are married -Madeline's career has fizzled and Ernest, no longer a plastic surgeon, works as an undertaker to support her- and Helen has taken to consuming vanilla frosting straight from the container surrounded by her numerous cats and watching Madeline's death (in a movie) on repeat. Once taken to a mental institution, Helen realizes her true calling for revenge on Madeline and another five years later she begins to take it. She resurfaces in 1992 shrunken back to regular Goldie Hawn size and recently published, with a plan to seduce Ernest and enlist his help in killing Madeline.
Meanwhile Madeline, feeling hopeless over her rivals recently recovered figure and reeling from a rejection by her much younger lover, turns to a supernatural solution to her problems. The mysterious Lisle Von Rhuman (Isabella Rosselini) dispenses a magical potion that reverses the aging process, for which Madeline pays an undisclosed sum and is issued a warning to be good to her body. Meanwhile, back at the ranch, Helen has succeeded in seducing Ernest and announced her simple plan for Madeline's demise. When Madeline returns home, she enters into a mean-spirited spat with Ernest which ends with him pushing her down the stairs. The tumble stops her heart beating but apparently does not kill her leading Ernest to believe that a divine force intends for them to be together forever. This illusion is shattered, however, by Madeline's ill-fated attempt to kill Helen which results in the two women finally understanding how much they have in common -they both drank a potion to remain young forever.
They decide they need Ernest's skills to hide their conspicuously decomposing bodies, but he's had enough of them and chooses death instead of eternal life. When he miraculously doesn't die in a fall from an ominous rooftop -honestly not a surprise at this point- he takes it as a second chance and according to his eulogist goes on to live a pretty fulfilled life from that moment on. But the man's insistence that Ernest will "live forever" through his friends, family and children draws a humorless "blah, blah, blah" from a decaying Madeline who knows that the rumors of the Hollywood Hills undead are in fact true.
Although Robert Zemeckis' 1994 vision of red baseball caps and sickly-sweet patriotism may have panned out better at the box office upon its release, Death Becomes Her, unlike its duel protagonists, seems to have aged with a little more grace.
Heartburn
1986, Paramount Pictures, dir. Mike Nichols
by Robert Hornak
Forgotten for reasons that are clear when you watch it, it's nevertheless a jackpot of Film Admissions checkmarks, covering not only one's unseen Streep, but also unseen Nicholson, unseen Mike Nichols, unseen Nora Ephron, and, why not, unseen Carly Simon soundtrack movies. It's one of those survey films in the James L. Brooks vein, longstriding through several years of the marital ups and downs of Streep's magazine food writer, Rachel, and Nicholson's political journalist, Mark – characters based on Ephron's own life married to and divorced from Watergate spotlighter Carl Bernstein. We learn in seconds that their fictionalized versions are both divorced already, and by the midpoint, they've met, married, renovated a house, are headed toward their second kid, and are separated. The rest of the movie covers Rachel's second dawning that Mark isn't worth her time. In the end, the movie feels like a flipbook compendium of scenes we've seen in a hundred other breakup movies before this one – and a thousand since – with a litany of perfunctory checkboxes of its own.
It's a propulsive race through the highlights of a breakdown with only the performances in individual scenes left to bear the weight of holding our attention. Nicholson does well in the Nicholson role as the most charming gargoyle you've ever met. He's that, because he's very good at that, but then, as usual, he surprises you with those naturalistic pauses that show you with a wallop the depths of his talent. But it's Streep's movie, and luckily she's in glorious believability mode, some time before she found the tics and tricks she liked the best and drove herself into unrepentant Streepiness, before she forgot that all she had to do with her rare gift was be there and react, and before the Academy's Pavlovian response to her mere name in the opening credits. Here there's bit after bit of soft, real, subtle, growing moments that happen in real time – none of the drawn out seconds of lead-up to an emotion – the extra eye roll, the disbelieving head toss, the touch to the cheekbone, the animatronic indulgences directors let her wallow in now. Today you can see her turning on the faucet well before the tears roll…but here there are no tears (mostly) because she doesn't need them to take you to where she wants you to go. It's a terrible shame that most of my enjoyment of this movie was just marveling at how much better Streep used to be.
Heartburn is a drama with a comedy title that ends on a triumphant note when Rachel finally leaves womanizing Mark for good – but the cinching of her freedom is really a cynical downer, only confirming and deepening her mantra from the opening scenes: "I don't believe in marriage." Mark definitely proves himself worthy of being deserted several times over, and Rachel – the character – has every right to dump him. But the fact that this deserter, a character written by the same woman she's based on, comes off as completely innocent, beset by the world's purveyors of cruelty, seems more like an extension of Ephron's id-driven need for personal comeuppance. In some ways, underneath the Streep, the Nicholson, and the breeziness of the Mike Nichols touch, is one writer's glorified pot shot and a script written on a scorecard.
Defending Your Life
1991/Geffen Pictures/dir. Albert Brooks
by Jim Tudor
If further proof is needed that Meryl Streep is an amazing actress, I present exhibit A: writer/director/star Albert Brooks' 1991 afterlife comedy, Defending Your Life. Despite over a decade of brilliance, Streep nevertheless found herself playing "the girl" here. Her role consists entirely of being the selfless and sharp dream woman, there to fall in love with Brooks, that charming, witty shlub. Via their connection, he will learn a thing or two about himself, and how his own debilitating fears have kept him from being the happy yuppie he could've been during his life on Earth.
Did I mentioned that they're dead? With the exception of Brooks's uninspired death scene at the very beginning, the entirety of Defending Your Life takes place in a kind of timeshare purgatory called Judgement City. There, the newly dead (mostly senior citizens; children are filtered out and spared this process) luxuriate in hotels of varying quality (depending on how well one lived one's life) and enjoy endless buffets of the best food ever- with the assurance that they can freely eat as much as they want to without any health concerns. After all, everyone is already dead.
Though I'm a big fan of Albert Brooks in general (Lost in America is a repeat favorite), this film has eluded me. Now that I've seen all seven of the actor/comedian's directorial features, I can pronounce this stiff and strained effort to be his second worst, edged out only by his 1981's sophomore misfire, Modern Romance. Almost immediately, Defending Your Life gets bogged down in exposition and minutia about how the afterlife works, all at the expense of the comedy. Brooks is put on trial, defended by Rip Torn (and in one odd detour, Buck Henry) and prosecuted by Lee Grant (aka "the dragon lady"), shown numerous film clips of key life decisions. In these repetitive moments, the film becomes scene after scene of scene after scene. This trial will determine whether he's sent back to Earth for another lifetime as someone else, or advanced to Heaven. (We are told there is no Hell- though L.A. is getting to be a close substitute. Haha haha, har, har! Then awkward silence, because Brooks the funnyman knows better- if only this time.)
Streep, though prominent, is also relegated frustratingly to the fringes. Her acting brilliance truly kicks in when her character is required to laugh at everything Brooks says, despite the fact that this is some of his most tepid material. Between this and the prolonged make-out scene, Defending Your Life couldn't help but leave this Albert Brooks fan with a certain narcissistic ickiness, indicative of a powerful writer/director/star concocting an ideal version of himself, then arranging kissy-kissy moments with a beautiful actress of his choice. This film is far from the first or worst instance of such a thing, but it's compounded by the fact that there's so little to Streep's character.
The people I follow on Letterboxd who've seen Defending Your Life all give the movie four stars or higher, and apparently it was in top 500 consideration for the American Film Institute's list of Best American Comedies, issued in the year 2000. So I admit I might be missing something about this film. But upon first viewing, I'm condemning the bland and draggy Defending Your Life to movie purgatory. Streep, however, is as heavenly as she's able to be.
Sophie's Choice
1982, Universal Pictures, dir. Alan J. Pakula
by Krystal Lyon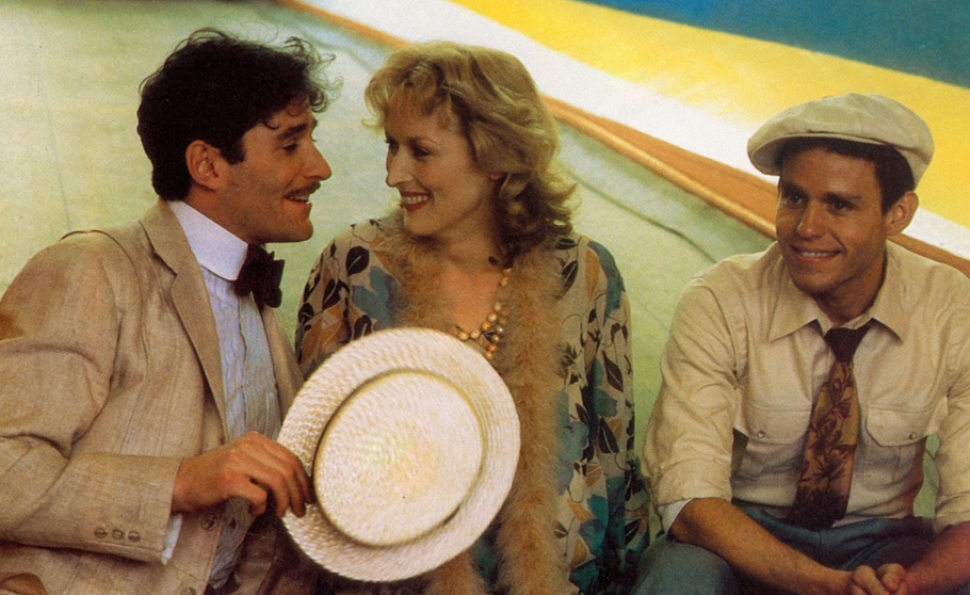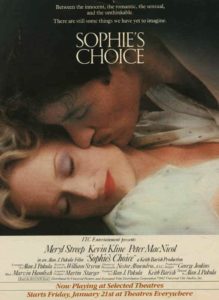 "Oh man, that's a real Sophie's Choice!" I've used that film reference a number of times. I know what it means, a choice made between two things you love. I was just 6 when Sophie's Choice hit theaters back in 1982 and it was definitely not suitable for my sensitive elementary days. (Thus the reason this Oscar winning film is my Meryl Film Admissions.) But I distinctly remember my mom telling me about the movie and "the choice" when I studied WWII and the holocaust in high school. So you would think that knowing the ending would prepare me for that devastating scene. It did not, the movie broke my heart, let's dive in!
The story is told through the eyes of Stingo, a young Southern writer played by Peter MacNicol. He moves into a rent-a-room house in Brooklyn in 1947 and his upstairs neighbors are Zofia "Sophie", played perfectly by Meryl Streep and her boyfriend Nathan, Kevin Kline in his feature film debut. The three become best pals, they go to Coney Island together, drink late into the night and have picnics in the park. But as the relationship deepens the truth about Nathan and Sophie's past is revealed. We hear Sophie's Polish accent and see the numbers tattooed on her arm, she's spent time in a concentration camp. We also witness Nathan's major mood swings and that he can become incredibly violent. Stingo wonders why Sophie puts up with Nathan's abuse and why she won't run away with him. But as you learn about Sophie's past and the horrors she experienced at the hands of the Nazis and the burden she carries because of one major choice that was forced on her, you understand the decision to stay with Nathan. Sophie's Choice is a mortifying tale that addresses racism, wartime atrocities and mental illness; it's a brutal watch.
But with all that darkness, there must be some light and the light is Meryl! Streep radiates light, kindness and grace on screen. Fair-skinned, blonde and young she reminds me of the most delicate and rare china, sought after and wanted but fragile and easily broken. And Streep portrays vulnerability perfectly. Throughout the film you watch her hope for the best with her family in Nazi occupied Poland, in the concentration camp and with Nathan in Brooklyn. She gives so much emotion in these scenes that you forget that she's not really a Polish immigrant, you forget she's Meryl! Streep dances through all of this fragility, grace, despair and hope in Sophie's Choice like a skilled ballerina. You can't take your eyes off of her and with each twirl she reveals another twist and turn in the story. And can we talk about that accent for one hot minute! It's remarkable and consistent and how is Meryl really from New Jersey? Streep danced away with the Golden Globe and the Academy Award in 1983 for this performance, and based on my viewing of Sophie's Choice, the other nominees never stood a chance.
There are so many reasons to watch Sophie's Choice. Watch it for young Kevin Kline and the scene where he directs his reflection in the windows of his apartment. Watch it to remember the devastation of Hitler and the holocaust; we can't forget the impact hatred can have on this world. Watch it to learn about mental illness and how to care for those who's minds have turned against them. Watch it to know what's right and beautiful and important in this life. And watch it for Meryl, she'll break your heart and give you hope at the same time.