Anna Kendrick and Blake Lively are Mismatched Moms in Director Paul Feig's Darker Turn
DIRECTED BY PAUL FEIG/2018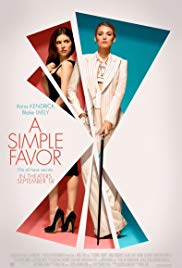 Director Paul Feig, who has had some hits and some misses, returns with a dark comedy called A Simple Favor, a film that provides a good amount of laughs, a compelling enough mystery, but some mixed results.
Like his massive hit Bridesmaids, A Simple Favor's humor is crass and edgy, and at times, illicits some audience-wide laughs.  At other times, the darker mystery being unraveled draws the audience in, but suffers from being a bit uneven and detached from the humor.  In other words, the experience on the whole is greater than the sum of its parts, resulting in a mostly fun experience at the theater.
Anna Kendrick (Pitch Perfect series, Table 19) is a single mom, and vlogger (video blogger), named Stephanie Smothers.  The name is appropriate as she tends to smother the other parents at her child's school to death by over-volunteering for nearly every opportunity provided by the class.  Since she makes web videos geared towards other "mommies", school celebrations will include her doing all the decorating, baking, and frankly anything else she can do.  The other parents look upon her with contempt as she is always dressed nicely, though not always fashionably, and seems to exude sunshine and flowers.  Surely no one is this nice.
Her child's friend, however, has the opposite kind of mommy.  His mom, Emily Nelson, is played by Blake Lively (The Age of Adaline, The Town, The Shallows), who seems to have been inspired by her husband Ryan Reynolds' alter ego Deadpool for this character. Emily is the always dressed to the nines supermodel-looking mom, but (and here's the Deadpool connection) extremely foul-mouthed, a heavy drinker, and someone who refuses to apologize.  Anything goes for her, and she doesn't self-censor in front of children either.
A friendship is struck between the two over afternoon martinis, where Emily is able to coax some deep, dark, and frankly disgusting secrets out of the always buttoned-up Stephanie.  Emily also reveals secrets, but more in a bragging way, such as how she recently had a threesome with her husband and his teaching assistant.  Her husband is a successful writer, and college professor named Sean Townsend, played by Henry Golding who already had a smash hit last month with Crazy Rich Asians.  Emily seems to have everything, yet still seems to make some pretty cryptic comments that Stephanie raises an eyebrow over, but quickly dismisses.  That is, until one day Emily asks Stephanie to pick up her son from school, but doesn't come home.
The film becomes about the mystery of the disappearance, in which Stephanie uses her Vlog to bring awareness to Emily's disappearance.  Soon, she is wrapped up in the mystery herself, as her close relationship with Emily and Sean entraps her into a web of clues that eventually casts the eye of suspicion upon herself.
The script from Jessica Sharzer (Nerve) is an adaptation of the debut novel from writer Darcey Bell.  As far as a movie narrative, the story flows reasonably well, and the humor sticks its landing, especially as its delivered by both Kendrick and Lively, who demonstrate some serious comedic chops.  The success of this film will ultimately come down to how audiences respond to this humor, as it delves into some pretty out-of-bounds topics that may be too many lines to cross for some.
Kendrick has the most to gain from this film as she made her name in the George Clooney starring film Up in the Air, but may be better known for the Pitch Perfect series where she found some success, but also seemed to be typecast just a bit.   With this role, she is able to maintain her youthful vibe from Pitch Perfect, while delving into more of an adult subject matter that allows her to demonstrate equally her ability to handle both drama and comedy, and create a character that has several layers more than the well-put-together exterior she radiates at the start of the story.  For those who love her singing, she also has a hilarious rap scene while driving her car.
On the whole, I had a pretty good time at this film, and I felt that the overall vibe that one comes out of the film with is vastly different than what one would expect, especially after having watched the trailer for the film.  I'll be interested to see if the marketing for this film creates any type of disconnect for the type of audiences that go to see this.  Will audiences know what they are in for as far as the comedy goes, or will they be offended by this being a dark, edgy, and graphic dark comedy-drama?  The comedy and the drama can sometimes be a bit disjointed, but for the overall experience A Simple Favor, doesn't feel like a tough ask.