Two Recent Documentaries on Third Reich Cinema Demonstrate Different Approaches in Grappling
During the Nazi reign in Germany between 1935 and 1944, around 1,200 films were made.  Kino Lorber has recently released two feature length documentaries to DVD, each of which examine these films, albeit with different focuses, methods, and style.  
Both films begin at the same place: The fact that as the German film industry remained in a state of creative flourish, preceded by the brilliant national output of the Weimar era, the Third Reich was quick to seize upon the popularity and impressionable possibilities of cinema.  It is estimated that forty or so of the films produced under the direct supervision of Josef Goebbels qualify as hardline Nazi propaganda.  Those forty films were vaulted from the public by Allied occupants in the immediate follow-up to World War II.  The other 1,160 films have remained freely available.
FORBIDDEN FILMS
DIRECTED BY FELIX MOELLER/GERMAN/2014
STREET DATE: MAY 15, 2018/ZEITGEIST FILMS
In his 2014 documentary Forbidden Films, filmmaker Felix Moeller is concerned with the vaulted forty.  Clips depicting the most insidious moments of these most notorious films (in surprisingly good condition) are shown, and experts are formally interviewed.  The true crux of the piece, though, is a series of public screenings of Veit Harlan's 1940 Final Solution advocacy drama Jud Süss, and other banned films, hosted in select locales, via special educational permission granted by the German government.  
The Q&A sessions that immediately followed the screenings are cherry-picked for a colorful range of opinions to the central question at hand:  Should these films, after all these years, remain banned?  Should they be freed up for academic access only?  Are the messages of these lavishly made Hollywood-esque dramas and melodramas still dangerous after all these years?
Moeller breaks his film up into individually delineated segments, a structure that starts off strong ("Youth", giving way to "Entertainment" and "Anti-Semitism") before fraying into apparent odds and ends ("Euthanasia", "The Stars").  Though not a poor or uninteresting film by any stretch, there is nevertheless a certain rote quality at the heart of Forbidden Films.  
Moeller and Suchsland understand that above all other arguments, cinema wields a certain power…  Their films' challenge is to look to history as we must continue to asks ourselves, how can we better understand such power, and what do we truly do with it?
Moeller's agenda tempers any true cinematic enlightenment or criticism beyond the quality execution of propaganda.  (Again and again, shocked viewers of a vintage film say, "It's good…!  It's very compelling and well made- which is why it's so reprehensible, so dangerous!").  The specifics of the artistic hows and whys of the individual propaganda techniques aren't analyzed nor dwelled upon; simply shown.  Which is fine; though a few dissected examples might've strengthened the overlying points.  
As is, Forbidden Films is ultimately a continuation of the talking points in the gatherings it documents.  On hand to elaborate are filmmakers Oskar Roehler and Margarethe von Trotta, as well as an assortment of film certification officials and historians.  This is a fine DVD for those interested in Nazi cinema history, and/or anyone who's looking for help starting a conversation about the freedom of content.
HITLER'S HOLLYWOOD
DIRECTED BY RÜDIGER SUCHSLAND/GERMAN/2017
STREET DATE: JULY 10, 2018/ KINO LORBER
In stark contrast to the style and methods of Moeller's film, though ideologically in lockstep opposition to the Nazi messages, there's Rüdiger Suchsland's newer film and festival hit Hitler's Hollywood.  
If Moeller was interested in exploring only the forty "worst of the worst" films, Suchsland is interested in the other 1,160 (by rough count, of course).  These are the "regular" films consumed by the German populace under Hitler.  Like the appalling titles covered in Forbidden Films, these films were green-lit by Propaganda Minister Goebells, always with thoughts towards ideology.   Yet even under such constrained conditions, Suchsland is able to take a step back from the individual titles in order to examine how collectively, the German film output as a whole was a channeling a bout the present and future of the country.  Even Hitler's tight clasp of control couldn't prevent cinema itself from detailing symbols and indicators of 
The messaging may not cbe overt, but insomuch as every film ever made is a product of the time and culture that generated it, so too are these.  Could it be, then, that these scores upon scores of freely available Hollywood-esque productions, including lavish musicals, comedies, dramas, and more, are the most dangerous?  Film language knows no bounds, but when the world is illiterate, influence can reign untempered.  Such ignorance is key to the Nazi agenda, insofar as media consumption is concerned.
With Hitler's Hollywood, Suchsland pucks up where he left off with his 2014 documentary, From Caligari to Hitler.  Once again, he leans heavily into the great German critic, Siegfried Kracauer, opening with his on-screen quote, "Watching old movies is a means of exploring one's past."  From exile, Kracauer wrote of these then-contemporary films: 
Cinema is a seismograph of its time, an indicator of the cultural subconscious of an era.  Cinema knows something that we don't know.  It has an underlying meaning that can be exposed.  If that is true, and we believe it is, what does Nazi cinema reveal about the Third Reich and its people?  What is the effect of their myths and narratives, their blatant lies and hidden truths on today's German cinema?  What does German cinema tell, that we have forgotten?"
The aesthetic and the approach of Hitler's Hollywood exists in that uncommonly familiar place of film as a Mystical Thing, whisper-spoken about in transcendental terms and phrases.  It's what Suchsland was going for with From Caligari to Hitler; it's even more successful this time.  There are no contemporary talking head experts or historians to contextualize the decades old and, in the case of North America and beyond, foreign audiences.  It's simply, and impressively, nothing but well-selected clips of German Films from the Nazi era.  Quite an impressive feat, in terms of documentary storytelling.
Actor Udo Kier provides a hauntingly scripted narration for the English language track, something that From Caligari to Hitler did not provide.  That said, between Kier's thick accent and an unfortunate sound mix, it's often quite difficult to discern what is being said.  It took some tinkering to arrive at the conclusion that for optimal viewing of this DVD, this critic recommends avoiding the troubled 5.1 audio mixes, and stick with the two channel stereo mixes of either English (Udo Kier) or German (Suchsland), with English subtitles turned on either way.  The English subs, however, better match the German narration, which, as it turns out, is a little different in pacing and content.  Nevertheless, Kier's haunting read of the material gets the edge.
Hitler's Hollywood is an inspired and effective piece of work, from beginning to end.  Here's hoping that Suchsland continues his examination of his native country's film history.  What does cinema know that we don't know about the postwar period, or about New German Cinema?
*****
In considering the sheer gravity of these films and their messaging, one must remember that filmgoing wasn't just tremendously popular in Germany, it was a widespread way of life- just as it was in the United States.  Today, movie theaters draw only a fraction of what they did in those days.  Naysayers of cinema tend to dismiss it as either inconsequential, or as a too-overt carrier of opposing views.  The former viewpoint was just what Hitler was banking on.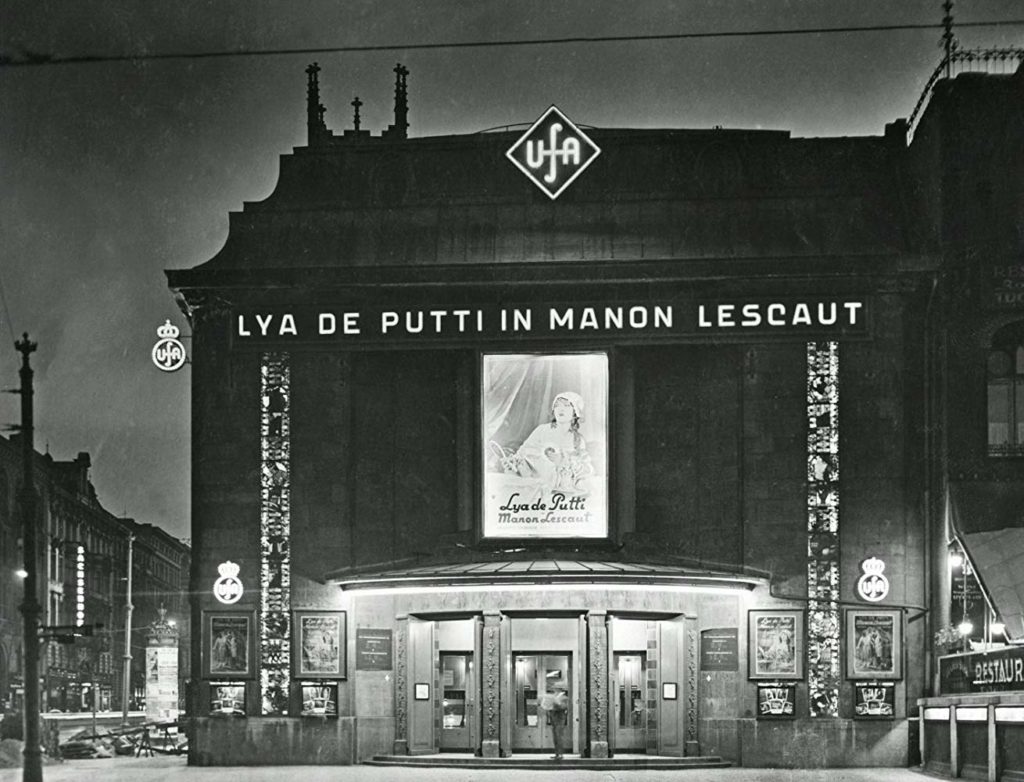 The latter attitude is one that the insidiousness of these Nazi era films, whether overt propaganda or merely lighter fare nevertheless tinted by the Third Reich, would seem to validate.  In the U.S. today, "Hollywood" routinely comes under fire from "culture warriors" who are dubious (at least) about left-wing messaging in our entertainment.  The difference is, the work of Hollywood and the line hail from a place of free market capitalism; the films of the Third Reich most assuredly did not.  
Today, as hardline right-wingers actively take aim at prominent directors and actors who dare to speak in opposition (overtly on social media, perhaps more latently onscreen) to the current powers that be, we must ask ourselves who's media voice- if any- do we care to give credence to, and is there such a place where does entertainment end and propaganda begins.  If and when we determine that there is no such place, what then?
Moeller and Suchsland understand that above all other arguments, cinema wields a certain power.  Whether looking at moments from straight-up Nazi glorification movies such as Hans Steinhoff's political transitional drama Hitlerjunge Quex (1933), Leni Riefenstahl's pro-Hitler documentary Triumph of the Will (1935), or the insidious Jud Süss; or the non-overt, far more common fare such as the Ingrid Bergman starrer The Four Companions (1938) by Carl Froelich, Karl Anton's romantic musical comedy You Only You (1941), or Karl Hartl's singular large-scale sci-fi, Gold (1934), the makers of both Forbidden Films and Hitler's Hollywood share a mutual respect of what they're dealing with.  Their films' challenge is to look to history as we must continue to asks ourselves, how can we better understand such power, and what do we truly do with it?