A Fine Wellesian Madness
DIRECTOR: Orson Welles/1938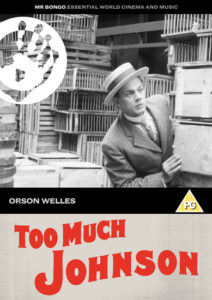 2015 marks the 100th Anniversary of the birth of George Orson Welles and this year's Wisconsin Film Festival (April 9th – 16th) will celebrate the occasion with a rare public showing of the Kenosha, Wisconsin native's 1965 Chimes at Midnight (Saturday 4/11, 1pm, Capitol Theatre), with Welles in the role he was possibly born to play, that of Shakespeare's Falstaff. Orson Welles: A Centennial Celebration has thus far included showings of his eight most well-known features – from Citizen Kane (1941) and The Magnificent Ambersons (1942) to Touch of Evil (1958) and F For Fake (1973) – continuing through Welles' performance in Richard Fleischer's oddball 1960 courtroom drama Crack in the Mirror (in which Welles essays a double role both as murder victim AND defense attorney to the murderer; Sunday 4/12, 1:30 pm, UW Chazen Museum of Art) and will conclude with the 2014 documentary Magician: The Astonishing Life and Work of Orson Welles, from director Chuck Workman (Wednesday 4/15, 1:30 pm, Sundance Cinema).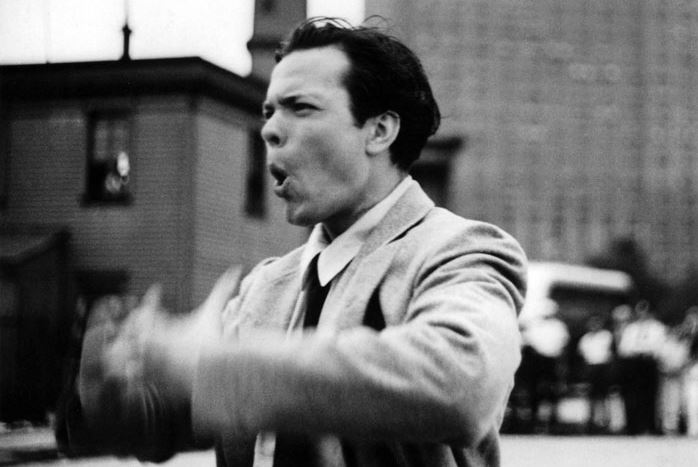 Kicking off the entire festival of 100+ movies and 11-theater venues, though, was last night's even more exceedingly rare public showing, at UW Cinematheque, of a true cinematic oddity: Welles' 1938 Mercury Theatre production of Too Much Johnson. Conceived as a series of filmed prologues to a revival staging of playwright/actor William Gillette's 1894 comedy "Too Much Johnson", the three silent slapstick-style "two-reelers" Welles and his theater troupe filmed were intended to precede each of the play's three acts as a sort of early multi-media extravaganza combining the comic business of the filmed material with the farcical goings-on of the play. Taking to the streets of New York in the summer of 1938 (sans permit, one should add), Welles, a newsreel cameraman, and the play's principal cast – including Joseph Cotten, Edgar Barrier, Mary Wickes, Ruth Ford, Erskine Sandford, and other Mercury Theatre performers – set out to make a vintage Mack Sennett Keystone Kop-like comedy, circa 1912.
What resulted was, to my eyes, a pure delight from the overstuffed budoir that opens the film (in which Cotten and Ford roll about in an ecstasy of overplayed passion upon a hotbed of promiscuity), through the bewildering comic chase given by jealous husband Barrier to philandering interloper Cotten (involving a maze of dockyard crates, pursuit by angry mobs up and down endless streets, and finally taking to the ledges, fire escapes, and rooftops of the city), to the comic duels and near-drownings on the sandy, rough terrain and in silty waterbeds of a Hudson Bay rock quarry (that we, the audience, are apparently supposed to take for Cuba) at its frantic conclusion. Massive fun, all in all, and by all appearances massive fun to make, as well: the actors, especially Cotten, appear to be risking life and limb scaling the sides of buildings, leaping over multi-story drops, and sludging through muddy waterways. One imagines Welles to have either been just that persuasive, realizing that he's dragging along a camera carrying nitrate stock all the while to record this mirthful madness, or just that infectiously foolhardy. Knowing Welles as the ambitious, driven, self-invented madman/magician of stage and airwaves that he was, and mad-gician of the big screen that he'd come to be, I'd venture it to be a bit of both.
The most astonishing aspect of this movie is that it even exists at all. For a variety of reasons, mostly due to Welles' other commitments on the New York stage and to various radio projects, the film was never completed and the play, in its abbreviated Connecticut run, was staged without the filmed prologues. Languishing for decades as rumor and hearsay, never exhibited publicly – and later thought to have been destroyed in a fire at Welles' Spanish Villa in the early 70s – what exists of Too Much Johnson, as mostly unedited "workprint", was miraculously rediscovered at an Italian warehouse (of all places) in 2008 and restored over a five-year period by George Eastman House, Cinemarzo, and Cinema Arts. A particularly funny scene, where Barrier walks down a street and knocks off the hats of every man he meets in order to match the bare heads with the torn, half-a-photograph he is carrying around of Cotten's bare head, was restored by the only film lab in the world, located in the Netherlands, that still has the equipment and means to restore damaged, highly-flammable nitrate film stock.
And, coming full circle, Too Much Johnson receives a showing in Welles' home state of Wisconsin among the inaugural events of its annual film festival. With insightful commentary by George Eastman House archivist Jared Case and masterfully-improvised piano accompaniment by the talented David Drazin, Welles' straw-hatted, mustachioed, horse-drawn, frame-sped revival of what film revivalist/historian Robert Youngson called "Days of Thrills and Laughter" – the halcyon period of silent movies – came to vivid life at 4070 Vilas Hall, UW Cinematheque. With a tone that reminded this film fan of the wistful opening scenes of comic-tinged nostalgia from Welles' later Magnificent Ambersons, and Bernstein's youthfully optimistic recollections of his, Leland, and Kane's "taking over" the offices of the Inquirer in Citizen Kane, Too Much Johnson is similarly rooted in a sort of impossibly-rosy "dream-view" of the past, along with the unfettered joy in playing around with and recreating a cinematic world that precedes one's birth. Similarly, the techniques – including low angles pointed up at rooftop extremes, gags staged in fields of depth far from the camera – even presage those that would later show up in his revolutionary features. One hundred years on, this fine piece of Wellesian madness, rescued from oblivion, is a joy worth rediscovering.