"The Funky Low-Budget Classic of Paranoia" is Astonishingly Restored
DIRECTED BY WILLIAM CAMERON MENZIES/1953
4K UHD STREET DATE: JANUARY 10, 2023/IGNITE FILMS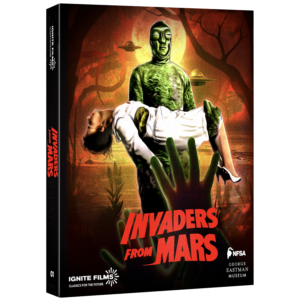 In a film full of green aliens, brainwashed love ones, missing persons, and a cosmic disembodied head with tentacles, how is it that its scariest image is a bare, forced-perspective hallway?  That's what you get when a legendary production designer is given the reigns to direct a low-budget sci-fi creature feature.  William Cameron Menzies, the man for whom the title "production designer" was coined (for his monumental work on 1939's Gone with the Wind), had, by 1953, worked every facet of the art direction/set designing side of things.  But what he really wanted to do was direct.
Actually, he'd been directing films, off and on, since the very early 1930s. Nevertheless, many of those jobs- many of which were genre pictures- were rooted in his art director cred. (His austere and prophetic 1936 H.G. Wells adaptation Things to Come stands out in this category). Often, he'd share directorial credit with another filmmaker who'd work with the actors while he concentrated on the visual aspects. Back then, someone like Menzies would be tasked not just with the sets and props, but the entire look of the picture. This is as he wanted it.
These facts, and many more, can be found in the copious bonus features of the debut physical media release from Ignite Films, 1953's Invaders from Mars (spine number 01). The people behind the upstart label have pulled out all the stops for this oft-maligned sci-fi classic. Not only have they undertaken a breathtaking 4K restoration of the film, but they've accompanied it with classy packaging and a healthy list of newly created contextual supplements, populated with well-known film industry enthusiasts John Landis, Joe Dante, and John Sayles, among others.
The guests featured in the new supplements aren't afraid to discuss and even have a chuckle over the hokey, the nonsensical, and the outright silly aspects of Invaders from Mars. Spearheading what would be an iconic wave of Red Scare-era paranoid alien infiltration programmers (setting aside 20th Century Fox's comparatively lofty 1951 stern warning in silver fabric, The Day the Earth Stood Still), Menzies' 1953 flying saucer thriller evokes genuine suspense and earnest engagement amid its many visibly cut corners.
Case in point: that eerie forced-perspective hallway. Around the midpoint of the economic seventy-eight-minute feature, our hero, young every-kid David (Jimmy Hunt) finds himself at the world's more austere police station. With its starkly white walls (most likely actually eighteen percent grey, the workaround for celluloid unfriendly pure white) devoid of pretty much anything, this singularly bizarre actualization of practical linear illusion forefronts the film's notions of warped, previously trusted authority. In 1953, a kid like David would ordinarily have no reason to fear his local law enforcement officers. But one step into this narrow otherworldly void, with its still nothingness offset only by a pair of decorative glass spherical lamps on the looming check-in desk… no one could blame a kid for turning tail. But even in a short movie like Invaders from Mars, escape is never so simple.
As is iterated and reiterated by the experts in the Ignite bonus features, Invaders from Mars is, first and foremost, the nightmare of a traditional mid-century smalltown boy. One by one in ridiculously rapid succession, the pillars of trust that held up David's world are revealed to be internally overtaken… overtaken by Martians!! The telltale scar on the back of the brainwashed's necks is merely conclusive proof in the face of sudden uncharacteristic terseness and anger. Invaders from Mars isn't screwing around- the very first victim is David's beloved, even keeled father (Leif Erickson). Mom (Hillary Brooke) soon follows, then neighbors. Then it's off to that askew police station. This being the early 1950s, David soon falls under the care of other good adults, primarily Dr. Pat Blake (Helena Carter). All this following David's late-night spotting of a flying saucer landing just beyond the hill up yonder.
David's world is a repetitively small place. What you see is all you get. Per Menzies' expertise and necessary efficiency in the face of this small production, it's likely literally all that there ever was. The director even goes so far as to cleverly return to the split-rail fence imagery of his Gone with the Wind design, and all of its implied coziness… and all the subsequent cultural unease that comes with that film. Here, it's a subversion of author Mitchell and producer Selznick's notions of Tara and all it represents within the story. Home, family, loyalty, even the color spectrum itself- it's all gone whacked. Even the land, so cherished and revered by Scarlett O'Hara and company, aggressively devours unsuspecting individuals who simply tread its everyday worn path. Those individuals are then regurgitated into short tempered Martian operatives. It all goes down along the winding road of that very split-rail fence. Know this: If you're on the fence about picking up this astonishingly excellent release (either Blu-ray or 4K disc), it is this very fence that you are in fact on.
Which brings us to the primary reason to acquire this release: the beautiful, even stunning restoration. I had the good fortune to evaluate the 4K edition, in all its slipcovered and bookleted glory. The enclosed booklet spotlights the technical challenges and improvements made to this often-mishandled movie. Look no further than the side-by-side comparison images to see the fruits of the long labor put forth on this project. All of the meticulous technical detail of the undertaking is laid out in both the booklet and a devoted featurette with film restoration supervisor Scott MacQueen. Ignite Films no doubt spent far, far longer restoring Invaders from Mars than Menzies and company spent making it. The result, however, is absolutely worth it. There's almost a living psychedelic tinge to the film's colors, particularly in the final portion, set in the Martians glowingly green and dark ookie subterranean lair.
One may be inclined to wonder why invaders from Mars would be so hyper focused on overtaking the denizens of a sleepy American small town. It's a fair question, although in this day and age, a quick survey of almost any such town's resident's over-the-top devotion to a particular former president of the United States might just reveal what the original, non-brainwashed Kevin McCarthy was trying to warn everyone about in his own paranoid sci-fi classic: They're here already!!!
*****
Here are the official details on the excellent supplemental features included on Ignite Films' release of Invaders from Mars:
Restored 4K original 1953 trailer AND a newly commissioned trailer 2022
Interviews with star Jimmy Hunt, William Cameron Menzies' biographer James Curtis and recollections of Menzies' eldest granddaughter Pamela Lauesen
Featurette with acclaimed film directors John Landis, Joe Dante, editor Mark Goldblatt, special visual effects artist and two time Oscar Winner Robert Skotak (foremost expert on Invaders from Mars), and enthusiast and film preservationist Scott MacQueen
John Sayles' introduction at Turner Classic Movie Festival in Hollywood, April 2022
Before/after clips of restoration – original negative and archival film elements – with film restoration supervisor Scott MacQueen
Restored segments in 2K of the Alternate International Version — alternative ending and extended Planetarium scene
Gallery with original Press Book pages, behind the scenes photos from the restoration process
20-page extensive essay on the restoration process: "Invaders From Mars: A Nightmare of Restoration" by Scott MacQueen