Old Hollywood Noir Meets "Drive-in Art House"
DIRECTED BY GEORGES LAUTNER/1970
BLU-RAY STREET DATE: JULY 6, 2021/KL STUDIO CLASSICS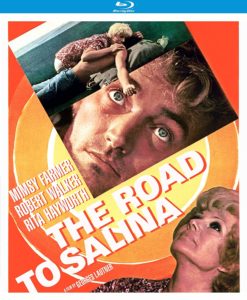 "The '70's had a genre I like to call 'drive-in art house'- part exploitation, part Antonioni."
So explains screenwriter Larry Karaszewski in his brief Trailers from Hell tribute to French director Georges Lautner's sublime 1970 desert thriller, The Road to Salina (La Route de Salina).  It's hard to concoct a more perfect description than that, insofar as this is a film that defies most any description.  The English language film (Lautner's only non-French language outing) stars Robert Walker, Jr. (son of actors Robert Walker and Jennifer Jones), Mimsy Farmer, Rita Hayworth (in her second-to-last role) and Ed Begley.
Psychological, sunbaked, and sexy, this is one "Road" picture thousands of miles from the likes of Bob Hope and Bing Crosby. This is a torrid, lurid tale with a strong-enough narrative hook that it can afford to forefront what Karaszewski aptly calls a "slow and stoney" vibe. There are many such "slow and stoney" pictures of this era and its rapidly shifting cinematic sands, but The Road to Salina is among the top comers to the fleeting scene.
Like something out of Film Noir, The Road to Salina hinges on a murky case of mistaken identity. The "mistake", though, is likely no mistake at all, but rather some sort of self-imposed delusion. It's a classic construct grafted onto a lazy, incommunicative, headspacey milieu. The sex, so loose and free, is straight out of the Summer of Love. The extremely warped nature of said sex is straight out of the frankest of Neo-Noir. Yet this is not a hippie movie nor a hard-boiled rush of blood. The Road to Salina wanders along its own path.
Based upon Maurice Cury's novel Sur la Route de Salina, Robert Walker, Jr. plays a young drifter making his way down the sweltering middle-of-nowhere road to Salina, driving his cool, yellow 1950s finned convertible. A simple stop for water at a humble, isolated dwelling quickly yields a figurative downpour he never bargained for. The proprietor, a clearly emotionally unstable older woman called Mara (Hayworth), immediately mistakes him for her long-lost son, Rocky. Feeling sorry for her, her momentarily indulges her delusion, with his own caveat that he'll soon be skedaddling. But things quickly change when Mara's daughter Billie (Mimsy Farmer) saunters in.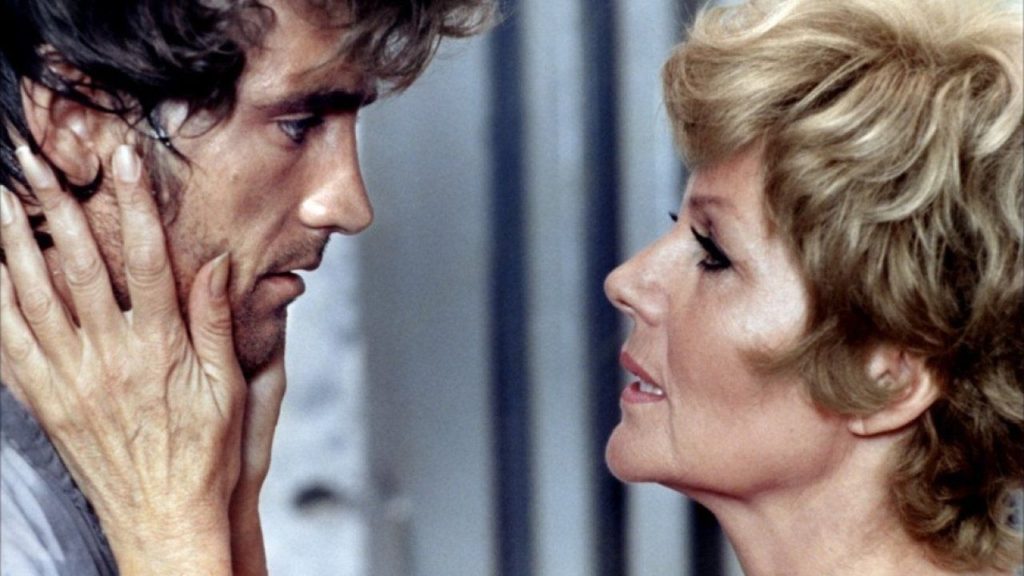 The plot thickens when everyone else, not just delusional old Mara, also identifies our protagonist as Rocky. Things get especially salacious as Billie aggressively sexual advances upon him, all the while rolling with the notion that he is her brother. That very uncomfortable strangeness aside, this attractive young girl coming onto him compels him to hang around quite a bit longer. His physical but otherwise aloof relationship with the frequently in-the-buff Billie continues unabated with a preference for skinny dipping and then collapsing on the sandy beach.
Eventually he comes clean with Billie. "My name is Jonas", he bluntly states- quite likely providing the opening salvo of Weezer's "Blue Album". Later, he discovers that he looks nothing like the real Rocky. Just what the heck is going on here? And will we ever really know? Walker, with his steely eyes and skinny yet sturdy frame, is solid in this unlikely mash-up of new French open-endedness and Old Hollywood. (Ed Begley comes and goes as a too-concerned neighbor).
As for the waifish, shortly coifed and comely Farmer, she ultimately carries The Road to Salina. It is her who deepens the well-parsed intrigue, provides the sex, and compels every other character- all essential ingredients in Lautner's piquant mystery stew. It is around this time of quickly loosening cinematic content that the talented Farmer went full-on in cultivating her niche as the American actress with no qualms whatsoever towards any and all nudity. That reputation sells her far short as the accomplished actress that she is. Here, she brings everything to the table, outwardly free and internally festering.
Kino Lorber Studio Classics' new Blu-ray edition of The Road to Salina utilizes a 4K restoration from the original camera negative, and good grief l, does it look great.  Watching this disc, you can almost feel the heat of the sun against the sand and pavement.  The film's amazingly bold music by an odd conglomerate consisting of the rock group Clinic, the French artist Christophe, and arranger-composer Bernard Gerard, comes through with a satisfying vibey wallop.  It's the kind of score that's unapologetically of its time; the sort of thing Quentin Tarantino would appropriate with zeal.  In fact, he did just that, featuring some of this music in 2003's Kill Bill Vol. 2.  
The garish paste-up that is the cover of this Blu-ray does the otherwise exceptional contents no favors. Among those contents is the aforementioned Trailers from Hell segment, and a new optional audio commentary by film historians Howard S. Berger, Steve Mitchell and Nathaniel Thompson. These guys have been on a roll lately providing their feature-length group takes for KL's 1960s and 1970s French offerings, among others. Though three-person commentaries can often be messy, this group has long ago found their natural rhythm, providing all sorts of insights and opinions on this special little movie.
The commentators explain that The Road to Salina was, upon its release, a road less travelled by filmgoers en masse.  They describe it as "immediately forgotten", briefly relegated to the lower half of a drive-in double bill with Roger Vadim's Pretty Maids All in a Row, then vanishing altogether.  Now, quite thankfully, this beautiful and beguiling road is open to all who opt to take its strange trip.