Jason Patric, Rachel Ward, and Bruce Dern Star in Ironically Sunbaked Neo-Noir
DIRECTED BY JAMES FOLEY/1990
BLU-RAY STREET DATE: SEPTEMBER 12, 2023/KL STUDIO CLASSICS
Based on Jim Thompson's 1955 crime novel, the 1990 neo-noir After Dark, My Sweet aims to pack a heavy wallop of dirty dealings and all manner of sexual tension. Jason Patric is Kevin "Kid" Collins, an educated ex-serviceman and escaped mental patient who staggers out of the rocky desert and into a dusty small town. Also, he was a boxer. All of which make him a straight-up typical Noir protagonist. One big caveat- he's too darn chatty- both as a man and as a narrator. He, though, will do.
Once settled at the local watering hole for a beer, Collins proceeds to chat the cranky barkeep into seething annoyance. Then, in walks Mrs. Anderson (Rachel Ward). In a hot world, she's no exception. (Even if she does have the snippy hair of early-Queen Freddie Mercury. It's… a choice). All alone in a big house on a sprawling property, she will eventually be his lady in red. But what about Mr. Anderson…? She assures him that Mr. Anderson "gone to Hell". Well.
Mrs. Anderson- first name, Fay- hires Collins to hack the hanging dead crap off her property's many unhealthy palm trees. She instructs him not to lose his facial stubble- she likes it. Soon he'll be in her web of crime, with a plan courtesy of her scheming associate, "Uncle Bud" (Bruce Dern). Uncle Bud recognizes Collins' potential for a doozy of a kidnapping scheme he's been cooking up. Before long, the displaced fighter is dragging his heavy knuckles through the abduction of a rich kid. All does not go as planned.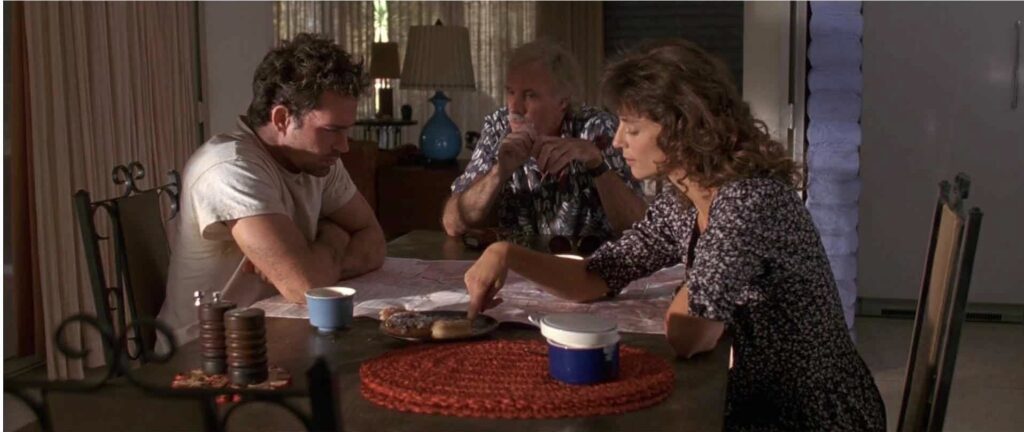 The dark morality of the mess takes its toll. Collins gets to looking like a drunk man possessed, with bloodshot eyes rubbed raw and the hair of an electrocuted asylum inmate. Subtly ain't his area, nor is smarts. He brings his own bottle into diners and begs rides from truckers at the counter. Patric here is doing his best early Brando: a little dim, a lot internal. His squint says more than his mutterings. Which is the point.
This is 1990, when Hollywood was working awfully hard to forge a big-time leading man out of Patric. This just so happened to coincide with the decade's boom of the glossy mainstream neo-noir, of which After Dark, My Sweet is a relatively early entrant. The match lands, giving Patric the meaty role he, in a new video interview supplement, claims he was hungry for. This very mature lead part would leave his teen roles in films like Solarbabies and The Lost Boys deep in the rear-view mirror.
As directed by James Foley (Glengarry Glen Ross; Fifty Shades Darker; Fifty Shades Freed) and despite the fine efforts of the cast, After Dark, My Sweet lumbers along as a languid and unengaging movie.  The increasingly frequent verbal outbursts nor Foley's ridiculously jarring use of sudden white slashy scene transitions work as an intended infusion of energy into the movie.  The obligatory sex scenes are all one session separated into four brief segments, one after another.  Foley knows how to use them to ratchet up the heat while obscuring all the offending bits.  They come too little too late, though.
As far as twists go, the biggest for me was logging onto Letterboxd to discover that on average, my modest array of those I follow rank After Dark, My Sweet as a four (out of five) star film. As these are fellow movie buffs whose tastes I generally trust (or at least understand), so admittedly it has me second-guessing my negative reaction to the film.
Listening through the newly recorded audio commentary with director James Foley both is and isn't a helpful pathway for finding my way into After Dark, My Sweet. The filmmaker, full of self-deprecation and prone to dismissing large swaths of his work, is thoroughly enthusiastic about this movie. His explanation of how Patric's performance is one centered on pure physicality is very insightful. But then, his admission of not knowing or understanding that he was making a Noir story kinda vindicates my own take. Wherever one lands on After Dark, My Sweet, this moderated track is well worth a listen.
This slipcovered "special edition" version of After Dark, My Sweet lives up to its branding with two new actor video interviews (the aforementioned "Primal Precipice: Interview with Actor Jason Patric" (17:25), and "Call Me Uncle Bud: Interview with Actor Bruce Dern" (12:51) and the director's retrospective commentary. Both actor interviews are particularly forthright; complimentary about the project (especially co-star Rachel Ward), but almost uncomfortably direct about still-raw issues like Dern's friendship with Patric's estranged father, playwright Jason Miller. Thanks to its brand-new HD master from a 2K scan of the interpositive, the film itself visually pops with sun-drenched verisimilitude throughout- somewhat ironic considering its title, but whatever. The film's trailer is also newly restored in 2K and is included as well.
Well shot and terrifically acted, After Dark, My Sweet plays like the off-kilter neo-noir that it doesn't know it is. The many admirers of the film will want to pick up this special edition from KL Studio Classics. And I suppose the rest of us can go the way of Mr. Anderson.