Burt Reynolds Takes Backseat To Florida Fate
1985/DIRECTED BY BURT REYNOLDS
STREET DATE: December 3rd, 2019/KINO LORBER STUDIO CLASSICS
Burt Reynolds directs and stars in this 1985 adaptation of an Elmore Leonard novel.
Which is far from the whole story. Reynolds' fourth film as director and star, following 1976's Gator, 1978's The End, and 1981's Sharky's Machine, Stick began promisingly as a major Universal Pictures production, with a script by novel author Leonard, and shot on beautiful locations in and around Miami, Florida, including the Florida Everglades. But like the author's own Miami-set crime fiction, of which his 1983 novel Stick remains a prime exemplar, the fickle roles of money, power, and influence dictated a very different outcome for the film's initial production, and the beginning of its October 1983 location shooting to its April 1985 release saw unforeseen changes to the story, its characters, and even its star-director.
Stick as a film, apart from the disappointments of Burt Reynolds, the disapproval of Elmore Leonard, and the myriad of disasters great and small delaying the production — to say nothing of the rescripting, reshooting, and reediting demanded by the studio — remains a watchable if ultimately unsatisfying crime thriller. Yet somehow the difficulties, compromises, and alterations remain oddly true to, or at least in keeping with, their unpredictable setting. Cuban drug lords, cocaine-addled dealers, stock market crime junkies, gorgeous wealth managers, tax-fraud film producers, albino hitmen, stylish houseboys, and hustling limo-drivers; the title ex-con, like the major star playing him, may be best served by watching and waiting to see how it all falls into place, even when it seems more likely to be simply falling apart.
Ernest "Stick" Stickley, Jr. (Reynolds) rides the rails through Florida swamplands, leaping from a rear boxcar and later strolling past a cabin-yard cockfight as the director's credit (Reynolds, again) appears. With his dingy suit, flat-brimmed hat, and salt-and-pepper beard, Stick looks every bit the Depression drifter as he meets up with former cell mate Rainy (Jose Perez). Over drinks at a beachside bar, where Rainy outlines his post-jail career as a drug courier, Stick metes out some prison justice of his own at a patron making untoward advances on cute barmaid Bobbi (Sachi Parker), lighting a literal fire under the lewd tourist's ass to burn out his "short eyes".
Still every inch the ex-con, Stick accompanies Rainy to the 15th floor luxury condo of hyper, heavyset hipster Chucky Gorman (Charles Durning), where the pair are promised five thousand dollars to deliver a briefcase of Miami-street cash in exchange for several kilos of Cuba-delivered cocaine out in the swamp wilderness bordering Miami. With Stetson- and black denim-wearing Moke (Dar Robinson) standing menacingly by, peering out under his tan hat with red eyes, Chucky with his loud shirt, floppy hat, and dirty-blonde locks hardly seems a Miami shark in comparison, but taking offense to Stick's casual dismissal of the splendor surrounding him, quietly lets Moke know that Stick as well as Rainy will not be welcome in the land of the living after their remote cash drop and drug pickup deep within the Everglades.
Riding backseat of Rainy's van, after Moke commandeers the shotgun side on the road to the wilderness drop, Stick watches helplessly as Moke guns down Rainy, but recovers his wits quickly enough to smash the albino assassin against the windshield, a raging brush-fire covering his escape-on-foot from Cuban gunfire. Taking refuge with another ex-con, Luis (David Reynauso), who is also conveniently involved with the Miami drug trade at the Cuban supply and Miami street-dealing levels, Stick receives a broad lesson in Chucky's broader associations with both Cuban drug lord Nestor (Cástulo Guerra) for the drug dealer's business end and whiz-investor Barry Stam (George Segal) for the Miami player's social-climbing ones.
Spruced up, shaven, and now looking every inch Burt Reynolds, Stick returns to the very beachside bar where he but a few days before torched and bar-smashed a pervert to now impress and gain the confidence of known crime enthusiast Barry Stam. The lattice of coincidence tightens around immediately subsequent employment as Barry's driver, finding a home above Barry's garage with yet another ex-con in slick, streetwise Cornell (Richard Lawson), and living but a few feet away from frequent houseguest and finance expert Kyle McLaren (Candice Bergen) and her multi-million dollar view of the Pacific; all as Stick plans — or more accurately waits — for Chucky's murderously deferred payment of five thousand dollars.
Encompassing foot chases, car crashes, gunplay, an aquarium of scorpions, and three separate acts of pyromania — the last memorably holding a lighter to a would-be assailant's (Rick Rossovitch) gasoline-doused face at a swanky party — the long-fuse tale of marked opportunism, violent reversal, and slow-burn revenge is well-served by its maundering milieu of Miami Drift. Paraphrasing Hitchcock, if you introduce a 15th floor poolside view of bleached-blue sky and sun-kissed palms in your first act, you better have a singularly untanned gunman plummeting through same by your third. (Punctuating right after with the piercing screams of a respected character actor in a ridiculous get-up, missing the pool with a concrete thud, certainly adds to its literal and figurative impact.) Fortunately, Burt Reynolds the actor and director capitalizes fully on this story-climactic moment, with his still movie star-handsome gaze lingering in unblinking reality on actor-stuntman Dar Robinson-as-Moke taking this truly spectacular fall.
Where Stick as story, character, and lead falls short, however, is in ill-fitting subplots and an underdeveloped romance. So when the top box office draw of the 1970's retains every bit of his charm playing a character that temperamentally (and even biographically) fits his time-tested casual yet romantic persona, and when as a director that actor has thrice proven his ability to tailor that persona to a wide variety of stories and subject matter — from goofy adventure to existential satire to gritty thriller — the shortcomings in plotting, pacing, and tone may have more to do with behind-the-scenes drama than outright artistic failure.
That lack of concern with story is in fact comically dramatized by Alex Rocco as shady B-producer Leo Firestone, in his mid-film pitch of a tax dodge production to a roomful of would-be investors, who include the speed-addled Chucky and voodoo-obsessed Nestor, and which may seem to further sum up the preposterous turns and luxury-sized plotholes of the film's latter portion when Candice Bergen as the self-possessed Kyle McLaren declares "fraud". Furthermore, if scenes of a visibly older Stick reuniting with his teenage daughter (Tricia Leigh Fisher) on a shampoo commercial-style sportsfield, or Stick and Kyle's moonlight romantic tryst cut confusingly short by unexplained gunfire, or the sudden intrusion of a kidnapping/hostage threat, where guns-adverse Stick inexplicably gains military-level familiarity with semi-automatic assault weaponry, all individually fail to ring 100% true — even when the last does feature eye-popping explosions of primary-hued bottles raining priceless liqueur iridescence over a mid-1980's Latin America drug czar — the year-and-a-half of production delay may become tellingly clear.
Whatever shortcomings, compromises, re-castings, re-shootings, and post-production tampering the finished 1985 Stick may exhibit, however, we 2020 viewers viewing this 35-year-old film with 20:20 back-vision still have that jaw-dropping, free-falling, 15-story drop.
…
Along with much else to appreciate and even praise. Film critic Nick Pinkerton returns on the Kino Lorber disc as "occasional commentary-track jockey" to give Stick its considered due, ruminating at 109-minutes of film running-time on the long and varied career of Burt Reynolds, both in front of and behind the camera, the long and storied saga of the film's troubled production, and a defense in apologia of the initial romantic noir-thriller giving out midway through to a more typical '80s action flick. (For the full backstory, viewers are strongly referred to Pinkerton's audio-delivered research, but suffice it to say that the considerable production fallout may have at least partially inspired Elmore Leonard's later entertainment-eviscerating noir-satire Get Shorty [1990]).
The reviewer was also keenly appreciative of Pinkerton's expertise on the unique sub-genre of Florida Noir, as well as his insights into the complexities of Reynolds' screen persona, and particularly the actor-director's veneration of the B-unit. Besides playing a stunt man in two features from his prime — in both 1976's Nickelodeon and 1978's Hooper — Reynolds' casting as the film's main antagonist of the legendary, soon-to-be late Dar Robinson (who would perish in an on-set motorcycle accident the year following the film's eventual release) demonstrates the dedication to screen-action verisimilitude unfortunately thwarted by the dramatic disingenuity of the film as a whole.
Also included on the KLSC Blu-ray — rounding out a selection of Burt Reynolds-related trailers — is a 12-minute gallery of promotional photos and behind-the-scenes stills, showing how the film evolved/devolved, depending on one's point of view, from the film's first poster of co-stars Burt Reynolds and Candice Bergen clinching over the Miami skyline to the broken-shard image of Reynolds fronting a screen-modified MP5 sub-machine gun.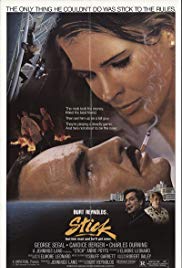 It's nice to consider what the first film might have been, but their Blu-ray presentation of the Stick that is — looking swell in high definition — undoubtedly will find favor among the most rarefied of curiosity-seekers: those that are able to see a film's intentions clearer than its faults.
Due to the dearth of images available, the stills and promotional materials pictured above are used only as a visual reference to the film and are not meant to represent the quality of Kino Lorber's Blu-ray. Thanks as always to Kino Lorber for providing a review copy. A very special thanks to a guy my co-worker Ross texted for eyeball ID'ing the model of weapon Stick/Reynolds holds in the poster and finally a mind-boggled shout-out to an obsessively impressive if somewhat spammy webpage for conclusively identifying every weapon held by Burt Reynolds on-screen across his 55-year film career. (I won't link to it here, but if possessed of reasonable anti-virus software, a quick Google search will uncover the page's many wonders.)