MacLaine And Caine Join Up To Glom On Lom
DIRECTED BY: RONALD NEAME/1966
STREET DATE: JANUARY 11, 2022/KINO LORBER STUDIO CLASSICS (SPECIAL EDITION)
Heist movies can be so…the same. And maybe that's the expectation. Give them the set up in some version of a chalkboard scene with blueprints on the table and rare-but-criminally-useful skill sets scattered around the table and the audience will sit through to the end to watch it all come together even as it's about to all fall apart. But then there's the rare bravado of the complete retake: in the wry and charming Gambit we get the heist in its most perfectly executed version as the opening act, only to find out it's just the old chalkboard scene but enacted in its glorious cinematic fullness – every step of the plan is a scene showing it all going perfectly. The only hiccup might be that the viewer, unaware yet that this is what's happening, will wonder why nothing's going wrong – and the perverse desire to see the great plan bomb is why we're watching in the first place. But it's only in this way that we can get the true feeling of slow-motion failure in the remainder of the movie. 
Any numbness we might feel toward the genre-specific details we've seen a hundred times, in the case of Gambit, is mollified by the caliber of the performances throughout. The main three find the nuance of their characters in ways that elevate the predictable. Shirley MacLaine is Nicole, plucked from a Hong Kong dance line by Michael Caine's thief Harry Dean, who wants her for her remarkable resemblance to the dead wife of morose widower and billionaire Shahbander, played with sly elegance by Herbert Lom, deeply imbued with the genteel, side-eyed spirit of Claude Rains. Just as Lom becomes aware of the faux couple's approach toward his infinitely valuable bust of an ancient Chinese empress, which bears a striking resemblance to Shahbander's dead wife, dead-ringer Nicole also becomes more aware of how much of a blind pawn she is in Harry's game. When she realizes the way she's being used to play on a man's honest grief, she balks and walks, wanting nothing to do with the plan.
It's during all this that Harry begins seeing in Nicole more than a tactic, but an actual, useful, perhaps conniving brain – that is, her innate street smarts – and he begins to fall for her. And so do we… She's been Pygmalion'd up by Harry from chorus girl to elegant temptress, and we're meant to condescend to her as much as Harry does, until by mid-point she's shown herself to be clearly smarter than everyone in the room. Meanwhile, Shahbander, playing along with what he comes to know fully as a ruse, begins to sense Nicole's unease with her role, and begins to find in her actual traces of the dead wife she could never have known, and also falls in love with her. In this construct the battling wits turn witless, naturally for the accidental femme fatale. And though she's innocent, and has already made her stand, Nicole decides to stay after all, if only to protect Harry from his headlong, half-cocked scheme – it seems she's begun to care for both men, from a near-maternal perspective, ever revealing herself to be the only emotionally sensible one in the movie. When Shahbander eventually shifts into reprimanding parent mode toward busted-scofflaw Nicole, she has only one place to turn: the steady blue eyes of Harry.
This is not to say that MacLaine/Nicole isn't somehow in complete control of what she's doing. MacLaine, a willful contributor to all of her films, allows that sense of control to imbue even the initially daft character here, slowly revealing the steely co-conspirator underneath. And all that against Caine's deeply subtle moments of conviction – a thoughtful pause as he stares down after a line before he throws the wall back up around himself, a glimmer of a smile at odd times, all pointing to a life underneath the already sharp script (by Jack Davies and Alvin Sargent). In 1966, Caine was in the flush of his initial fame, around the time of The Ipcress File and Alfie – lean, with a towering coldness that he dials up and down in a blink, and then suddenly lets explode into righteous impatience. (Nicole: "I can't help it if my mind takes a tangent every now and then." Harry: "Well it's driving me round the bloody bend!") His brand of near-anti-charming smugness is balanced on the tiniest fulcrum of something withheld – is it biting intelligence, smoldering lust, maybe a fantastic joke he can't wait to tell you… It's impossible to know. Caine is mysterious in an everybloke kind of way and his half-closed cat eyes won't let you in till he knows you're down with your part of the scheme. It's this combo of her rising saneness and his roiling volatility that draws them – and us – past the charming spirit of the heist plot and into what's really going on: the meeting, the friction, and finally the joining of two deceptive people who need a gambit to find a friend.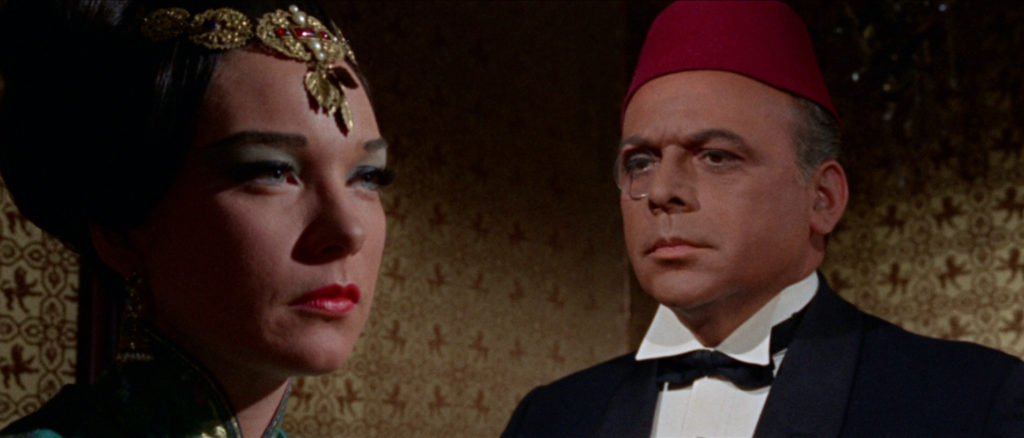 Kino Lorber's Special Edition Blu-ray features a 4K restoration, a previous commentary track by its British director Ronald Neame, and a new commentary track by film historians Howard S. Berger, Nathaniel Thompson, and Sergio Mims, who spend the running time in usual, dam-bursting nerd-out mode, reveling in the broad strokes of the movie as well as the off-beat nooks, like the deep comforts of that '60s Universal look, the breeding ground of rich, intertwining talent that was the post-war British film industry, and the conflict-free production itself, which Caine called perhaps the most relaxed set he's ever worked on. As usual, this commentary track raises an already-indispensable genre title to greater heights by its sheer, magnanimous good will toward cast and crew. It's an extra that's tantamount to a free film school semester.
The images in this review are not representative of the actual Blu-ray's image quality, and are included only to represent the film itself.