Very Little Heisting 
Directed by Russell Mulcahy
Starring Kim Basinger, Val Kilmer, Terrence Stamp
Released September 10th, 1993
Rated PG-13  
Russell Mulcahy brought a distinctly neon-drenched look to music videos he directed for many artists in the 1980s such as Duran Duran, Berlin, Queen, and The Rolling Stones, and to feature films Highlander and Ricochet. The Real McCoy finds him bringing his blue-tinted vision to a heist film starring Kim Basinger, Val Kilmer, and Terrence Stamp. Right away, Brad Fiedel's score lets you know what kind of movie to expect. Fun! Bouncy! And it is, at least for a short while.
Karen McCoy (Basinger) is out on parole, freshly sprung from six years in the pokey. She says her bank robbing days are behind her, she wants to go straight and reconnect with her young son. As a convicted felon, she has trouble finding a job. Her parole officer (Gailard Sartain) offers her sexual quid pro quo. Karen is not exactly Lisbeth Salander, but she stands up for herself and harshly rebukes him. The story only gets heavier from there.
Before McCoy can reunite with her son Patrick (Zack English), her ex informs her that he told their son she was dead. When she goes to their house to see him, she doesn't let on that she is his mom. This is the strangest decision the movie could make. Is this a fun heist film or a melodrama about reconnecting with your kid who thinks you're dead? It's a dichotomy that never resolves, never feels right, never gels.
McCoy is forced into a bank robbery by Jack Schmidt (Stamp), the man who crossed her six years ago and landed her in jail. This time, Schmidt has kidnapped her son. What a guy. If McCoy can break into a highly protected vault, he will release her kid. This brings us a sad, defeated McCoy planning a job just to save her kidnapped son. Remember the cool shot of Basinger on the movie poster, scaling a building? That scene is not in the movie. This movie isn't about The Real McCoy, it's about The Real Reluctant McCoy, and that's not as much fun. The eventual reveal of her parentage is cringeworthy and poorly written.
Val Kilmer must have thought he was in the fun version of this movie, as his character J.T. Barker is all smiles and jokes. Upon meeting McCoy, he says he's heard of her, which made me think of characters saying they had heard of Dalton before meeting him in Road House. I didn't realize bouncers and bank robbers were such celebrities. It's refreshing that Kilmer is not much more than a sidekick/eye candy to Basinger's lead, a welcome swap for the gender roles of the once-Batman and Vicki Vale.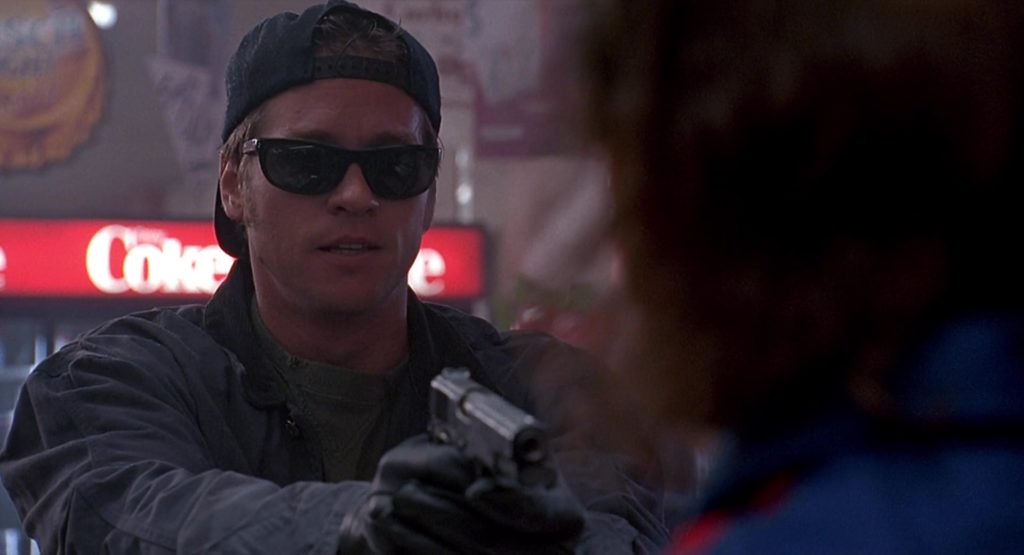 Basinger, possibly using her real southern accent, is the sole reason to watch. McCoy is portrayed as a no-nonsense badass bank robber while also being a vulnerable mother smarter than anyone gives her credit for. She deals with sleazy dudes for pretty much the whole movie and comes out on top. I can see why Basinger wanted the role. She deserved a more intelligent script to match her character's bona fides.
The Kino Lorber Blu-ray features trailers (including The Marrying Man, Mad Dog and Glory, and The Gingerbread Man), and a director's commentary, during which Mulcahy references his work on The Shadow and Resident Evil: Extinction, tells us Atlanta was a great place to shoot, and that Basinger, already cast when he came aboard the project, was fabulous to work with.