Even Fred Astaire Can't Keep This Crime Thriller on Its Feet
DIRECTOR: ALF KJELLIN/1969
STREET DATE: May 21, 2019/KINO LORBER STUDIO CLASSICS
I wrote not long ago that some performers can be counted on no matter what. Even if the script is a dud, even if the premise is flaky, even if there's a weak link in the cast, you can count on some actors to deliver charm or depth or believability no matter what they're asked to do.
Fred Astaire is one these greats. No matter the role, I've yet to see his dry wit, cool demeanor, or (obviously) light feet evaporate. But even the most reliable actors can't elevate just anything, and Midas Run is proof of that.
Astaire plays John Pedley, an agent in Her Majesty's Secret Service who's been overlooked knighthood yet again. With that bitter chip on his shoulder, he recruits writer Mike (Richard Crenna) and his waif of a love interest Sylvia (Anne Heywood) for a gold heist to pay for the retirement he believes he deserves. With Pedley's insider knowledge of the Secret Service and criminal organizations all over Europe, they'll be able to make the gold disappear without a trace the British government can detect, even if it involves terrorizing planes, resurrecting wartime tanks, and teaming up with the mob.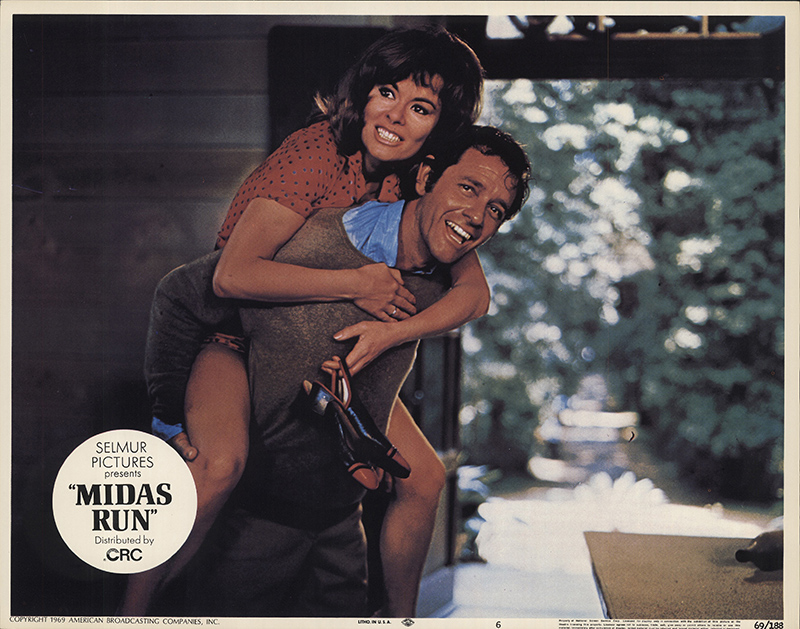 Midas Run revels in that swinging '60s style the later part of the decade is known for. Sylvia's mod dresses, those quickly zooming camera shots, that soft 35 mm grain—everything looks modern and vibrant and romantic. The film finds excuses to put Heywood in a beret and trench coat for a hike up into the mountains and for Crenna to wear sweaters and khakis more befitting your favorite college professor than a thief.
It's too bad that there's no substance below the surface of vacation and fashion #goals. The film indulges in some of the worst of the late '60s tropes, including finding excuses to ogle half-dressed women. (No one, it seems, was mourning the loss of the Hays Code on this set.) The trailer for the film (included as a bonus feature on the Kino Lorber Blu-ray) tries to sell this as a sexy, tense spy thriller. Sexy? Maybe. But tense? Perhaps if we weren't finding excuses for strolls in country fields or a multiple exposure love scene with kisses layered on close-ups of flowers. And let's not forget the boppy opening title song Heywood sings—it's definitely no "Live and Let Die," and it's too upbeat to fit with any seriousness this movie tries to evoke.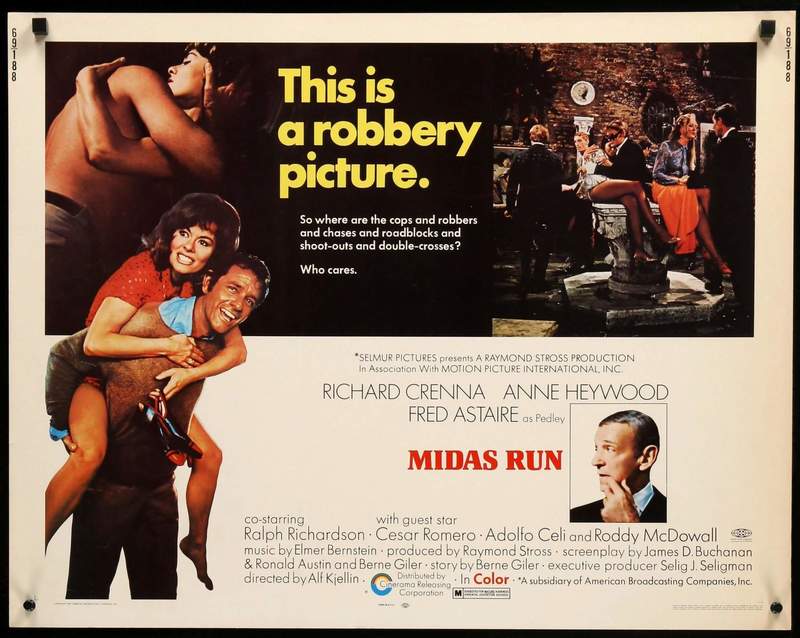 But the biggest problem is that Midas Run is just too boring. The twists are predictable, the story doesn't bring anything new to the genre, Crenna and Heywood are dry toast (together and separately), and Astaire's veteran charisma doesn't have much opportunity to salvage what's left. When you consider the other trailers included as bonus features are swinging '60s crime films, many of which look more violent (or in the case of Street People, completely bonkers), you know it's missing the mark it aimed for.
The Blu-ray's bonus features also include a new commentary track from film historians Lee Gambin and Emma Westwood.
The images in this review are not representative of the actual Blu-ray's image quality and are included only to represent the film itself.