A (Very) Quiet Coming of Age Story
DIRECTED BY WILL SHEFF/2014
Street Date:  November 14, 2017/Kino Lorber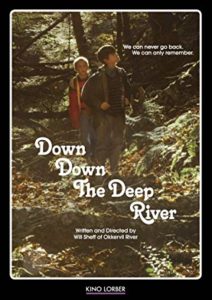 Interesting, inovative movies never get made if filmmakers aren't willing to take some risks.  I have solid respect for directors who take those risks, even when they ultimately don't succeed – as is the case with Down, Down the Deep River.   Will Sheff is primarily known as a musician, the lead singer of Texas-based band, Okkervil River.  Down, Down the Deep River is Sheff's directorial debut, a "psychodrama retelling of his childhood", but the movie is an experiment in minimalism.  There is almost no dialogue at all.  Murmurs of conversation are heard in the background, and diagetic sound is used throughout the movie; but the movies' central characters never speak.  They don't even have names.  Of course, all films were once silent, and some silent directors (F.W. Murnau, for instance) could capably tell a story with very few intertitles.  Sheff, unfortunately, is not Murnau.  His story looks great, but is too slow, too emotionally distant, and too confusing to be considered a full success.
Down, Down the Deep River was shot in rural New Hampshire, in Sheff's hometown, using local actors.  The film is set in 1986 and is most successful as an exercise in 80s childhood nostalgia.  The two boys at the center of the story (Dustin Cournoyer and Griffin Gamache) wear some of Sheff's clothes from his own boyhood.  The sets – everything from wallpaper to the toys scattered around the boys' bedrooms – are perfect.  And even in the midst of a confounding story, the dramas of childhood are evoked effectively:  the immersive world of children's imaginative play, visiting a friend whose parent frightens you, the pain of having a best friend leave you behind.  In Down, Down the Deep River,  a solitary boy befriends the new kid at school and the two of them soon become lost in a world of comic books, pretend beings from another world, long afternoons exploring the woods and abandoned structures.  Reality and fantasy soon tangle up together, though, with the alien of their drawings appearing mysteriously in the woods where they play.  There are other magical realism elements of the story, too, and questions are raised that are never answered.  But maybe that's intentional.  Maybe this movie was never planned as a fully formed, logical narrative.   Perhaps the mood it creates is almost enough – tender, nostalgic, sad.  It's a bit like a dream of childhood, with the faint murmurs of long forgotten conversations drifting through your sub conscience.
Kino Lorber's DVD of Down, Down the Deep River has an abundance of extras:  an audio commentary by Sheff and Johnny North; a behind the scenes featurette; Okkervil River music videos; and a read along story booklet telling the adventure in the movie.