There May Still Be a Little Tread on These Road Chip Tires for Alvin, Simon, and Theodore
DIRECTOR: Walt Becker/2015
I am here to review Alvin and the Chipmunks: The Road Chip. To tell you the truth, my expectations on this one were at an all-time low.  So I brought along my two children and wife, figuring at least our kids will enjoy it.  What surprised me is that I actually found myself enjoying it….at least more than I thought I would. And that right there is a victory for a film that is not flying high on anybody's radar….even the kid crowd it is aiming for.The original film in this series, starring Jason Lee (Almost Famous, Vanilla Sky, My Name is Earl) as the affable guardian of the Chipmunks, Dave, sought to modernize the origin story of how he came to know the 3 lovable, but "squirrelly", recording sensations, Alvin, Simon, and Theodore.  It was a serviceable film for the kid crowd, even if it re-hashed well-exhausted story lines.  After spawning 2 low-brow sequels in Alvin and the Chipmunks: The Squekuel (2009), and Alvin and the Chipmunks: Chipwrecked (2011), this fourth-entry arrives 4 years later, instead of the typical every-2 year offerings.  It seems that by taking off a couple of extra years, that there may in fact be new life being breathed into this series.
In this outing, Alvin, Simon, and Theodore are no longer touring, instead watching their friends/compeition The Chippettes having great success on the road and in their new gig hostingAmerican Idol (bad timing to use this show as a "relevant" pop culture tool given the fact that Idol is on its farewell season as this film opens).  Alvin, still well connected in the pop world, is found at the film's opening scene setting up a surprise birthday party for Dave, who will be none-too-pleased when he arrives to find his house full of party-goers, celebrities, a half-pipe, and celebrity DJs.  Cue Dave's signature yell, "ALVINNNNNNN!!!" and we're off to the races.
Dave, it seems, is getting ready to head to Miami for an album-release party for the pop sensation he's producing named Ashley (Bella Thorne-Blended, Alexander and the Terrible Horrible No-Good Very Bad Day).  He's also forgotten to tell the "boys" that he's also dating a doctor named Shira (Kimberly Williams-Paisley-Father of the Bride, Father of the Bride II) who has a son named Miles (Josh Green). They will be introduced to each other at a surprise mini-golf session where Shira hopes to let Dave meet her son.
Miles is all Eddie Haskell in the face of adults, and Satan-incarnate to the Chipmunks as he doesn't like the idea of his mom dating someone else who might day be a father-figure.  Convincing the Chipmunks that Dave is going to dump them once he gets serious with Shira, Miles sets forth the latest misunderstanding that will propel the comedy forward.  Alvin and his brothers set out to work with Miles on a cross-country trek to Miami from Los Angeles to break up what they believe will be Dave's proposing to Shira in Miami and the end of their happy family. Why working together to ruin the relationship, they'll both get to keep the status quo.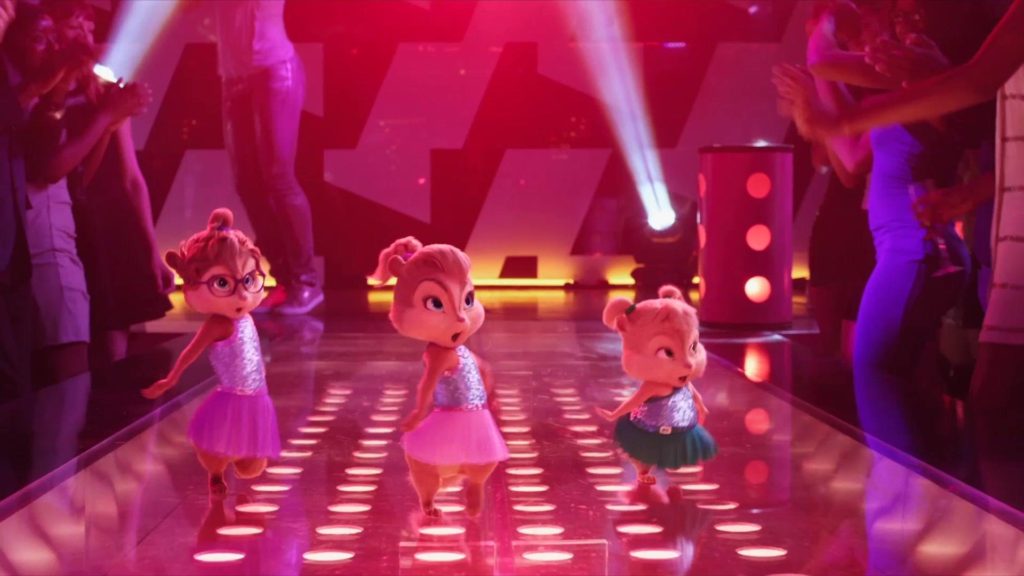 Since this is a road trip, uh… roadCHIP, hilarity must ensue.  Taking a page from the headlines, Alvin and Company find themselves on the no-fly list after ruffling the feathers of a recently-scorned air marshall who just happens to blame the Chipmunks for the failure of his almost successful relationship with the girl who broke up with him.
With any road trip, you must have an antagonist like Air Marshall Benson (Tony Hale-Arrested Development, American Ultra, Stranger than Fiction) to help give the film chase scenes, hilarious pratfalls, and the like.  It must have fun or unique locations like New Orleans during a jazz parade, and an event to help bond the once-enemies-now-friends.
Of course, none of this works without the tried and trued situational comedy of the Chipmunks having misconstrued what is actually happening, instead creating all of the wacky mayhem on a false assumption. Despite this being formulaic drivel right down the board, Alvin and the Chipmunks: The Road Chip understands what it is, embraces it, and competently delivers a film aimed squarely at the very pre-teen demographic its aiming for.  The cuteness of the 3 protagonists still has an effect over 57 years after their debut and allows them to still charm, even in the midst of well-traveled territory.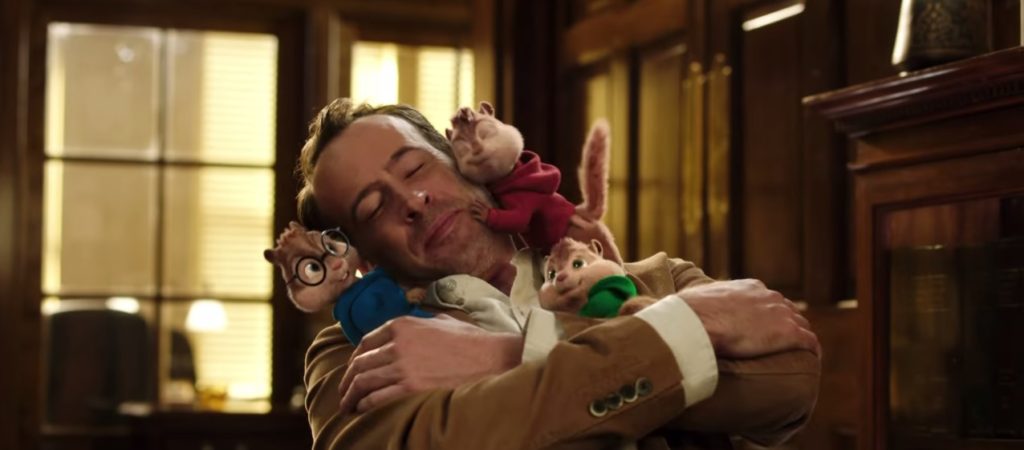 Jason Lee is also back and the film is so much better with him on screen.  Unfortunately, he only pops in and out when the script needs him, despite having a central role in forcing the events that follow.  I would love to see him get back to something substantial as he can be a great actor when allowed.  For the Chipmunks, he could easily sleepwalk through it.  Its nice that he gives it a fair go.
I actually had some laugh-out-loud moments (not big moments mind you), especially involving the always humorous Tony Hale, that surprised me.  All in all, this film is exactly what you think it is, nothing more or less.  The plot is old and recycled, and it strives sometimes to be a bit too modern.  That being said, it is a significant step up from the previous two sequels and manages to even have a genuine heartfelt moment that harkens back to the original theme that has been there from the beginning… being a family.