Death Heads to the London Countryside with Peter Cushing
DIRECTED BY VERNON SEWELL/1968
BLU-RAY STREET DATE: NOVEMBER 22, 2022/KL STUDIO CLASSICS
I've never seen this beast of burden.
It's played for miles; my eyes are hurtin'
All I want is for you to read my review…
1968's The Blood Beast Terror is darn lucky to have Peter Cushing in its lead role. The venerable British actor slots into the part of the (apparently) intrepid Inspector Quennell, a stoically buttoned-up professional case-cracker assigned to figure out what's behind a few bizarre murders in a sleepy London countryside. (Occupied by characters played by Robert Flemyng, Wanda Ventham, David Griffin). Unfortunately, the drowsiness of the community seeps into the celluloid. And there's nothing anyone can do to stop it…
Having heard that The Blood Beast Terror isn't the most engaging of horror films, I prepared with a nice, healthy, all-natural well-caffeinated beverage. It didn't matter. As Peter Martin, my editor over at ScreenAnarchy, says in his Letterboxd take on this movie, the film could function as the cure for insomnia. Which is most unfortunate, considering that so many of the venerable Hammer horror components seem to be in place: A menace increasingly revealed to be something else– check. An old-world palate and demeanor stocked with stiff-upper-lip denizens- check, check. Mad science run positively amok- check. Peter Cushing, fully committed no matter the dreck level- check. But this ain't Hammer. It's scarcely at times even horror.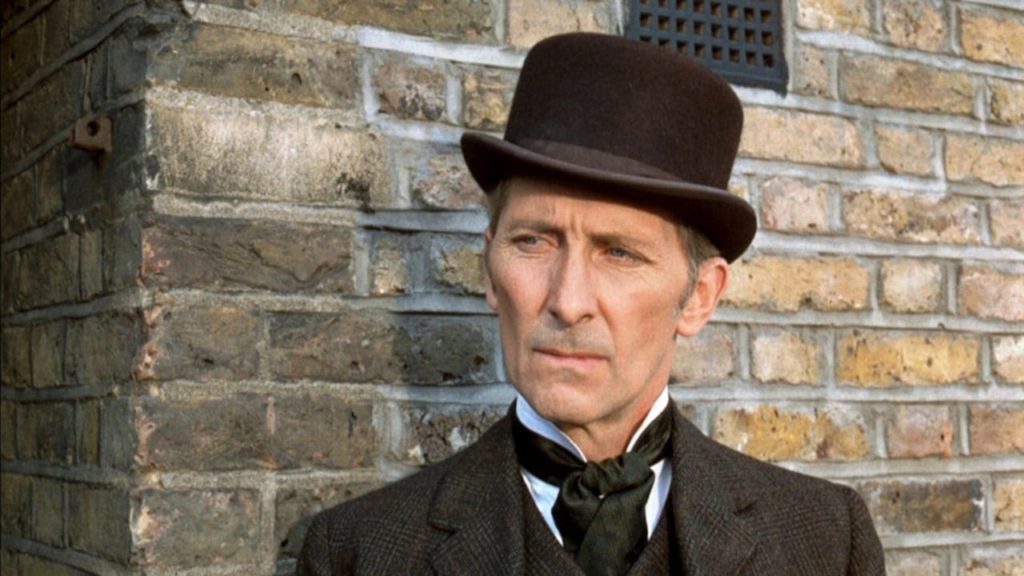 Lazily directed by Vernon Sewell, whom novelist/critic Kim Newman and writer/editor Stephen Jones describe on their lively new audio commentary as "a journeyman director at best", The Blood Beast Terror somehow perseveres in the culture. No doubt bolstered by its Hammer-lookalike quality (its smartest attribute), the film has had a remarkably sustained presence on home video and elsewhere. The latest release comes courtesy of Kino Lorber's Studio Classics line, boasting a "2012 2K restoration" and the aforementioned commentary (and a few trailers and whatnot).
While the claim of the 2012 2K restoration begs questions, the jovial ramblings of Newman (a man who's forgotten far more about genre films than most of us could ever hope to learn) and Jones (likewise, I'm sure) make this slipcovered Blu-ray edition a legitimately attractive acquisition. Even when these guys are happily off the beaten path and we don't know what they're talking about, they're simply fun to spend time with.
As for the restoration, from the comfort of my armchair, the best I can deduce is that the claim likely ties to the previous Blu-ray edition, which was released by the niche horror imprint Redemption Films in, you guessed it, 2012. Kino Lorber acquired the North American rights for Redemption's catalog in 2011, so it would presumably have clear access to whatever work was done for the decade-ago release. (Promoted then as a "remaster", not a "restoration" (there's a difference), 2K or otherwise. In any case, this new version looks quite good, with a crisp image and nice colors. The cinematography by future sex-comedy impresario Stanley A. Long holds up. Considering how film restoration technology continues to evolve, though, boasting the use of a 2012 restoration in late 2022 seems like a weird, if honest-to-a-fault boast.
The Blood Beast Terror, like everything, certainly has its fans. Admittedly, there lurks some modicum of appeal entrenched within the red-paint-blood (yet, back in day, G-rated in the states!) and hidden monster (not revealed or even seen until the very end) tropes at work here. Peter Cushing, rock-solidly welcome as ever, has plenty of screen time. Vanessa Howard as Cushing's daughter peps thing up momentarily with her effervescent presence. For the most part, though, The Blood Beast Terror hangs there like a suit of moth-eaten tweed.