Dwayne "The Rock" Johnson Almost Saves DC's Latest Superhero Adventure
DIRECTOR: JAUME COLLETT-SERRA/2022
Saying Black Adam is one of DC's better superhero movies isn't saying much.
Black Adam is actualizing what we've all known for decades: Dwayne "The Rock" Johnson is a superhero, and now he's got a cape to prove it. As Black Adam (or Teth-Adam, as he is known in ancient legends), he flies, shoots lightning from his fingers, and stays bulletproof no matter how big the guns get. He's a hero in the mythos of the Middle Eastern country Kahndaq, and after five millennia of absence, he is revived like a rage-filled genie to rescue his homeland from foreign interests. Caught in the fray is a Kahndaqi family (Sarah Shahi, Bodhi Sabongui, Mohammed Amer) who believes Black Adam can be more than a destructive force, as well as a superhero team (Pierce Brosnan, Noah Centineo, Aldis Hodge, Quintessa Swindell) who fears his powers can't be contained.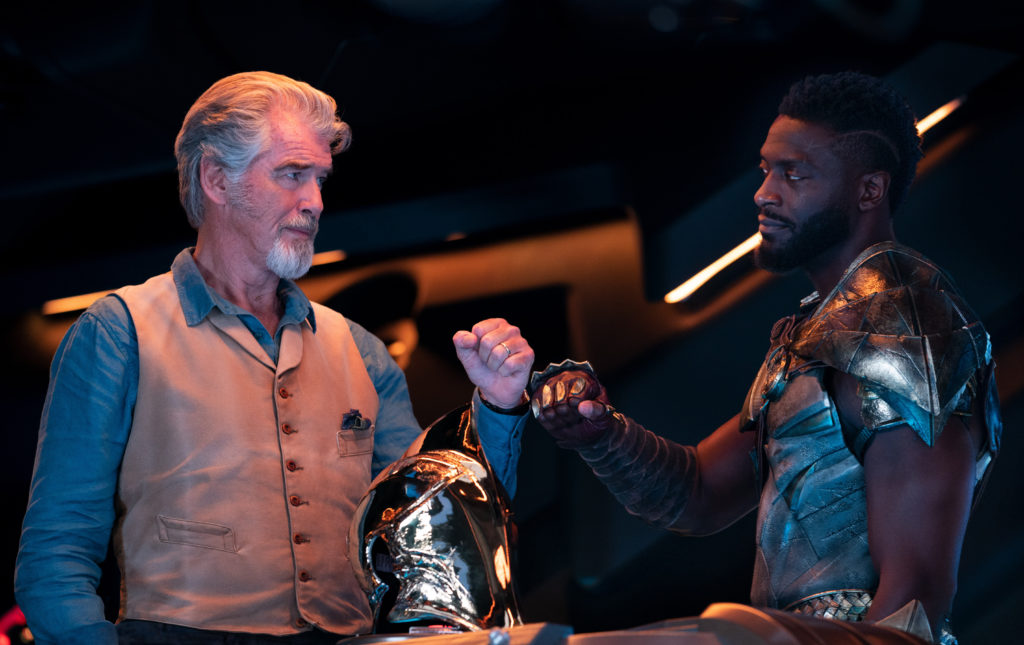 If it sounds like there's a lot is happening, well, you're right—I haven't even mentioned the villain (Marwan Kenzari). Black Adam is trying to be two movies, and only one of them is working, though fortunately, it's the one I paid to see. Like many, I will watch The Rock punch stuff and drop snarky one liners in just about anything, and to its credit, Black Adam knows whose name is above the title and lets him punch stuff and be snarky. In one moment, Hodge exclaims in frustration, "Heroes don't kill people!" After a perfect beat, Johnson retorts with a hint of a smirk, "I do." I'm not sure if he has mastered delivering every line like he's in a trailer on purpose or if his gravitational pull of charisma is so strong most everyone seems dull in comparison, but he makes Black Adam fun even though his anti-hero brooding could give Batman a run for his money.
As for the movie that didn't work so well: Teth-Adam owes his magic to the same wizards we met in Shazam!, which may be why a family comedy is doing its darnedest to live alongside this tortured main character. When I reviewed that 2019 DC comedy, I appreciated it found a breezier tone inside the DCEU, and its heroes didn't feel like a re-hash of Marvel Cinematic Universe adventures. The same can't be said for the Justice Society, a name synonymous with "B-Team." Hawkman (Hodge) dresses like a mashup of Falcon and Thor in an unflattering helmet; Cyclone (Swindell) adds a colorful aura to X-woman Storm's powers; Atom Smasher (Centineo) plays Ant-Man with none of the charm; and Dr. Fate (Brosnan) cherry picks powers and personality traits of Dr. Strange, Scarlet Witch, and Captain America. In scenes centered on the Rock's showdown with literal demons, Lorne Balfe's score amps up death metal electric guitars as Black Adam shows no remorse for killing dozens at once. But when scenes focus on the Justice Society, they find reasons for Henry Winkler cameos and expository jokes about how this superhero world works. When Black Adam tries to merge everyone together, it becomes a tonal mish-mash with little room for development of any of the secondary characters. Also, what exactly are the powers of the evil crown MacGuffin? What does it mean when Teth-Adam punches through posters of Justice League heroes like Superman and Batman? Does this story believe the Justice Society is a necessary evil or needless Western interventionism in the Middle East? With so much stuffed into this action tentpole, there's no time for deeper exploration of those ideas.
Like DC's Wonder Woman 1984, Black Adam is a fun watch in the moment but fares less well upon further reflection. At one point The Good, The Bad and the Ugly plays in the background (on Kahndaq Classic Movies, its call sign riffing on the logo of Turner Classic Movies); later a standoff echoes Clint Eastwood's gunslinging. It's too much to ask a movie like this to aspire to the artistry of Sergio Leone, but the inevitable Black Adam 2 would be more successful if it stays closer to its inspirations about anti-heroes who can't avoid bloodshed even when they try. The future of DC at Warner Bros. has never been more confusing, but since Johnson has sold a silly number of movies and revived a silly number of franchises only with his charms, how difficult can it be to add one more to that list?