Peter Jackson Brings World War I Back from the Past
DIRECTED BY PETER JACKSON/2019 (U.S. Theatrical Release)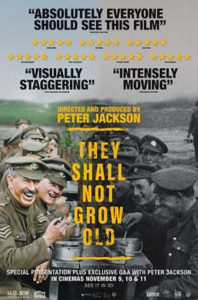 Peter Jackson doesn't do anything by half measures, as evidenced by his epic, meticulously wrought Lord of the Rings and Hobbit films. It's not surprising then that when asked to create a documentary in honor the centennial of World War I the result would be a work of staggering perfectionism. I can promise you that They Shall Not Grow Old is unlike any documentary you have seen before, because no one has attempted what Jackson did in making it.
They Shall Not Grow Old was commissioned by a partnership between England's Imperial War Museum and 14-18 Now, as part of a program inviting artists to create works for the World War I centennial. As Peter Jackson explains in a making-of documentary that accompanies screenings of the film, the only requirements given to him were to use only footage from the Imperial War Museum's archives and to "use it in an original way". How do you do something original with 100 year old war footage? In Jackson's case, the answer was to make the footage look as if it wasn't 100 years old. And so began the monumental task of first digitally restoring 100 hours of footage, then after choosing what to use in the documentary, adjusting frame rate, colorizing, adding sound effects, and dubbing voices.
The end product is not perfect (colorized black and white footage is notorious for looking artificial and that problem has not been completely overcome here), but it is impressive. Jerky, silent footage become smooth, vivid, and accompanied by the sounds of not just battle, but the words of the soldiers themselves. That last bit – the dubbing – was accomplished with the help of forensic lip readers and Jackson's commitment to having the lines delivered by people whose accents would match the soldiers' regiments. That's the kind of attention to detail I'm talking about. In another example of his fastidiousness, Jackson explains in the making-of portion how he researched uniforms to make sure that every piece of clothing, insignia, and button was appropriately colorized.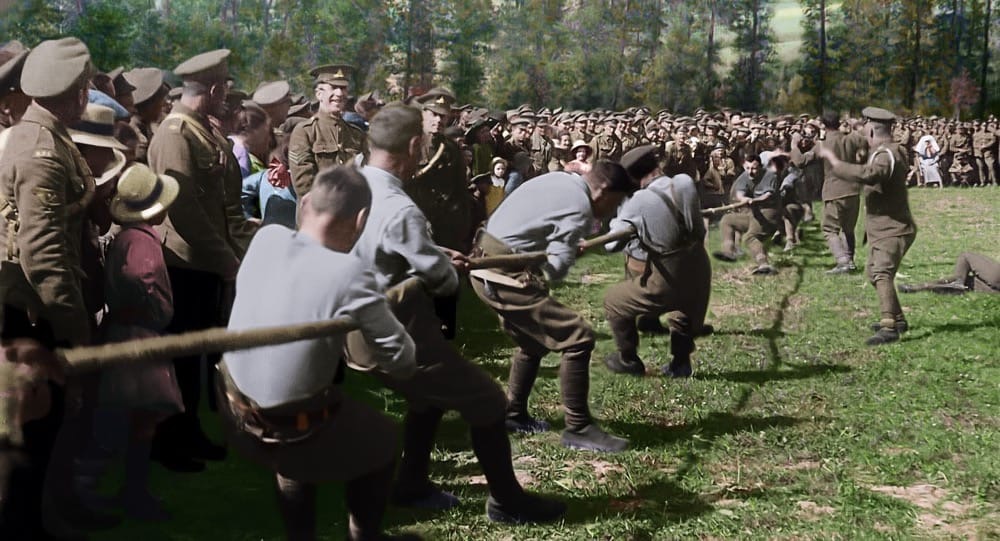 This could all sound like a stunt, a project undertaken just to see if it could be done. But the resulting film is remarkably effective. Suddenly soldiers who seem impossibly remote when seen in grainy, damaged bits of silent film appear as real men (or boys). Their faces look amused, tired, frightened, pained – and often, impossibly young. Depth is added by using as the film's only narration clips from interviews with World War I soldiers conducted by the BBC in the 1960s and 70s. There's a certain no-nonsense quality to their accounts which gives the film its tone: not sentimental or sensationalistic, neither romanticizing war nor fixating on it's horrors. They did what they had to do, and they remember it without fuss.
To be sure, They Shall Not Grow Old contains some graphic and terrible images of the dead and injured (both men and horses). It's not always easy to watch, but the work that Jackson has done dignifies the British soldiers who served on the Western Front. War may be hell, but it's fought by real human beings who deserve to be remembered.