Rome, in the Eye of the Beholder
DIRECTED BY PAOLO SORRENTINO/ITALIAN/2013
When your city is both eternal and nocturnal, you're going to be among a lot of very tired people. Such is the plight of Jep Gambardella (Toni Servillo), an aging socialite known for having written exactly one noteworthy novel forty years ago. He's just as upper class bourgeoisie worldweary as any one of his fellow contemporary Roman citizens, but at least he doesn't spend his time at the many unrelentingly loud social functions asking others when they're going to write another book as they do him. As he tells someone at one point, he's merely calling it a night when most folks have already been asleep for six hours. He can hold his liquor, knows how to live it up, and is unfazed by even the most overt displays of revealed flesh. But he's tired. Not yet too tired to care, but he seems fearful of reaching that point. Actor Toni Servillo as Jep often resembles a Bill Murray who's found himself after being Lost in Translation, only to let himself be lost anew, and permanently.
Perhaps a recap is in order: In our last episode, a gaudy and glitzy Disney World Main Street Electrical Parade of high ranking Catholic church officials were trotted out in the kitschiest fashion display imaginable. This after a cavern of lost-to-the-ages timeless friezes were immediately accidentally destroyed by an excavation crew in the name of "progress", and the filmmaker of it all, Federico Fellini, did a little on camera Q&A with students, inquiring all about his beloved Roma. Prior to all of that, we were left with an empty shrug from soul-depleted protagonist Marcello Mastroianni, knowing he'll never be able to reclaim the innocence and naivete of the life across the water.
Those are just a few of the memorable moments from Roma (1970) and La Dolce Vita (1959), two of the great films made specifically about Rome by perhaps its greatest filmmaker, Federico Fellini. Now, Paolo Sorrentino has settled into Rome's Fellini shaped void, at least as far as crafting personal yet adoring yet critical views of Rome on film. Behold The Great Beauty – his impressive and compelling oblique portrait of the eternal city. Onetime capitol of the World and home of many a carnal emperor, now Mecca of fashion and religious chryo chamber. Forever architecturally astonishing, never not spectacular. Every once in a while, it takes a committed filmmaker to point out these things.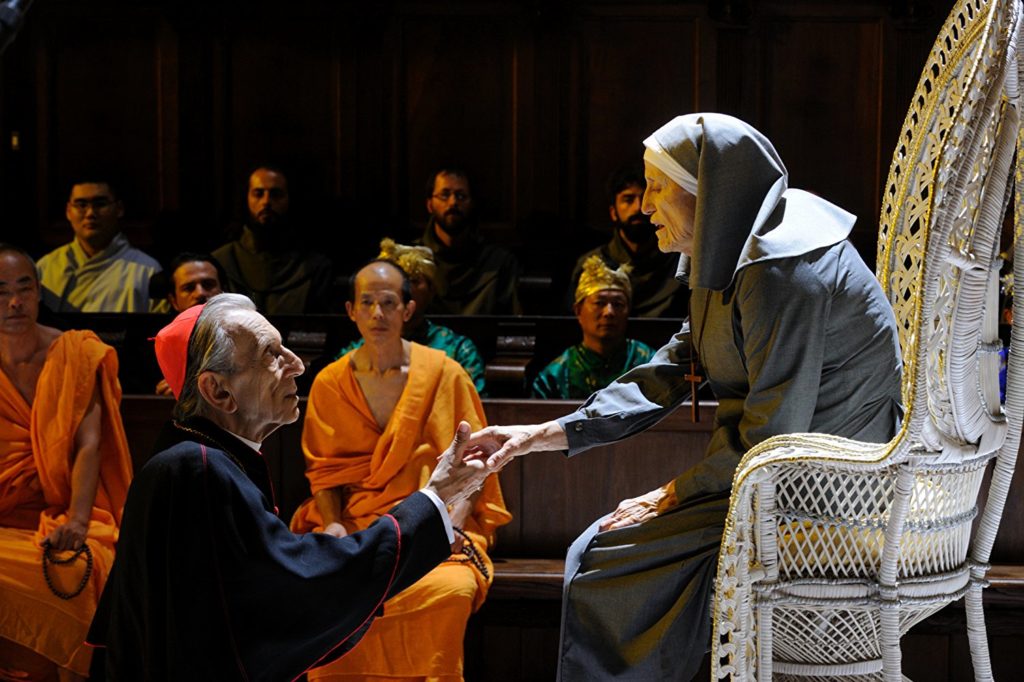 Perhaps Rome itself has become so compellingly synonymous with cinema thanks to the duality it shares with the medium: Extreme reverence often at odds with of-the-moment decadence and even hedonism. This moral dichotomy is apparent in the most interesting works of Italian autuers Fellini and Martin Scorsese, among others. And now, Sorrentino (This Must be the Place) has thrown his own crafty director's lens into the ring, opting to craft a large scale yet personally indulgent ode to Rome, inspecting the values in its classic ambiance and religious traditions while always cutting to the ever-partying "sweet life". At this phase of the things, the exhaustion inherent in one way of living and focusing is not necessarily more or less than the polar opposite. The Catholic legacy of Rome almost persists on inertia in The Great Beauty: a high ranking Cardinal draws a crowd of diners at a dinner party with his charming cooking tips the way a stripper might non-nonchalantly hold court over a group of revelers at one of the several all-night techno-beat thumping raves.
The film itself is a plotless wonder that pulsates, drifts, and glides from one gathering to the next, across days and nights, through modern rooftop soirees to strolls along ancient cobblestone roadways. In the background, the Colosseum is crumbling, but no one's particularly bothered by that. At two hours and twenty-one minutes, the unconventional shapelessness of The Great Beauty may try the patience of some, but Sorrentino's eye for the city is compelling, his sweep so vast and absorbing – why end it when there's just so much Rome to take in??
Jep claims he lives this type of life in search of "the great beauty". Of course, he's yet to find it. But it's what keeps him in his bright monochromatic sport coats, drinking martinis until dawn, and socializing with higher-ups from many walks of life. More to the point, it's what keeps him from writing that next novel. But somewhere between a come-hitherly lost love of the past and an eerily miraculous encounter with a barely living Ancient-of-days nun is where the pinnacle of his quest must lie. But to get there, Jep would have to allow himself to succumb to his weariness, and as long as there's Rome to be roamed, he won't allow that to happen. Jep outlives them all, somehow understanding more about death and the process of funeral grieving etiquette than anyone else. (It's all a show.)
And so, the past forever collides with the present, and giving way to the future in a ceaseless search for that special un-had something. Cinema lovers know this sensation all too well. Our persistence is one of deep appreciation and deep love wrought with continuous disappointment with what is offered up, with what we keep finding. We know there's great beauty to be had, if we just keep buying tickets and sitting aptly in the dark. But it's all too elusive, instead leaving us tired for the vacuousness, the sameness, the hollow indulgences. The thing is though, that amid those unshakable aspects of cinema, there's often enough rewards, inspiration, and even transcendence that we must keep coming back. Sometimes, it's all happening in the same movie. This is, like La Dolce Vita, is one of those times.
Sorrentino is keyed into this as he follows so blatantly yet originally in the footsteps of Fellini. The Great Beauty may not be that precise diamond in the rough, that lost lover of yore that is longed for, our collective rosebud. But it makes the search for it all the more memorable, and all the more telling. And for that, it might just be a new classic.