Hugh Jackman heads a fantastic cast to wrestle with the complex subject of a father's relationship with his son, and the sobering effects of grief, loss, and generational legacy on our lives.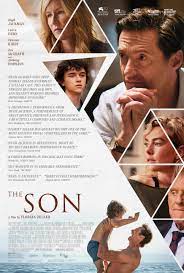 DIRECTED BY: FLORIAN ZELLER/2022
French playwright and director, Florian Zeller directs the film version of his play, The Son, with an all-star cast that is not for the faint of heart. With a screenplay by Christopher Hampton, The Son boasts a top-notch cast consisting of Hugh Jackman, Laura Dern, Vanessa Kirby, Zen McGrath, and Sir Anthony Hopkins. Such a strong line up is needed for a heavy film that carefully navigates the difficult subjects of divorce, grief, depression, guilt, remorse, and suicide while still advancing a narrative that looks at the relationships primarily between sons and fathers, and the generational effects of a father's legacy in the life of his offspring.
Peter (Jackman) and Beth (Kirby) are new parents to a baby boy when they receive a call from Peter's ex-wife Kate (Dern) regarding he and Kate's son Nicholas (Zen McGrath). Nicholas is having trouble at his school, as well as having increasingly frequent conflicts with his mother. Kate is at her wit's end and needs to see if Nicholas can come live with Peter and Beth. The change of scenery would be good for Nicholas who wants to see his new baby brother more, as well as desiring to spend more time with his dad.
In addition to the stress this new living arrangement will have on Beth particularly, who is not getting any sleep with the new baby, it is also a time where Peter is being asked to take on an exciting professional opportunity that will take up all of his time. This is, of course, much to the chagrin of Beth who needs Peter to help her out more. Nicholas' arrival will only add to the division of Peter's time and focus and something will have to give.
Jackman delivers a strong performance in The Son as he conveys the complexity of a man who is of the age to continue to pursue aggressive career advancement, with enough wisdom to understand the need to balance that with quality family time. Jackman deftly conveys each facet of his character's desires in each scene. He truly wants to be all things to all people, never wanting to let anyone else down. He is a man who owns up to his mistakes, especially in his relationships to Kate and Nicholas, and who actively seeks to make amends where he has fallen short. He is also seeking to avoid becoming the heartless, and soul-less, example he had in his own father, played wonderfully villainous by Anthony Hopkins.
Zeller develops these relationships across the entirety of the film providing a rich tapestry that draws you in to the authentic dynamics playing out. Every relationship is relatable, even if you as the viewer have not faced all of the trials these characters are specifically facing. While the experience is uneasy, it exposes a number of topics that are so important to discuss. It also painfully expresses the difficult choices individuals need to make both to make sure they are caring for themselves, and for those around them.
Hugh Jackman revealed in recent interviews that during filming for The Son, he lost his own father, on Father's Day, of all days. With only 3 days off before returning to shoot, he carried much of his grief, and the thoughts he was pondering about his own role as a father, back into the role. You can see all of this played out through his performance, that is one of the most nuanced of his career, which should invite some talk about Oscar consideration.
The Son, is a powerful, yet haunting depiction of so many topics that need to be confronted and discussed, yet too often are avoided…many times with tragic results. This is a film which should be seen. It is also a film that may be too raw for those who have experienced any of the issues that this film grapples with, and for those individuals it may be wise to consider not seeing this film, lest they open up still healing wounds. What we cannot do is close our eyes to the pain we feel, or the pain that others are carrying. Our experiences and our proximity to others allows us to help one another through such times. We "get to carry each other" as U2 famously sang in their song "One", and we see through The Son that this truth can be both a burden, and a great privilege.
The Son opened in limited release in 2022 and opens in additional markets on January 20th, 2023.