A Redesigned Year in Review
Recurring themes and plots of the movies of 2022: class warfare, murder mysteries, musical biopics, taking down predators, and meta commentaries on entertainers' careers. The theme of this list: honesty.
Each year when I narrow down my Best Of list, I review my selections from previous years. This time I noticed an unfortunate pattern: Many films I've named top picks since 2016 are ones I've never revisited, and some I've not even thought about since finishing the lists.
Some of this is inevitable. It's impossible to predict what our culture will latch onto, heavy subject matter isn't easy to revisit, and some years (like 2019) release strong slates difficult to pare down. But there's another culprit behind this trend: obligation. Each year I feel obligated to acknowledge long tracking shots, actors who transform, and plots focused on social issues at the expense of movies I enjoyed much more. For example, in 2017 I ranked Steven Soderbergh's Logan Lucky at the end of my top 20 almost as an afterthought. Since then I have watched it more than anything else on that list with the possible exception of my #1, Baby Driver. Without insulting any titles by naming them, I know several made the final cut because I felt obligated to honor technical and performance achievements even though I didn't care for the whole. (Believe or not, mother! was not one of those guilt picks.)
This year I'm trying something different. Technical and performance achievements matter, but not as much as stories that moved me, characters who delighted me, and plot twists that surprised me. Inspired by Roger Ebert's Special Jury Awards in his Best Of lists, films that were well-made but didn't resonate with me have been moved to a new Honorable Mentions section. In the spirit of honesty, I've also included Honorable Mentions for favorites light on artistry but full of fun.
I've already watched most of the titles in my top 10 more than once because I wanted to spend that much time with them—I expect you will, too.
10. Weird: The Al Yankovic Story
If you've tired of musical biopics, this the musical biopic for you! It's possible "Weird Al" Yankovic, co-writing his own life story, has tired of the genre, too—or at least is ready to poke holes in its clichés. We see Al (an excellent Daniel Radcliffe) turn a spark of inspiration into a hit like in Respect, defy skeptical record label execs like in Bohemian Rhapsody, and fight an addiction that almost ruins his career like in Judy. The refreshing twist: Who knows how much (if any) of this really happened? Weird plays fast and loose with the truth for the sake of comedy, and with a 90% joke hit rate, it's the funniest movie of the year.
9. Marcel the Shell with Shoes On
I would never have guessed while watching Dean Fleischer-Camp and Jenny Slate's web shorts in college—a guaranteed late night giggle-fest with my roommates—that they would lead to a feature film that would make me sob. Marcel the Shell is sweet, wholesome, and hopeful, but it's also inventive and droll enough to prevent drowning in sappiness.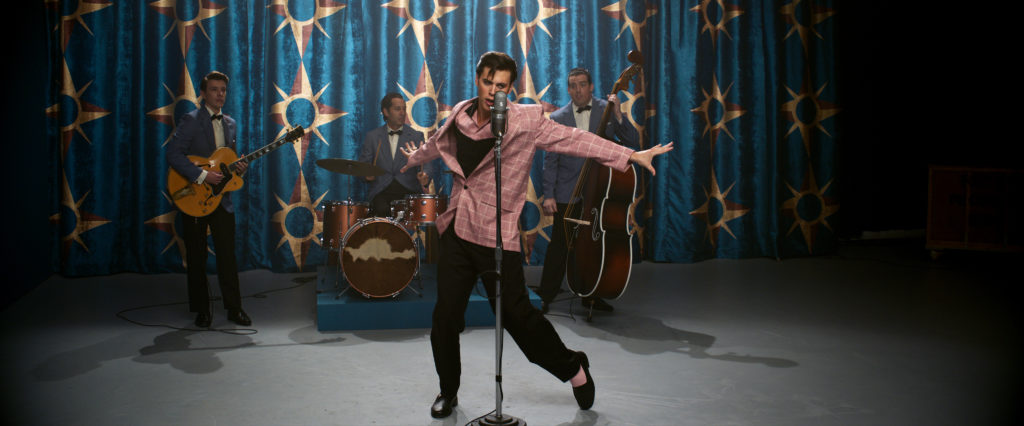 If you've tired of musical biopics, this may not be the one for you. Not everything about Elvis works, but what does is electric, especially Austin Butler's fully realized interpretation of an icon usually reduced to impersonation. My favorite thing about Baz Luhrmann is he seems to have zero interest in being cool, but he just happens to be very good at cool stuff like staging musical performance, pulling the best out of his actors, and creating deliciously avant-garde worlds. The script does fall prey to music biopic clichés and fails to clarify whatever Tom Hanks is supposed to be doing, but I suspect Elvis—like every Luhrmann film before it—is exactly what he is wanted to make.
Like most of us, B.J. Novak seems frustrated by America's culture divide. Unlike most of us, he actually seems to be trying to do something about it. Part murder mystery, part comedy, part cultural analysis, Novak's story of an East coast podcaster who gets mixed up in a tragic death in Texas identifies with and pokes fun of everyone on screen (including John Mayer in a perfect cameo), but it never provides easy answers.
The posters for White Noise promise "fresh existential dread," "impending doom," and a "crippling state of anxiety"—now on sale! Noah Baumbach's colorful, banter-y satire may be based on a 1985 novel, but its take on how we cope with the fear of death feels contemporary. We look for comfort in name brands at the supermarket, we label harbingers of decay with silly names to make them less frightening, and sometimes we do horrible things in attempts to achieve immortality. Funny, quirky, unsettling, and poignant, it's processing our time in the pandemic and is further confirmation of why Adam Driver is my favorite working actor today.
This feature-length homage to All the President's Men understands the same thing that Best Picture nominee did: Investigative journalism is not sexy. To create work that will change policy and society takes months (sometimes years) of digging through files, coaxing reluctant sources, and sacrificing personal boundaries; it would be easier for all involved not to do the work. But like Redford/Hoffman's interpretations of Woodward/Bernstein's Watergate investigation, Zoe Kazan/Carey Mulligan never let us wonder why Jodi Kantor/Megan Twohey cannot let go of the threads unraveling around Harvey Weinstein. Perhaps the greatest achievement of She Said is it helps us understand how and why it was difficult to pin him down as a predator, both because of the empathy we feel for the women who didn't want to share their stories and because of the shadowy ways he used his power. This is also thanks to a stellar supporting cast including Andre Braugher, Patricia Clarkson, Jennifer Ehle, and Samantha Morton, but special props go to Ashley Judd who re-lives her own experience to end a fact-focused script with a cathartic emotional wallop.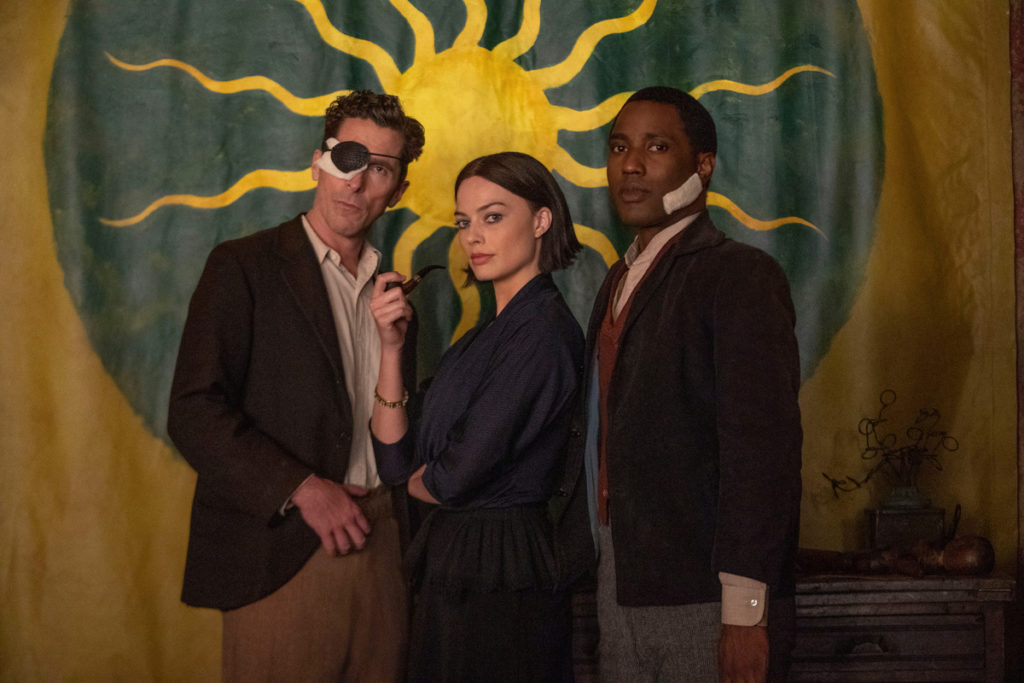 The short summary of Amsterdam: In 1930s New York City, Christian Bale and John David Washington are framed for murder. The longer summary: Well, where to begin? If Amsterdam were more focused, it would be easier to explain its plot, and if it were more historically accurate, it would feel more "important," but then it would not be the impressionistic memory piece David O. Russell gifted us. It's a film about the dehumanization of fascism, the dangers of big business, the healing power of art, the failure of the American Dream, how we disappoint our veterans, choosing love over selfish need…and the symbolism of birds? Grounding it all together is a reckless hope we can make beautiful things out of a grotesque world. Margot Robbie sums up its worldview when she says love and art are the only things worth living for; since I've had my share of cynicism in the last few years, I'm happy to welcome back movies as sumptuous and sentimental as this one.
As a Top Gun fan, I expected to enjoy this legacy sequel, but I didn't expect it to take my breath away. I also didn't expect it to make people who aren't passionate about movies to become passionate about this one. I revisited it at a packed Omnimax theater this New Year's weekend—more than seven months after its release! Avatar: The Way of Water is on track to surpass Tom Cruise in the record books, but this charismatic thrill ride is the defining blockbuster of the year.
The official Ugly Cry of Taylor Blakes everywhere in 2022, Women Talking functions as a courtroom drama. The plaintiff: All women. The defendant: Men everywhere. (Though Paddington Bear himself Ben Whishaw is here to remind us, you know, #NotAllMen.) This version of 12 Angry Women (plus, you know, many more) keeps this debate cinematic, which is impressive considering there are almost no variations in set, costumes, or cast throughout. And somehow in less than two hours, our heroines (including Jessie Buckley, Claire Foy, Rooney Mara, and Frances McDormand) work through anger, compassion, indignation, pity, and everything in between as they decide how best to respond to the chronic sexual assault in their Mennonite community. The verdict, like the rest of the film, is honest, messy, and hopeful.
One of the themes of Glass Onion: A Knives Out Mystery is if it seems too good to be true, it probably is. The irony: This whodunnit sequel is actually just that good. Glass Onion is a bolder, more confident follow-up to 2019's Knives Out, and it's the definitive movie about living through the COVID-19 pandemic. With the help of a cast of ringers (led by Daniel Craig creating a character so distinct he has no easy comparison to anyone in cinematic history), Rian Johnson is working with archetypes of murder mysteries and of our present day culture, but he doesn't write the mogul (Edward Norton, having the time of his life), lifestyle guru (Kate Hudson, stealing every scene she's in), influencer (Dave Bautista, showing new range), politician (Kathryn Hahn, delightfully frazzled), and #GirlBoss (Janelle Monáe, this recipe's secret sauce) as one-notes. And because he's asking questions bigger than our moment, Johnson captures both the feeling of the pandemic and timeless insight into human nature. When the next generation asks why they've heard 2020 felt confusing and chaotic, I'll cue up the audacious, funny, and well-crafted Glass Onion because it will be more efficient than my string of repetitive stay-at-home anecdotes and because I know I'll want to watch it again when they ask.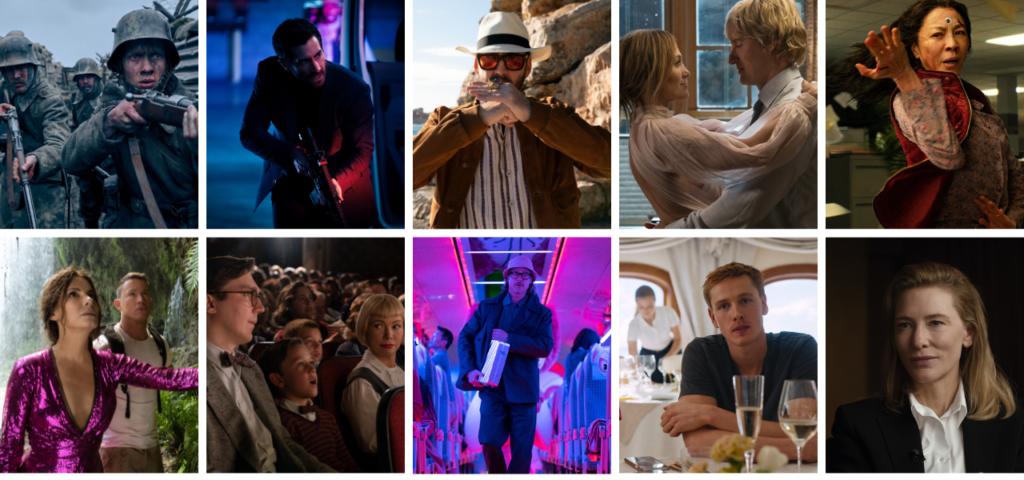 Honorable Mentions: Great Films I'll (Probably) Never Watch Again
These buzzy films are likely and worthy Oscar contenders. But if I'm being honest, I doubt I'll revisit them after this awards season. (I'll happily be proven wrong, though!)
1. All Quiet on the Western Front may not innovate on the war film, but it executes one well. The score's ominous three-note motif echoes Jaws in how quickly it communicates death and suspense.
2. The Banshees of Inisherin investigates how we navigate conflict within friendships to humorous and tragic effect. I still don't get the appeal of Colin Farrell, but I have no qualms with the praise for Kerry Condon, Brendan Gleeson, Barry Keoghan, and Jenny the Donkey.
3. Decision to Leave could have been a great novel or a 1940s film noir, and Park Hae-il and Tang Wei rival Fred MacMurray and Barbara Stanwyck in self-imploding chemistry.
4. Everything Everywhere All at Once feels at times indiscriminately loud for its own sake in a half-developed Marvel universe. But Michelle Yeoh and Key Huy Quan are undeniable, and the line, "In another life, I would have really liked just doing laundry and taxes with you," is the most romantic of the year.
5. The Fabelmans, though less accessible than most Spielberg, lets both John and Michelle Williams shine.
6. RRR is the best bet on this list to be watched again and again since it's one of the most fun viewing experiences of the year and just one of the, well, most of the year.
7. Tár runs long, but Cate Blanchett and the ambiguous script develop an antihero character study unique to our modern age
8. Triangle of Sadness digs into the human nature beneath our unspoken rules about class and money. The similarly-framed The Menu tripped on confusing character motivation, but Dolly De Leon and Harris Dickinson never let their evolving characters get away from them.
Honorable Mentions: Fun Movies I'll (Probably) Watch 100 Times
These movies may not be high art, but they're pure fun. I've already watched them each two or three times, and if I'm being honest, I expect it's just the beginning. (No need to prove me wrong!)
1. Ambulance makes me wish for a Jake Gyllenhaal Best Actor campaign. His tapping into his inner unhinged Nicolas Cage matches Michael Bay's explosive mayhem perfectly.
2. Bullet Train shoots-'em-up in a slick, stylish, funny fashion.
3. The Lost City reminds us charismatic movie stars can elevate cheesy material into consistent laughs.
4. Marry Me may let Owen Wilson coast on auto-pilot, but Jennifer Lopez, her wardrobe, and the soundtrack more than make up for it with their over-the-top energy.
5. Minions: The Rise of Gru rivals Charlie Chaplin, Buster Keaton, and Jacques Tati in its creativity for slapstick antics.
6. Ticket to Paradise, like The Lost City and Marry Me, knows movie stars of George Clooney and Julia Roberts caliber can make easy, breezy, beautifully simple comedies appear effortless.
7. The Unbearable Weight of Massive Talent gives you exactly what you want from a movie about the mystique of Nicolas Cage. Still, Pedro Pascal somehow almost steals the show.