Colin Farrell and Brendan Gleason Engage in the Most Personal of Irish Civil Wars
DIRECTED BY MARTIN MCDONAGH/2022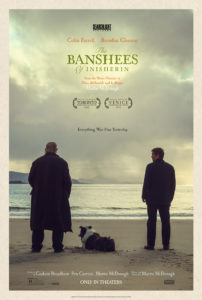 Beautifully darkly compelling, the new film from writer/director Martin McDonagh grabs us with characteristically calloused hands and grips us through its many mood shifts, stunning surprises, and a resolution of contemporary resonance. The Banshees of Inisherin is an uncompromising work of luminous and shadowy visual splendor (it taking place in the beautifully sleepy titular small Irish island town circa 1923 doesn't hurt) but increasingly stews in a rising tension- namely the Irish Civil War going on just beyond the big pond. Fright over the increasingly frequent explosions and gunfire beyond the nearby horizon is dutifully shrugged off. For this alone, is it any wonder that despair has crept into this little corner of supposed paradise?
For Pádraic (Colin Farrell, making full use of having aged into a most expressive face) and Colm (Brendan Gleeson, the most solemnly sympathetic misanthrope you ever did see), Inisherin isn't paradise at all. Nor is it some sort of detached, remote metaphorical hell. It's simply home. Tidy, simple, and for the most part, comfortable. In some nonexistent years-ago prequel to this film, the two men would be well-established as lifelong buddies who every day whiled away hours over dark pints from the reliable local pub, exchanging small talk and otherwise frivolous chitchat. For the ever-complacent Pádraic, who shares a cabin with his assertive sister, Siobhán (Kerry Condon), and has a soft spot for his small donkey named Jenny, this spells contentment. For the single and singular Colm, however, the specter of morality has come creeping in. A frustrated violinist and suppressed intellectual, he one day has simply had it. He shows his hand, declaring that the friendship between he and Pádraic is terminated.
What? It's a heartbreaker; nothing short of a most surprising bombshell. Surprises are anathema to Inisherin, though Colm is resolute in his commitment to cutting off Pádraic. With that reclaimed time, he will craft new music in an attempt to leave a mark upon the world. This divorce of sorts, though, can't help but leave a mark of its own. Like no other film in quite some time, The Banshees of Inisherin leaves yet another mark- one with a most difficult-to-pin-down melancholy. The themes aren't immediately obvious, as they percolate beneath waves of rich characterization and consequences. In this undeniable, unforgettable great work lies many nagging questions- the most prominent being, how is it that this film is so funny??
One needn't dig too deep to hit a solid layer of Coen brothers bedrock. (The reserved but striking Carter Burwell score is another giveaway). That is to say, alongside of the precisely metted-out pile-on of abysmally poor fortune and personal severance, there is a declarative streak of some of the most bouncingly stylized banter we've heard in while. (Much of which is wonderfully delivered by Barry Keoghan as the community's young lonely-hearted wit). At times it's too stylized, zinging around the film's cloistered emotions and humble interiors like Joel and Ethan were ping-ponging their way around a deep deep dark dark deep dark hole. More often, though, it lands just right. But don't let the comedy fool you. This is serious stuff. For it, laughing is a highly recommended anesthetic. And to boot, the comedy in this resoundingly dark tale is presented better than the comedy of so many supposed "comedies" these days.
Martin McDonagh, a celebrated playwright who found yet more acclaim when he went to Movieland (see: 2008's In Bruges, also starring Farrell and Gleeson), has landed another surefire film awards competitor. Unlike his previous such effort, the increasingly dismissed Three Billboards Outside Ebbing, Missouri (2017), The Banshees of Inisherin reverberates in its own fine-tuned craftsmanship and personal artistry. For such an auteur-driven film (McDonagh famously won't allow a word of his dialogue to change), it is a rare kind of across-the-board artistry, felt on behalf of several, from McDonagh to the actors to cinematographer Ben Davis, whose work here is simply immaculate. Banshees is not perfect, and may in fact not be the best film of the year, but it's certainly got a hand up on the others that are already duking it out just over the ridge.
Banshees shows us how confession in the face of the dread disease of our times, despair, is so often not enough. For McDonagh, in true McDonagh fashion, is wrought with its specific manner of extremes and in-betweens. It also shows us how introspection can be its own burden. We see that there are Big Questions wrapped up in seemingly small matters, and that that the tolls of isolation and mental illness aren't newly diagnosed phenomenons of our modern age. But The Banshees of Inisherin is no history lesson. What it is is the most feckin' dramatic dark comedy to be served up in a good bit. Or maybe it's a darkly comedic drama? Its questions are many, and ongoing. For certain though, it is a bloody full-handed character study that unexpectedly, eerily, knocks at your door but goes down like a good heavy spirited pint.