W.C. Fields is Hypnotically Funny in Silent Comedy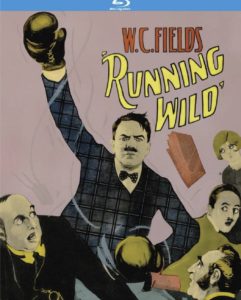 DIRECTED BY: Gregory La Cava/1927
STREET DATE: March 13, 2018/KINO LORBER-PARAMOUNT
My first W. C. Fields feature was It's the Old Army Game.  Running Wild makes the family in It's the Old Army Game look like the Huxtables.
The comedy film is well-executed, though some of the scenes do last a bit too long for 1920s reviewers' taste. Reviewer Mordaunt Hall of the New York Times had this to say in the June 14, 1927 issue:
"There are times when this comedy is really good, but quite often Mr. Fields overdoes the fun, with the result that it falls somewhat flat. …plausibility is flung to the four winds."
I'm not certain that Mr. Hall's opinion wears particularly well. The slow-build of gags seems to this reviewer to be one of the film's chief assets. Plus, one doesn't often run to comedy for plausibility. Editing can almost always be tighter, but the editing of this film does not seem loose-to-distraction to me.
The slow-build of gags seems to this reviewer to be one of the film's chief assets.
Fields plays such a weak character in the beginning of the film that when he becomes hypnotized, audiences including myself feel so good about seeing him assert himself. The moment that he hides behind a rocking chair, he gives a rousing impression of a lion, even gnawing at the 'bars' of the chair. It's a truly fun picture with wonderful timing and gags.
The Blu-ray release comes with a score composed and performed by Donald Sosin. The commentary is by James L. Neibaur, author of  The W. C. Fields Films, published by McFarland and available on Kindle. His commentary is helpful and generally geared toward novices. If one watches It's the Old Army Game with commentary and Running Wild, one will hear some redundancies, but that goes with the territory of historical film commentaries.
The film quality is wonderful, having been preserved by the Library of Congress. Different reels have different visual quality, as so often happens with films of this era, but the image is stable throughout and enjoyable to see.