Rodeo Family Drama was Never This Much Fun
DIRECTED BY SAM PECKINPAH/1972
STREET DATE: OCTOBER 31, 2017/KINO LORBER STUDIO CLASSICS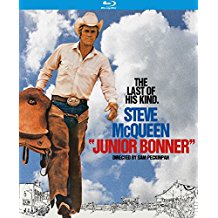 McQueen.  Peckinpah.  At the rodeo in 1972.  The riding is real, the scene is authentic, the hats are beyond formidable.  No swagger necessary here, Junior Bonner doesn't need it.  Not for one second, certainly not for eight seconds.
It's not presumptuous to say that there will never be this level of pure, concentrated male energy on screen ever again.  To what degree that cultural observation is a good thing or a bad thing (or just a thing) can be hashed over by the beholder.  But in any case, a little kicked-up dirt in the eye of the beholder might not always a bad thing.  Rub your eyes, and look again.
Not a comedy, but with comedy, Junior Bonner stands with The Ballad of Cable Hogue (1970) as proof of the rarer side of Peckinpah in being a picture unafraid in its sensitivities.  In this respect, these films boast as much gusto, as much assurance as the more notorious works (The Wild Bunch, Pat Garrett and Billy the Kid) by this celebrated and debated "master of violence".
Though first and foremost a dignified Steve McQueen vehicle (the actor was in need of a hit following the disaster of Le Mans), Junior Bonner is very much the tale of a family in decline, facing an agreed, inevitable dissolution.  A terminally arrogant patriarch (Robert Preston).  A proud matriarch, toughened like shoe leather (Ida Lupino, through with taking any b.s.).  How that theme plays as anything other than oppressively tragic is one of the confounding successes of this fine film.
Despite its lack of blood-soaked mayhem, Junior Bonnor is nonetheless an impeccably edited portrait of the fallout and resolution of a dysfunctional family's life.  That aspect may be uneasy, but it goes down as perfectly honest.   Not every story needs to be wrapped up in a big shiny bow to achieve maximum satisfaction.  Heck, they probably don't even sell bows that shiny in 1972 Prescott, Arizona.  (The real life small town burg standing in for itself onscreen).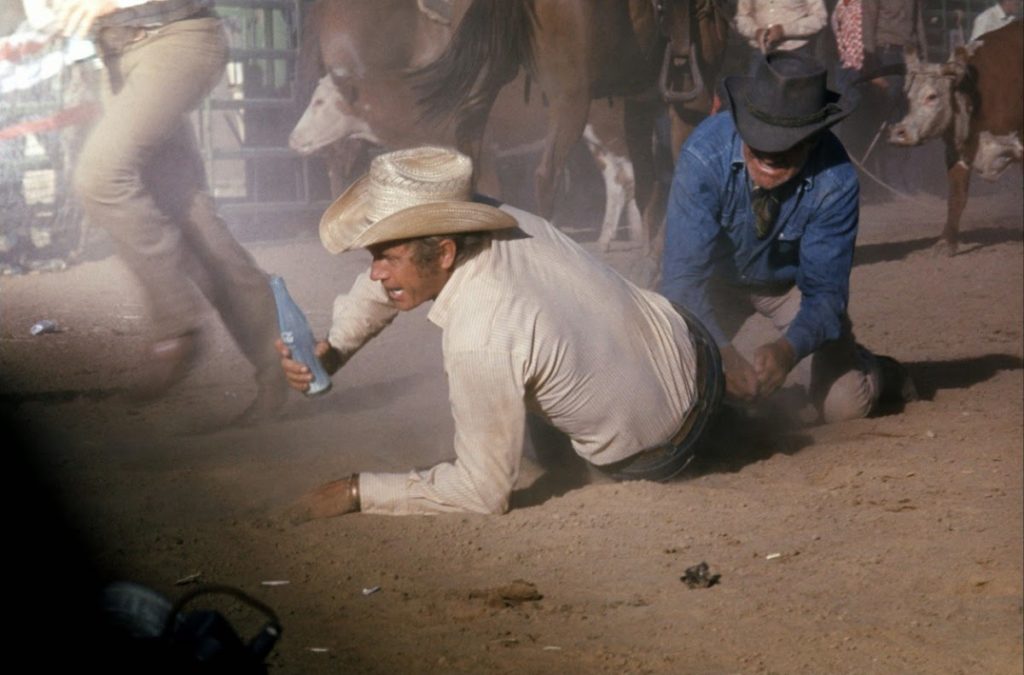 The rural small town life exhibited in Junior Bonner is telling of just how much the world has changed since then.  The Main Street and town square are dotted with mom & pop grocery stores and hardware stores and other such establishments, each adored with outdoor ice boxes, log piles, flags (U.S. and Confederate) and handmade fliers.  The moms, pops, parents, neighbors and children gather enthusiastically for a parade with decorated cars and high school marching bands.  The whole thing is sponsored by local rotary clubs and/or Elk's Lodges and/or an area car dealership.  The faces are lived in, the girls are pretty, the boys are rugged and alive; all of it filmed without judgement.  It's as though Peckinpah's camera meticulously followed Steve McQueen into a Les Blank documentary.
There's a palpable spirit of rugged mischief throughout Junior Bonner, something that Peckinpah is clearly delighting in.  (Again, not unlike Les Blank's work). It ebbs and flows, manifesting most enjoyably in a cockamamie bar brawl and the canine chaos of a bucking bronco rally when an energized dog interjects itself in the action.  (Over the tinny loudspeaker, the color commentator bellows, "…and will someone get that damn dog off the field!!?").  The filmmaker seemingly having (temporarily) purged himself of any toxicity and need to provoke with Straw Dogs just two years earlier, Junior Bonner is a considerably more lighthearted and approachable ride.  And make no mistake, this is one of the great hat movies of all time.
Bonus features on this Kino Lorber Studio Classics blu-ray release are plentiful.  Guess that's why this one's called a "special edition".  Packed to the hilt with video supplements both new and old, long and short, all presented in proper quality (unlike, say, The Good, the Bad and the Ugly), this is a downright excellent release.  Get it now.  Tell 'em ZekeFilm sent you.