Iconoclastic Artist Derek Jarman Chronicles his Dying Days in Strikingly Minimalist Monochrome.
DIRECTED BY DEREK JARMAN/1993
BLU-RAY STREET DATE: AUGUST 27, 2019/ZEITGEIST FILMS
"From the bottom of your heart, pray to be released from image."
A blue screen can be anything. And in this case, it will have to be. For seventy-nine entrancing minutes, British iconoclast Derek Jarman's final feature-length film, Blue, lives up to its name in the most minimalist way possible short of no image at all: nothing but a completely, consistently blue screen, with voiceover. That's it. And yet, being the unflinching testimonial on and around the filmmaker's own fatal affliction, it is emotionally overwhelming.
Movies that are very different from this one live and die by the bluescreen. If it's used properly, you'll never see it. Literally anything else is keyed onto it via post-production technology: far off lands, non-existent planets, crowds of thousands… it's all up to the filmmaker's imagination.
Derek Jarman was a filmmaker of considerable imagination. In the course of three decades, Jarman arose as one of the foremost artists of bold, countercultural cinema. In uncompromisingly gay epics such as Caravaggio (1986), Edward II (1991), and the theatrical Tilda Swinton starrer, Wittgenstein (1993) he was consistently challenging his adventurous audiences with his sexually and visually audacious projects.
With 1993's Blue, a feature film among his very final works, all outward provocation is stripped away. Becoming physically blinded by AIDS and in the final stretches of his life, this is Jarman's last cinematic offering; personal and forthright, achingly so.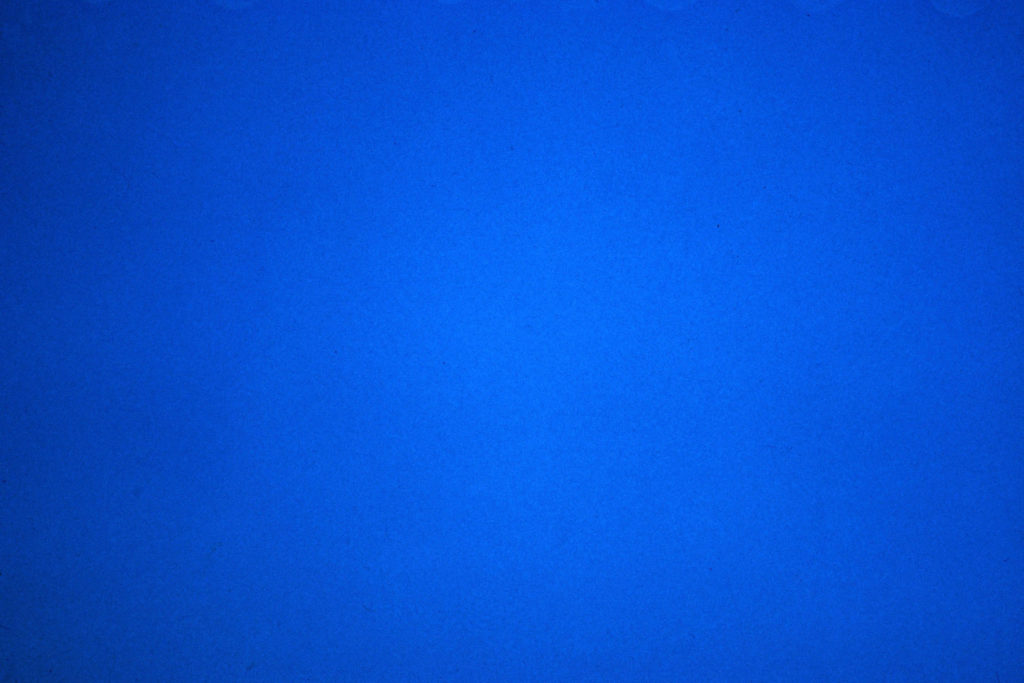 But can a film that is literally one long blank, blue screen with voiceover truly be considered bona fide cinema? By most any conventional definition, the answer has to be "no". And, yet. With Blue, Jarman's matter-of-fact rejection of all things visual forces us inward, to a place of rumination and empathy. No grief is to be dismissed in this world, and here, the filmmaker (and his small team of cohorts that he had to rely upon in his decline to make this film come about) effortlessly but also painfully channels our sympathy, even our empathy, into evoked real-time images. Our mental manifestations of Jarman's unjust shame, his perception of his deterioration, his undeniable dread, are keyed onto that unyielding blue screen, beginning to end.
"Blue – an open door to soul. An infinite possibility becoming tangible."
DHPG (the drug Jarman must be treated with in-office each day) yields a grotesquely long list of likely side effects. But what will one do, not sign off on it? If survival must equal hell, then so be it. And then the external fallout: the condescension of others… as well intentioned as they may be. The gradual move to becoming a hopeless case breed nothing if not platitudes and dumbed-down faux uplift. Jarman uncorks in frustration: "Charity allows the uncaring to appear to be caring. Charity is big business."
Before Jarman became terminally ill, Blue was conceived as a project in the vain of the minimalist art of French artist Yves Klein.  According to Blue's producer, James Mackay's newly recorded interview, the project was in fact originated as a multimedia, multi-pronged endeavor about Klein.  Obviously, Blue went through some major changes in the intervening years.  What we instead have gotten is a Klein-inspired cinematic withholding of visuals engulfed in penetrating soundscapes.  Innermost existential thoughts, fears, dread: "The Earth is dying, and we don't notice it."  And even, in those moments… impossible bits of an artist's 9/11 prophecy, pre-1993?  "A jet slams into a tower block…".  Blue indeed has a tendency to rattle us out of the very malaise it outwardly cultivates.
According to a newly recorded thirteen-minute interview with the film's associate director, David Lewis, Jarman was so unwell by the time of Blue that such tangential helmsmenbecame necessary.  Even all these years later, many of Jarman's surviving compatriots converge to remember and honor him.  Predictable to anyone who's experienced Blue, there is much to be said about it.  Zeitgeist Films, via Kino Lorber, come through with this extras-laden Blu-ray (Blue-ray?) edition.  It's only proper… the only thing more esoteric, in a sense, than Blue itself, is a diverse gathering of obscure and newly created extras about Blue.  Included is a more recent dedication of a plaque in London, commemorating the artist and leaving a mark for future generations.  Appropriately enough, the plaque is blue.  Here's the full list of bonus features, a treasure trove for any Jarman enthusiast:
Bliss (1991, a concert recording of the project that would become Blue) David Lewis remembers Blue
Glitterbug (1994, a compilation of Derek Jarman's home movies, scored by Brian Eno)
Hard to Imagine (John Maybury recalls Jarman's journey towards Blue)
James Mackay remembers Blue
Simon Fisher Turner remembers Blue
Derek Jarman Blue Plaque unveiling in London
Some may protest that Blue is more gallery installation than cinema.  The filmmakers, though, clearly were thinking beyond such rigidity.  Let others determine where Blue is to be experienced; the bottom line is that is shown, it is experienced.  And in subsequent years, Blue has indeed survived in both venues, if not more.
By stripping away any conventional visual renderings, Jarman forces us to confront mortality in a completely different way. The bluescreen becomes our own. Jarman's Blue is one of the most audaciously, honestly blunt bits of cinema that anyone has never seen.