Mariana Di Girolamo and Gael García Bernal Dance to Forget in Pablo Larraín's Latest Unsettling Character Study
DIRECTED BY PABLO LARRAÍN/2021 (U.S. Theatrical Release)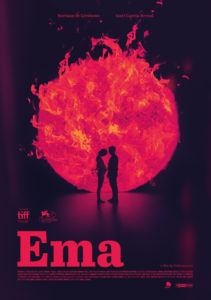 Ema has problems.  Not so much the movie Ema, the delayed 2019 dramatic eye-opener from daring visualist filmmaker Pablo Larraín (Jackie; Neruda).  Rather, it's the film's title character- a devoted modern dancer and less devoted wife and former mother who is deeply trying to escape a reality that is profoundly inescapable.  
Mariana Di Girolamo is straight-up mesmerizing as the starkly blonde and emotionally blank Ema. Ema has the beauty of a fashion model coupled with the gaze of a lusty viper. She radiates danger in the most disturbingly compelling of ways. Seemingly devoid of sympathy, Ema operates as an unfeeling zombie for much of the film. Bottled up devastation threatens to uncork at any moment, but never does. That is except for that decadent montage near the end where she goes nuts and has tons of sex. But not even that proves to be the answer she seeks.
Can anything bring back her young son? Does she even want him back? After all, she and her increasingly estranged husband (Gael García Bernal) opted to give him back to the adoption agency from whence the poor kid came. Though that occurred in the aftermath of atrocities committed by the child, all the wounds still linger, agape and unhealing.
Larraín, continuing his streak of fragmentary oneiric and dour explorations maintains his practice of titling them after the main character's name.  (Including his upcoming high-profile biopic, Spencer).  But make no mistake, his Ema bears no resemblance to the similarly titled Emma., nor Emma, nor anything Jane Austin.  Larraín's Ema is a beguiling blend of the mysteriously compelling and the thoroughly repulsive.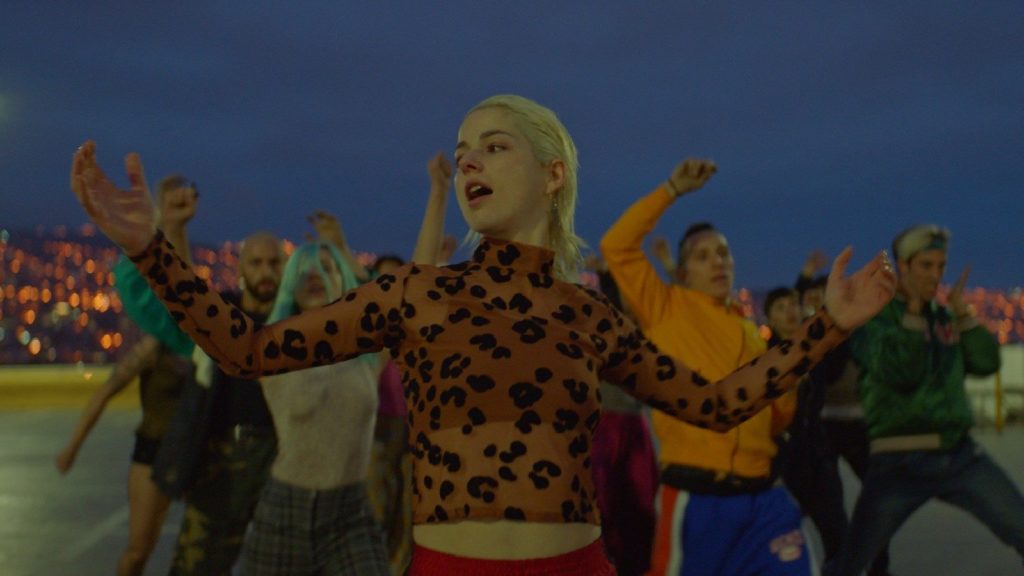 The numerous scenes of modern dance are exquisite yet unsettling, giving off distinct Climax or Suspiria (2018) vibes.  It is a film that only he, in his compulsion towards uncompromising experimentation, could've made- or would even attempt to make.  Not one character is likeable, and their desires are never overt until the moment they act upon them.  
Ema is a crafty, meticulous film with an impulsive and rebellious heart.  Like its title character, who goes so far as to don fire-safe gear and wield a blowtorch in the nighttime street, Larraín seems to sympathize with her desire to burn it all down.  From the opening shot of a single traffic light ablaze on an empty evening street, Ema grabs and does not let go.  Yet, in retrospect, there is no compulsion to re-watch it.  Rather, audiences will likely be content to watch Ema seductively dance away in the fire of her own making.