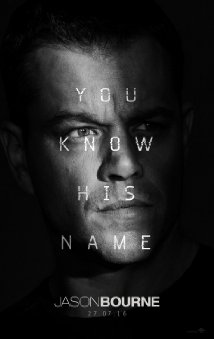 Directed by Paul Greengrass
Starring Matt Damon, Alicia Vikander, Tommy Lee Jones
Released July 29th, 2016
Rated R
Take pity on the meter maid that wronged Jason Bourne. Keep in your thoughts the waiter who once forgot to refill his coffee. Pray for the person who cut him off in traffic 20 years ago. Jason Bourne has his memory back and he's coming for all who have wronged him.
Remember when we met Wolverine in the very first X-Men movie back in 2000 and he was fighting for money as a way to punish himself for all of his wrongdoings? That's exactly what Jason Bourne is up to these days, without the help of Adamantium claws.
Bourne (Matt Damon) lives off the grid as best he can, punching people for money. Hey, it's a living! When his old pal Nicky Parsons (Julia Stiles) gives him information that his father was somehow involved in Treadstone, the organization that brainwashed him into an assassin, Bourne decides to kill his way to the truth.
Where do you take a franchise about an amnesiac assassin after he reagins his memory?
The big bad is CIA director Robert Dewey (Tommy Lee Jones) who plans to use a social media company to surveil United States citizens. This subplot doesn't have anything to do with Bourne and I'm not sure what purpose it serves other than to allow a character to reference Edward Snowden.
Heather Lee (Alicia Vikander), an ambitious young agent, asks for the opportunity to attempt to bring Bourne back into the secret government program he's rejected. Dewey agrees, but secretly sends an "Asset" (Vincent Cassel) to kill him.
Vikander plays Heather Lee as keeping her cards so close to her vest that even the audience doesn't know where her loyalty lies. I enjoyed watching her bounce off of Damon and hope she returns for future films.
Ask Siri to give you a definition of the word "exasperated" and she's likely to show you a picture of Tommy Lee Jones. He may as well be wearing an "I'm surrounded by idiots" button on his lapel.
I'm the odd man out on this franchise. I enjoyed Doug Liman's The Bourne Identity and I dug Tony Gilroy's The Bourne Legacy with Jeremy Renner. I didn't care for either of the films Paul Greengrass directed, The Bourne Supremacy and The Bourne Ultimatum. Greengrass is back in the director's chair for Jason Bourne, and the result is more of the same.
The fights are alright, the story is serviceable, the acting is decent, and there is even a car chase that is so over-the-top it wouldn't feel out of place in a Fast and Furious film. But where do you take a franchise about an amnesiac assassin after he reagins his memory?
My hope is Jason Bourne comes in from the cold and returns to work with the government, or someone smacks him on his noggin and he goes all forgetful. I've even got a title: BOURNE AGAIN.