A Time Travel Top Ten List
Another movie year has passed and a new one stretches before us. Even now, as our dedicated contributors at ZekeFilm agonize over the best movies in 2015 – and then attempt to fairly rank them – a seasoned film-watcher cannot help but consider how this year in movies relates to last year in movies, or how the past movie decade compares to the one before it, or even wonder how film in the 21st Century is stacking up against film in the 20th. An even more insistent question may present itself: what does the future hold for movies?
Perhaps an answer, however oblique, can be found in briefly considering its history. Since Auguste and Louis Lumiere's premiere exhibition of their invention, the "cinematograph", on December 28, 1895 – where, with titles like Baby's Breakfast, The Sprinkler Sprinkled, and Workers Leaving the Lumiere Factory, spectators first marveled at 40 – 50 second motion-visual images projected on a silk screen – movies have developed into an art form uniquely combining art and science; where innovations in both technology and storytelling have been utilized in moving the hearts and minds of audiences to ever-more effective degrees. 120 years, though, still suggests an art form in its infancy. Where, as film-watchers, have we been, and where are we going?
I don't have an immediate answer to the latter question, but as a viewer who greatly prefers "classics" I can perhaps more pointedly comment on how that movement may, or may not, indicate what greater, or lesser, cinematic glories await in the future. A good round century seems a good a point of departure and, to subdivide that perspective further, a good round decade of favorite mid-decade releases – from 1915 to 2015 – seems ideal to whatever logic resides in the numbered, ordered, and ranked listing of "comparison". In short, does the growth and development of an entire medium naturally suggest itself through a list that begins in the year of A Birth of a Nation (1915) and ends in the year of Star Wars: Episode VII – The Force Awakens (2015)?
SO! Once again, time travelers, strap yourself in for another time-traveling adventure – the only "equipment" you'll need is your preferred form of media player or home video – as we embark upon a cinematic journey across ten mid-decade favorites! 
1915
THE TRAMP (Essanay Studios, dir. Charlie Chaplin)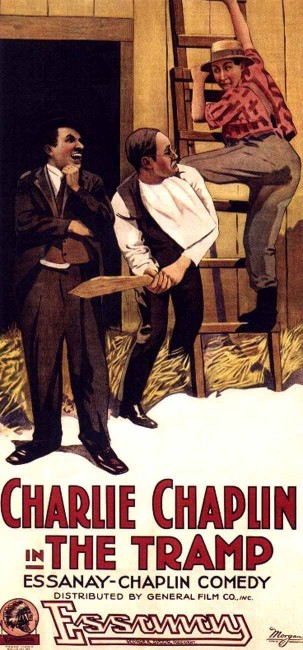 Where to begin? I could talk about notable releases or the emerging film industry or the then-new capital of international filmmaking, Hollywood USA, but, instead, for my first entry I will focus on the film persona of Charlie Chaplin, "The Tramp". Born on the second time the comic actor appeared before a camera, in the 1914 two-reel comedy Mabel's Strange Predicament, the character debuted in a split-reel gag film titled Kid Auto at the Races and quickly developed into Chaplin's signature character.
…
Though he essayed a wide variety of roles in his earliest appearances – everything from mustachioed schemers to drunken revelers to henpecked husbands – the baggy pants, tight waistcoat, and derby-wearing eternal outsider – defiantly twitching the small tuft of hair above his upper lip or elegantly twirling a thin, frail-looking cane – irrepressibly reasserted himself in film after film. Boorish, surly, and somewhat sadistic, even, in these one and two-reel comedies made for trailblazing comedy producer Mack Sennett (whose Keystone Studios pioneered screen slapstick comedy), Chaplin took the opportunity of more money and greater autonomy offered by rival Essanay Studios to refine and deepen the impact of his self-defined character.
…
And it was that move that resulted in my personal selection for 1915: Charlie Chaplin's appropriately-titled The Tramp. In the course of three reels and a multitude of swift kicks to the backside, Charlie's Tramp is as broadly amusing as ever in the threadbare plot of a drifter who becomes enamored of a farmer's daughter (Edna Purviance) and ends up defending her family's farm from a gang of fellow felonious tramps. Here, though, the Tramp is more than a comic maelstrom of indignation and violent retribution as he is cast in the role of helper, protector, and, ultimately, disappointed lover. As we view the character's ingenuity in foiling the thieves, his touching vulnerability in learning that the girl he loves is already spoken for (future prolific director Lloyd Bacon), and his plucky resolve as he waddles once more down the lonely road of life, the Tramp is presented for the first time as a three-dimensional human being: rather than a slapstick grotesque for audiences simply to laugh at, here was a comic character with whom an audience could visibly identify. Antique though this film may appear to many viewers in 2015, it is The Tramp's defining innovation of audience identification, I would argue, which made possible the great screen comedies that followed.
1925
SEVEN CHANCES (Joseph M. Schenk Productions, dir. Buster Keaton)

As if in answer to my previous selection, we move ahead 10 years to witness arguably the grandest visual comedian to grace the silver screen: Buster Keaton. Though comparisons made between masters of silent film comedy ultimately does disservice to their individual achievements, one might generalize that whereas Chaplin utilized film to capture brilliant comic performances, his own, Keaton utilized the medium to create brilliant visual comedy.
…
Blank and expressionless, Keaton's character was invariably a cipher, a mechanical marvel who appeared before the camera with a physical precision equal to the smooth-running of those same gears and sprockets used to record screen reality. Variously identified in his films with a trick-wired house (The Electric House), a hot air balloon (Balloonatics), an infinitely-replicated vaudeville show (Playhouse), and an entire self-navigated ocean liner (The Navigator) – he would later, most famously, become a locomotive roaring through the greatest chapter in American history in 1926's The General – Keaton's apogee of self-invention came when he embodied the very eye of a camera projector in the previous year's Sherlock, Jr.
…
So, if Keaton had already enacted cinema itself, what possible artistic challenge awaited in the year under discussion, 1925? Basically, wresting visual genius from mediocre source material. Based on a moldy, old chestnut that was moldy and old when it first appeared in 1916, David Belasco's height-of-contrived comedy concerns a young stockbroker who must marry before 7:00 p.m. on his twenty-seventh birthday in order to inherit a fortune of 7 million dollars. Having failed, or so he thinks, to convince his great love (Ruth Dwyer) to take the conveniently profitable step of matrimony, Buster's good buddy (Billy Meekin) takes an ad out in the paper and, an ill-fated multiple assignation at a well-appointed church later, suddenly finds himself being chased across town, through streets, over chasms, and, finally, down a rock-sliding cliff by a horde of would-be brides! And it's that climactic scene of Buster Keaton physically negotiating an actual, on-camera avalanche that earns screen immortality here and makes the film an undisputed masterpiece. Setting a staggering visual standard for silent comedy, and possibly all cinema, the sight of Keaton dodging boulders, tumbling head over foot, and flipping furiously down the side of a friggin' mountain is as visually exciting viewed today as viewed 90 years ago and, in the intervening years, has quite simply never been equaled.
1935
RUGGLES OF RED GAP (Paramount Pictures, dir. Leo McCarey)

Based on a popular 1915 novel by Harry Leon Wilson – which had already been adapted as a 1915 stage musical and two silent films appearing in 1918 and 1923 – director Leo McCarey breathed new life into a well-worn property and gave Charles Laughton his greatest role. McCarey had already devised vehicles for such memorable performers at Paramount as Eddie Cantor (1932's The Kid from Spain), the Marx Brothers (1933's Duck Soup), W.C. Fields (1934's Six of a Kind), and Mae West (1934's Belle of the Nineties) – earlier, as artistic director for producer Hal Roach, he had helped create the comedy style of Laurel & Hardy – but it was guiding Laughton's interpretation of the irreproachable British valet Marmaduke Ruggles, the perfect gentleman's gentleman, that McCarey found a comedy style that edged ever-so-nearer to screen realism.
…
To pay off his gambling debts while on holiday in Paris, the Earl of Burnstead (Roland Young) "gifts" the use of his manservant Ruggles to a visiting American millionaire couple, Egbert and Effie Floud (Charlie Ruggles and Mary Boland), who bring the ruffled retainer back with them to the distant frontier outpost of Red Gap. Although the ethical concerns of such a dubious transaction are initially lost on poor Ruggles – who has spent his entire life unquestioningly serving the needs of his "betters" – he eventually becomes a "new man" to the easily impressed Western locals while forced to pose as celebrated "Colonel" Ruggles. Inspired by his masquerade, Ruggles resolves to "stand on his own two feet" by opening his own business, the "Anglo-American Grill".
…
An American fable of personal independence and self-reliance, the comic impact of the film wholly derives from the characters, as opposed to the situations, and achieves a gentle, realistic tone born of keen observation and honest acuity regarding human behavior. The justly lauded scene where Ruggles recites the Gettysburg Address to a saloon filled with roughnecks or the tender romance that blossoms between Ruggles and widow Mrs. Judson (ZaSu Pitts) while the shy pair trade recipes in her kitchen or the proper English Earl receiving drum lessons(!) from down-to-earth society woman Nell Kenner (Leila Hyams) are living, breathing "moments", among many many others, where one may forget one is watching a movie now-80 years old and instead feel immediate kinship with true-to-life characters played by actors long-dead. As with all our selections, this latter point always proves to me one of the most magical qualities of our chosen manner of time travel, that of film itself.
1945
CHILDREN OF PARADISE (Pathe Cinema, dir. Marcel Carne)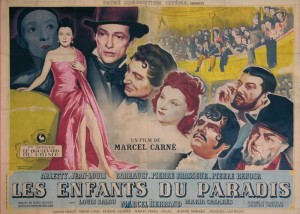 Devised as a "romantic, theatrical epic" during the waning days of the Nazi occupation of France, the clandestine circumstances of Children of Paradise's lavish production – under the watchful eyes of the SS – is almost as thrilling as the passionate tale of love, romance, and theater which eventually appeared on French screens on the 9th of May, 1945. ALMOST.
…
Set during the 1820s and 30s in the traditional Parisian theatrical district of the "Boulevard of Crime" (so named for the florid, bloody melodramas there-popular), the film follows four great celebrities of the day – the mime Baptiste Deburau (Jean-Louis Barrault), "grand actor" Frederick Lemaitre (Pierre Brasseur), murderous thief Pierre-Francois Lacenaire (Marcel Herrand), and aristocratic dandy Edoard de Montray (Marcel Herrand) – who are all in love with the same woman, the bewitching courtesan "Garance" (Arletty). As with our previous selections, performance is central to director Marcel Carne's lush vision of the past, where the "stage of life" – whether it be on the boards of the Funambules, or backstage of the Grand Theater; among thieves in the dangerous criminal hideout The Red Breast, or in the boudoirs of Mme. Hermine's (Jeanne Marken) boarding house – is played out on a grand scale equal to its larger-than-life participants.
…
As we follow these performers on life's stage – in witnessing the legendary performances of the equally-legendary mime Deburau, or in stalking alongside Lemaitre as he dramatically essays the role of Othello, or in marveling at the criminal ingenuity and dark wit of the ruthless Lacenaire – the pursuit of the (ultimately) unattainable Garance is laid bare in terms of both art and life as each try (and fail) to capture the love of an otherworldly creature. Its famous Carnival-set conclusion, where Deburau futilely chases a carriage carrying "his" Garance away while ensnared in a white sea of mime-dressed revelers, is haunting beyond words and, as if to perfectly punctuate the moment, composer Joseph Kosma's evocative score reaches its stirring climax even as the curtain falls on this life as a stage, or this stage called life. Advertised in its initial U.S. run as "France's answer to Gone with the Wind", poet and screenwriter Jacques Prevert wrote what I feel is the finest screenplay ever conceived and its rich dialogue, romantic setting, and indelible characterizations open a window to another world and make the time and place come alive with a truly stunning immediacy.
1955
LOLA MONTES (Gamma Films, dir. Max Ophuls)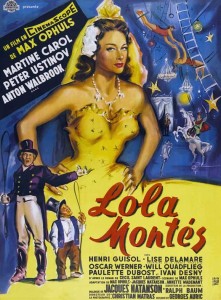 Continuing our life as a stage theme, my selection for 1955 does the notion one better: life as a circus. Director Max Ophuls ended his career following a series of witty historical romantic dramas – including La Ronde (1950), Le Plaisir (1952), and The Earrings of Madame de… (1953) – with, appropriately, his ultimate film statement on love, loss, and, for lack of a better word, grandeur. A notorious disaster upon its initial release, the film survived savage reviews, numerous butchered versions, and advanced decay of its original celluloid elements to arrive completely restored – first in 1968 and, more recently, in 2008 – for all to behold in its full Technicolor and Cinemascope glory.
…
Opening on an all-command performance of panache and pageantry by the internationally-renowned MAMMOTH CIRCUS (even the caps-lock key doesn't do it justice), the central attraction of the evening's show is the scandalous dancer, courtesan, and bon vivant Lola Montes (Martine Carol), whose three-ring "biography" is daily reenacted by jugglers, clowns, minstrels, equestrians, acrobats, freaks, and colorful costumiers. Mistress to Franz Liszt (Will Quadflieg) and King Ludwig I (Anton Walbrook), among other notable figures, a woman who lived only for herself was undoubtedly a rarity in the nineteenth century and the spectacle of Lola Montes is as electrifying as the actual historical figure who was unaccountably blamed for "toppling whole civilizations"! (For the death-defying climax, she plunges from the big top's top into a gelatinous vat of rose-colored water; a none-too-subtle summing up of the performer's "fallen" status.) Though the tyrannical Ringmaster (Peter Ustinov) knows all too well that the grueling performances are slowly killing the aging celebrity – re-experiencing painful episodes from a life too-extravagantly lived – Lola nonetheless dutifully submits herself to the outsized exploitation of her outrageous past exploits and ultimately appears a stoically heroic figure in the film's famous final shot, as the camera tracks back to reveal an endlessly long line of admirers waiting to pay for the honor of kissing her hand.
…
As possibly the most unconventional screen biography ever attempted, the complex use of flashbacks, screen composition, deep color palettes, and camera movement finds a style entirely befitting its equally unconventional subject. As always, director Ophuls' famously tracking camera doesn't so much "move" as "waltz" about a compellingly ersatz world of long-ago and faraway, whose core of deep regret and tender melancholy are undimmed by the nightly, harsh spotlights of public censure and disapproval. Though the magnificent milieu may appear artificial, the emotions are not, and, really, isn't a circus infinitely more interesting, anyway?
1965
THE LOVED ONE (Filmways Pictures/MGM, dir. Tony Richardson)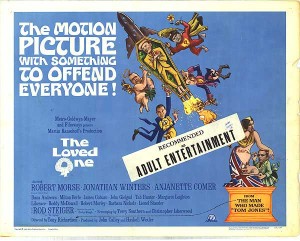 Any inclusion of a film that is as cult-ishly adored – and, otherwise, so little-known – as Tony Richardson's The Loved One, on a list that purports to represent entire decades of filmmaking, may deserve some explanation here. Fortunately, though, I do have about 400 words: adapting the 1948 satirical novel by Evelyn Waugh, based on the author's experiences and observations of Hollywood during the mid-40s, screenwriters Terry Southern and Christopher Isherwood loosely updated Waugh's razor-sharp, laugh-out-loud prose stylings concerning L.A.-living – or, more accurately, L.A.-dying – for a broad, tasteless, far-too-far-out mid-60s extravaganza about America's culture of death.
…
Perpetually confused young British poet Dennis Barlow (Robert Morse) arrives in LA to take in some California sun and, before re-boarding for his return trip to Blighty, becomes involved with nefarious "Whispering Glades" owner Rev. Wilbur Glenworthy (Jonathan Winters) and his ne'er-do-well brother Henry's (Winters again) scheme to empty their unprofitable cemetery by shooting a space-age missile into the stratosphere. Along the way, young Barlow becomes involved with death-obsessed funeral attendant Aimee Thanatogenos (Anajette Comer), runs afoul of dedicated embalmer Mr. Joyboy (Rod Steiger), and becomes non-sectarian minister for a pet cemetery called "The Happier Hunting Grounds" in a free-ranging satire that has no conception of the word 'restraint'.
…
Featuring random cameos by everyone from James Coburn and Tab Hunter to Milton Berle and Liberace – with more developed roles taken by John Gielgud, Robert Morley, and Roddy McDowall – The Loved One comes from the It's a Mad, Mad, Mad, Mad World (1963)-style of 60s entertainment, where big concepts and big names threaten to capsize whatever monstrous budget the studios sunk into these outsized affairs. Personally, though, Mad, Mad…World is one of my favorite films precisely because of its extravagance, and The Loved One in particular is fascinating to me; first because it failed so miserably by whatever standards one judges the relative meriti of a movie, whether it be critical reputation or box office, and second because the film anticipates the sort of radical narrative and stylistic experimentation filmmakers would increasingly take during the latter part of the decade.
…
Does it go too far? Well, one's litmus test for these matters may differ from my own, but as the disgustingly gluttonous character of "Mrs. Joyboy" is credited to an actual performer (Ayllenne Gibbons) – rather than being a hideously overstuffed animatronic meat puppet made by some perverse mechanical engineer from Disneyland– indicates that the film still succeeds in offending the sensibilities of its audience even 50 years later. By its own standards, then – or lack of them – The Loved One remains a deathless work of art. 
1975
NASHVILLE (ABC Entertainment/Paramount, dir. Robert Altman)
Come on down, Ladies and Gents, and see why we're called the Athens of the South in NASHVILLE. THE best musical acts the musical capital of the South has to offer, straight from Opryland USA, at THE Parthenon for one day, that's right, one day only in NASHVILLE.
Robert Altman's sprawling 2 hour and 40 minute film mosaic – having no less than 24 main characters, with at least that many intertwining plot lines – details a weeklong political rally for a third party candidate in Nashville, Tennessee set during the days leading up to the Presidential Primaries of 1976. In two dozen intersecting storylines, then, the film details the promotion of that event, and characters are either entertainers – being Nashville, they're all, of course, musicians – aspirants, promoters, local bigwigs, political dealers, innocent bystanders, or fringe outsiders. The music is Country, mainly, and the style is Big, exclusively. Every character and plotline converges on a free outdoor concert given at Nashville's Parthenon Stadium at the film's conclusion (see above) in which it all ends the only possible way one could imagine it all ending: Only in Nashville! Only in America!
…
As a portrait/panorama of one American city approaching the bicentennial year, Altman's cinematic act of national and cultural vivisection should leave a bitter taste but somehow, it doesn't. It's fun. And for all its apparent bitterness and cynicism about, say, the exploitative intersection between art and commerce in America, or the excesses of political wheeling and dealing, there's a light touch to our national foibles portrayed here that is more satiric than sardonic, and more endearing than unendurable. It's America as one big, freaky, hoot'n-holler'n Carnival, with a few tragedies along the way to remind us that The Party may indeed someday end.
…
But so what? In the meantime, we've got our movies and music – our bread and circuses – to keep us amused; which I'm only half-serious about, by the way. (Actually, I had originally intended to write-up this movie a few months back with my Musicals series, as Nashville is certainly one of the great American musicals.) Sure, one day we may not be here anymore – the union may fall, the promise of democracy may fade – but cultural institutions can outlast the rise, decline, and inevitable fall of government and empire. 'Cause if there's anything permanent or lasting in this world, it's dreams and visions, and something tells me this imaginary Nashville may long endure its actual fact.
1985
MY LIFE AS A DOG (AB Svensk Filmindustri, dir. Lasse Hallstrom)
Some movies are too close to be adequately summed up within the narrow confines of a "review", but as I will not be able to get past 1985 without addressing Lasse Hallstrom's coming-of-age film My Life as a Dog, based on the memoir by Swedish writer Reidar Jonsson, one supposes that I had simply best get down to it…
Set in Sweden in the late 50s, mischief-prone 11-year-old Ingemar (Anton Glanzelius) reflects in the quiet moments of the night on various real-life tragedies he has encountered in his reading: a patient who hasn't survived a kidney transplant, a track-and-fielder skewered by his own javelin, a daredevil motorcyclist who only managed to jump 30 buses in a row (when he had set out to jump 31). Most of all, Ingemar considers the sad fate of the Russian dog Laika, one of the first animals to be sent up to space – and who died in orbit when the capsule's oxygen ran out – whom he identifies with his own mischievous little dog and his own self-perceived situation as being "unwanted". As he puts it, "You have to compare, so you can get a distance from things." Sent to live with relatives for an idyllic summer in the country, Ingemar has only the faintest conception as he journeys by train that his terminally-ill mother (Anki Liden) and the little dog he leaves behind are both not long for this world.
…
A funny, touching, thoroughly heart-breaking story of childhood, My Life as a Dog is on a short list of films such as Forbidden Games (1952), The Little Fugitive (1953), and The 400 Blows (1959) that sensitively demonstrates the inner workings of the mind of a child and accurately portrays their growing understanding of the world. Director Hallstrom's slice-of-life style and glowing sense of time and place make this a film viewers will want to re-visit again and again – the small Swedish village of Smaland and its endearingly eccentric inhabitants truly come alive – while not soft-pedaling the tragic undercurrent of a young child dealing with the pain of loss.
…
Full confession: My Life as a Dog is my favorite film ever made and, no matter how many times I've seen it, there are moments that ring truer and deeper for me, personally, than I would readily care to admit. Adapting a comment originally made by Orson Welles (regarding the 1937 Leo McCarey movie Make Way for Tomorrow), the final shot of Ingemar and his friend Saga (Melinda Kinnaman) asleep in each other's arms – while, over the radio, Swede boxer Ingemar Johansson's victory over Floyd Patterson rings through all Sweden – would "make a stone weep."
1995
DEAD MAN (Miramax [U.S. distribution], dir. Jim Jarmusch)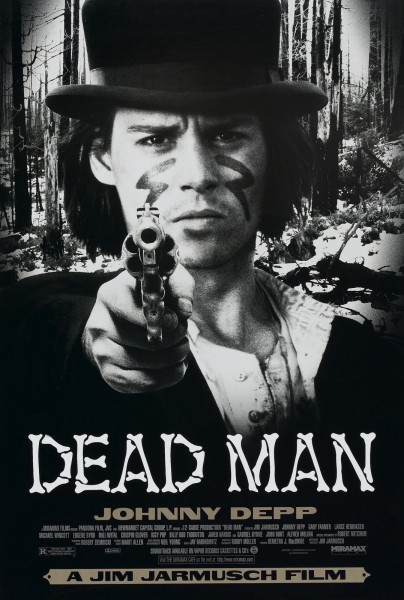 A spiritual journey disguised as an art Western, Jim Jarmusch's indelible black-and-white images – realized in painterly bleak terms by master cinematographer Robby Muller – come cinematically closer to realizing the tone and mood of a dream than any film I have seen… And I have yet to meet two people who can agree what it's all about.
…
Dismissed by lovers of Westerns as "lacking respect" for the conventions and framework of traditional Western dramas, the film also displeased fans of both Jarmusch and indie cinema in 1995 for its (apparently) too loose structure and tonal inconsistency. As I see it, though, Dead Man is a film that gains on multiple viewings once one has visually "latched" onto its unusual style of embracing both realism AND surrealism, often within the same "shot": as with any Western, a term as ambiguously misleading as the fundamentally irreconcilable juxtaposition between imagery and death.
…
Propelled by Neil Young's driving electric guitar score, the film opens on one William Blake (Johnny Depp) and his train trip West to claim an accounting job in a remote frontier outpost. But, as warned aboard the train by a soot-covered boilerman (Crispin Glover), only "death" awaits young Blake in the terrible town of Machine and, with a bullet lodged next to his heart, soon finds himself on the run from a trio of bounty hunters (Lance Henriksen, Michael Wincott, Eugene Byrd). Accompanied by a Native American outcast called Nobody (Gary Farmer), who mistakes the passively unwilling outlaw for the avenging spirit of the English metaphysical poet, what follows is an inexorable journey across a fully-realized world of savagery, violence, and strangeness towards a still deeper and further off world, which can most accurately be described under the equally loaded description of "trip". As Blake lives up to his poetic namesake by violently dispatching the physical realities, but spiritual voids, of a long procession of "stupid f***ing white men" – including a trio of bizarrely domestic-seeming fur traders (Billy Bob Thornton, Jared Harris, Iggy Pop), a pair of bald, mustachioed U.S. Marshalls, and a casually racist, hypocritical Trading Post Missionary (Alfred Molina) – he is urged further West by his guide Nobody to the very edge of the country on the banks of the Pacific Ocean.
…
What's it all about? Any viewer's guess is as good as my own, but sometimes with movies, as in life, you simply have to trust the journey, cinematically speaking, rather than worrying about the destination. Dead Man is a journey worth taking.
2005
THE NEW WORLD (New Line [U.S. distribution], dir. Terrence Malick)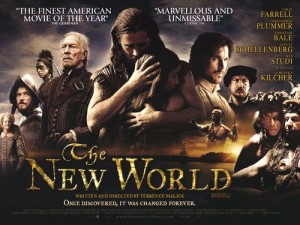 Back in early 1999, at the age of 21, I was the sole audience member sitting in the only theater in Madison, WI showing Terrence Malick's transcendent war drama The Thin Red Line… and it only took me about 20 minutes or so to realize that the movie wasn't even about war at all. Overshadowed that year by Steven Spielberg's Saving Private Ryan (1998), a movie very much about war, Malick's first film in twenty years – following two seminal New Hollywood features Badlands (1973) and Days of Heaven(1978) – was greeted with critical effusion, but audiences were largely indifferent to the meditative and poetic reveries transforming the Marine assault of Hill 210 on the island of Guadalcanal into a metaphysical exploration of Paradise Lost.
…
Appropriately, then, Malick's next feature The New World is a guided tour of Paradise itself, or its promise, in terms of its country of origin and the passing of 400 years of American history. Opening on the arrival of three English ships witnessed from the shores of Chesapeake Bay by the tribe of Chief Powhatan (August Schellenberg), the prelude of Wagner's Rheingold, with its sustained chord of crescendo, plays over scenes of nature and the promise of new beginnings. Thrusting viewers into the drama of the first encounter between Englishmen and Native Americans, Malick re-imagines a lost world of overwhelming beauty and enchantment as the Native American tribes warily observe the English settlement's uneasy attempts at replicating the Old World in the New.
…
If the United States has its founding myth, Malick argues, it is not the Pilgrims at Plymouth or of the Massachusetts Bay Colony, but rather the failed settlement at Jamestown and the love triangle arising between Captain John Smith (Colin Farrell), English planter John Rolfe (Christian Bale), and the Powatan princess Pocahontas (Q'orianka Kilcher). Between the yet-unnamed America and Britain, a colonizer and a soon-to-be-colonized, stands the tragic figure of Pocahontas, outcast from her tribe for loving Smith and then uncomfortably assimilated into English society by marrying Rolfe, who may not succeed in bridging two cultures, but reconciles her self-perception as a "child of nature" by the time of her death: "Mother, I know now where you live."
…
In his next film, Tree of Life (2011), Malick would explore the very beginnings of life, but, as in all his films, The New World depicts the "world" – an earthly heaven contending against an earthly hell – as constantly in a process of renewal. Strip away all its unnecessary layers, Malick seems to say, and the "world", again, reveals its two fundamental truths: nature and poetry.

2015
THE FORBIDDEN ROOM (Kino Lorber [U.S. distribution],dir. Guy Maddin w/ Evan Johnson)
If one is keeping careful track of a Top Ten list that began in 1915, and continued in ten-year intervals over the intervening century up to the present year of 2015, one may suddenly realize that our "Top Ten" has now unaccountably arrived at… Eleven. Yes, indeed: like Spinal Tap lead guitarist Nigel Tufnel's ill-conceived Ten-counter amp system, our mathematically-challenged Top Ten also goes to… Eleven. SO! Finding ourselves in this curious "eleventh" space, I have decided to do something that I do not believe has been done in the entire history of film criticism: offer a review – or, more accurately, "pre-view" – of a film I HAVE NOT YET SEEN.
To justify this selection, I'd like to briefly take readers back to a time of limited internet, cell phones the size of bricks, and no social media – otherwise known as the mid-90s – when a recent high school graduate, myself, was working as a pizza deliverer and living in a small room in his grandmother's attic. Armed with heaping wads of disposable pizza tip money, I – even then an inveterate film fan – soon discovered downtown Madison's Four Star Video Heaven, and thus my true film self-education began. Communing nightly with then-100 years of film history into the early hours of the morning, I viewed everything I could lay my hands on from Four Star's vast backstock of classic, foreign, and art-experimental fare, familiarizing myself with everything from silent classics to film noir to Italian neorealism to the French New Wave.
…
Which brings us to Guy Maddin. As one of the filmmakers I encountered on the shelves of gleaming VHS covers at Four Star – and initially a completely unknown entity to me – the self-styled Mad Poet of Manitoba has, over the past 30 years, proven himself to be one of the most consistently original filmmakers in a benighted age of persistent unoriginality. In delirious cinematic delights, which include the broodingly surreal Tales from the Gimli Hospital (1988), the feverish two-strip Technicolor mountain melodrama Careful (1992) – and, more recently, the indescribable, fictionally autobiographical documentary My Winnipeg (2007) – Maddin has carved out his own unique cinematic vision of scratchy-print, silent film-inspired evocations of pyschosexual fervor in the Frozen North.
…
The title of Maddin's new film alone, The Forbidden Room, reminds this film fan how and why I was first excited by the time-traveling, dimension-shifting possibilities of film itself and, at whatever point I actually get to view it, shall undoubtedly be effortlessly transported back to an attic above a white clapboard house where a whole new world of wonders and visions – 120 years of film history – first unspooled before delighted eyes.
Stay adventurous in your film viewing for 2016, film fans!