Anthony Mackie, Nicholas Hoult and Samuel L. Jackson Star in Apple+ Period Drama.
DIRECTED BY: GEORGE NOLFI/2020
When AppleTV+ acquired George Nolfi's The Banker, there was talk about it being a possible awards contender, with an original release date of December 2019. By November, however, there were accusations about one of the producers of the film, who is the son of one of the subjects in The Banker, and Apple pulled the release date as a result. Now, in March of 2020, The Banker is going to finally see the light of day. With a limited theatrical run on March 6, the film will then stream on the AppleTV+ service beginning March 20th.
The film takes place in the 1950's and 1960's, prior to the Civil Rights Acts of 1964 and 1965. Anthony Mackie stars as Bernard Garrett, a boy who grew up in Willis, TX shining the shoes of bankers and businessmen, and writing down everything he could remember his clients saying about wealth acquisition. Sometimes he would hang outside the window of bankers and listen to them discuss their formulas. All of it went into his trusted notebook. His father thought him crazy, but Garrett was determined to make money in a white man's world, by using the white man's techniques.
Fast forward a number of years and Bernard Garrett and his wife Eunice (Nia Long) have arrived in Los Angeles. Garrett is determined to hit the ground running and immediately begins a strategy of trying to buy up property in white neighborhoods, that are only a few blocks from the "black ghettos" where he could then turn around and rent/sell to black doctors, teachers, and others who have the means to live outside the ghetto but because of racist societal norms, aren't being the ability to. In this way, he is somewhat of an activist.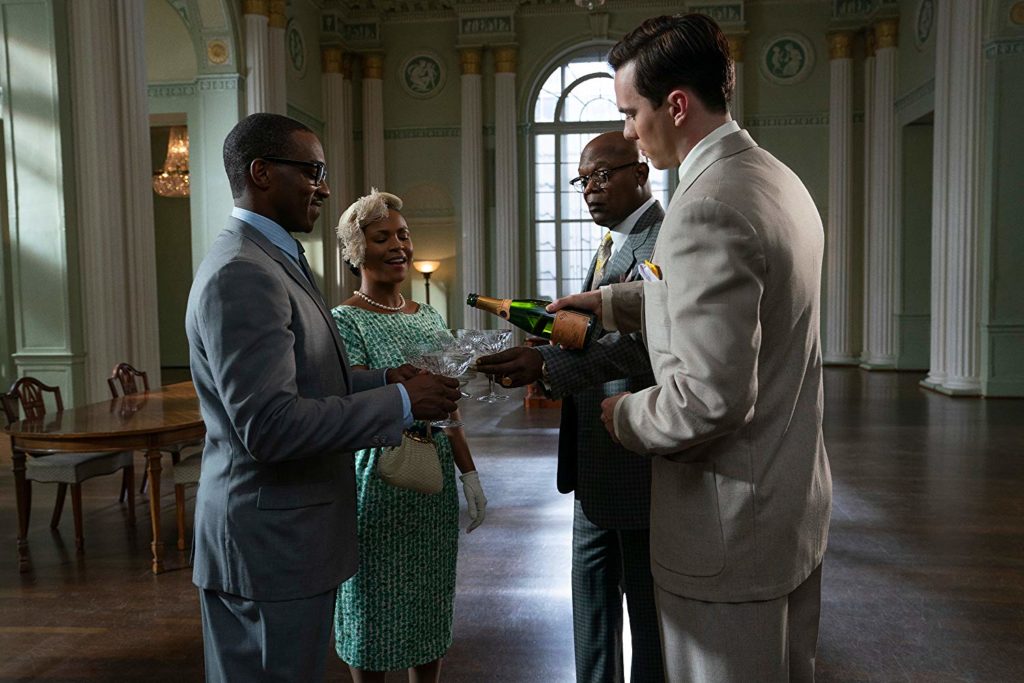 One such property acquisition involves getting a loan to buy out the owner, Patrick Barker (Colm Meaney). Afterwards, Barker suggests he and Garrett partner up. He will be the white, public face of the company helping to secure financing, and Garrett will find the property and manage it all. It all works well until Barker passes away, leaving Garrett with nothing. Now, he looks to the one man he wanted nothing to do with, Joe Morris (Samuel L. Jackson) to do the same thing, only now they will train their own white employee to be the public face of the company. Enter Matt Steiner (Nicholas Hoult). Together, Bernard and Joe, will use their white employee to help them get rich, and increase the number of black families who are now able to get themselves into better housing at a time when civil rights wouldn't allow them to.
The strongest part of the film is how these different personalities come together, especially as Bernard and Joe train Matt to be able to answer questions and appear to fully understand banking, property acquisition, and the game of golf. This helps raise the stakes as their schemes and ambitions run faster than they can keep up. When Garrett returns home and his kids see they type of Jim Crow racism in Texas that they don't exactly see in Los Angeles, Bernard is burdened to replicate their business model in Willis, TX where it could truly do some good. What they don't realize is the level of institutional racism that will fight against them every step of the way and threaten to tear down everything that they have built.
Since AppleTV+ launched this past fall, the big emphasis has been on their ability to attract top level talent immediately. From The Morning Show that includes the likes of Jennifer Aniston, Steve Carrell, and Reese Witherspoon, to a series called Servant from producer M. Night Shyamalan, Apple is all in. They is also a huge emphasis on diversity, and stories that resonate with minorities and especially women. The Banker is a perfect movie for the AppleTV+ platform, and the goals of diverse storytelling, as it represents a story from around the time of the civil rights movement of the 1960's, that features A-list talent. The pacing of the film is strong, and the story would really appeal to almost anyone.
In some ways that may seem like a safe bet, but given the controversy mentioned above, The Banker has been anything but safe. Now that it will finally be released in both theaters and on the streaming platform, it should do well, especially on the streaming side of things. If anything, Apple can bank on The Banker for a solid first step into feature film for their relatively new streaming platform. Apple will release it in limited theaters on March 6, 2020, before expanding it to their streaming platform later this month.