Two Visions Of Hazel Woodus
1950 and 1952/DIRECTORS: MICHAEL POWELL & EMERIC PRESSBURGER (Uncredited on 1952 Version: ROUBEN MAMOULIAN)
STREET DATE: JUNE 25TH, 2019/KINO LORBER STUDIO CLASSICS
Kino Lorber Studio Classics headlines their late June Blu-ray release of the 1950 Michael Powell and Emeric Pressburger film Gone to Earth with its 1952 David O. Selznick re-cut and (mildly) re-shot The Wild Heart. Since the film's rescue by the British Film Institute, the preferred Powell/Pressburger cut has been widely available on home video, including DVD, but KLSC makes the curious decision to advertise this new special edition Blu-ray under its Selznick-retitled title The Wild Heart, which became American audiences only exposure to the film until the original version Gone to Earth was restored for international appreciation in the mid-1980s. Both versions are available in their entirety on this deluxe Blu-ray, however, complete with feature-length commentaries on both the Powell and Pressburger Gone to Earth (1950) and the David O. Selznick-released The Wild Heart (1952).
How there came to be two versions of the same film involves a complication of business and personal relationships between the film's star, Jennifer Jones, her husband, producer David O. Selznick, and the British filmmaking team of Michael Powell and Emeric Pressburger, known (and credited) as the Archers. Adapting Mary Webb's 1917 novel Gone to Earth to the screen, the Archers initiated the project through British Lion films, then managed by Alexander Korda, who would control distribution in the U.K., and David O. Selznick's Vanguard Films, who would own the American rights. Somewhere between the completion of the film and its initial British release, Selznick became dissatisfied with the presentation of his wife Jennifer Jones in the central role of Hazel Woodus and, after a court case and subsequent ruling, exercised his right to refashion the film for its eventual American release.
Trimming, re-ordering, and in a few scenes adding new shots to the completed films — mainly close-ups of star Jones, but also a spoken prologue (performed by Selznick contract player Joseph Cotten) and other establishing devices throughout. Gone to Earth similarly underwent the Selznick process of clarification — cuts and changes he felt would make the emotions onscreen and regional British elements more readily understandable to American audiences; along with, of course, more readily showcasing his actress wife — and was released two years later in the U.S. under the title of The Wild Heart. (The Kino Lorber Blu-ray also includes the Selznick-style "roadshow" entrance and exit music for this version of the film.)
In viewing Selznick's re-cut, these cosmetic changes to the story are probably most noticeable in the film's prologue — Cotten's narration boldly announcing the location and backstory which the audience is left to gradually discover in the original version — and various CAPSLOCK-like signals of both plot and character. For instance, a piece of timber falling down a bottomless pit establishes enough of a threat for its protagonist in Powell and Pressburger's Gone to Earth — from which the title partially derives — but The Wild Heart punctuates that threat and import for the character with a whip-pan to a convenient sign reading "DANGER MINE SHAFT". And so on. But the most dramatic change certainly comes in the film's style and pacing. So while no sequence appearing in Gone to Earth is entirely cut from The Wild Heart, all told the minor edits, scene-tightenings, and sliver-shearings to the original film results in (and subtracts to) a re-edit that runs a full twenty-eight minutes shorter.
As for the films themselves, which despite their opposing approaches to the story play neither substantially nor dramatically different, the rural West Midlands drama set in 1897 — shot mostly on historically-redressed locations in Shropshire, England — concerns beguiling Hazel Woodus (Jones), a half-orphaned child of nature who endlessly roams the restless countryside with her beloved pet fox, Foxy. From her late Gypsy mother Hazel has inherited a handwritten book of homely spells and natural charms, while from musically accompanying her brutish, bushy-bearded father (Esmond Knight), a coffinmaker and harpist, Hazel has developed a haunting and otherworldly singing voice.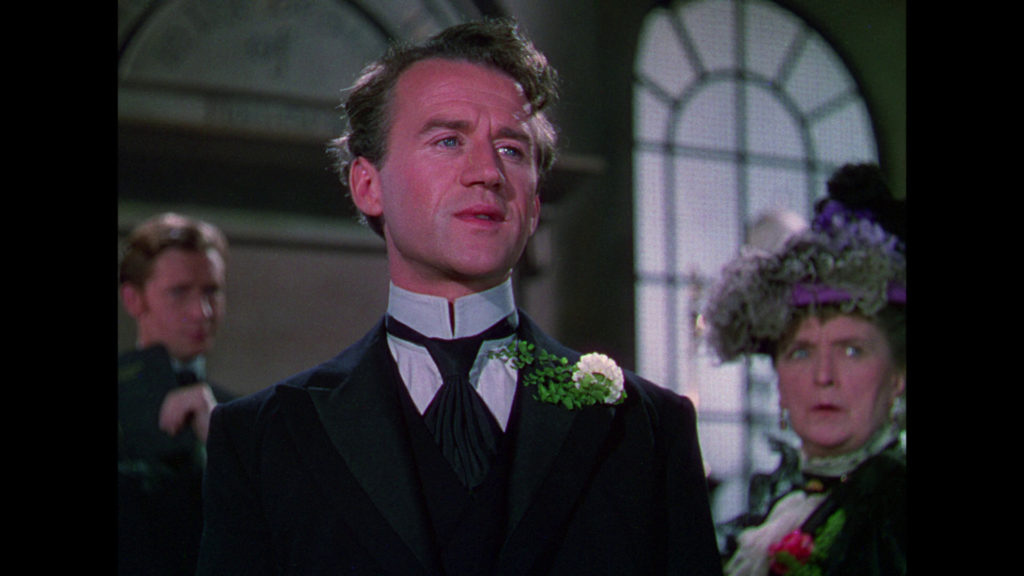 These down-to-earth yet ethereal qualities, constituting an equally compelling personality (and appealing sexuality), eventually attract the attention of two very different men: first, the hounds-driving huntsman and local squire, Jack Reddin (David Farrar) — attractive, rough, and cruel — and later the somber-dressed country parson, Edward Marston (Cyril Cusack) — gentle, tolerant, and spiritual — the latter whom surprisingly proposes marriage, and is even more surprisingly accepted by Hazel. A domestic union of souls proves stultifying to the lover of outdoor freedom and white magic, and the still pursuing, more romantic Reddin soon whisks the newly married Hazel off to his stately lodge of roaring fires and heavy oak décor atop his bit-champing black steed.
Marston, risking the already marked disapproval of the townspeople, along with his own stern mother (Sybil Thorndike), pursues his tarnished bride to the Reddin lair, winning the openhearted innocent back with fair words and fairer sentiments. But the embattled heart of Hazel ultimately proves as untamable as her beloved Foxy as the story-climactic, romantic, and thematic pursuit up Midlands hill and down Shropshire dale — Reddin's hounds bearing down from the north, Marston rushing on-foot from the south, with the abandoned mine shaft opening in between — ends with the same words with which the story began, "Gone to Earth!" echoing across the desolate yet strangely beautiful, twilight locale.
Gorgeously shot in burnished Technicolor by Christopher Challis, the cinematographer's third for the Archers, following the moody black-and-white of The Small Back Room (1949) and the vibrant and adventurous The Elusive Pimpernel (1950), the regional location and its time period become as distinct a character in the film as the Archers' meditative Pilgrim's Road of A Canterbury Tale (1944) or their romantic Scottish Hebrides of I Know Where I'm Going (1945). Both latter films had been shot by Edward Hillier, evoking gorgeous but very different landscapes in black-and-white, but Challis effectively creates an almost literally magic hour, fairytale-like feel for the nineteenth century West Midlands as suggestively as Jack Cardiff's sensual Technicolor work on the Archer's previous, more studio-bound A Matter of Life and Death (1946), Black Narcissus (1947), and The Red Shoes (1948); the latter three on which Challis worked as camera assistant.
Rarely does background so astonishingly suggest character, but the Archers' vision of Gone to Earth proves unforgettable in visual passages where fiery Reddin horse-stalks his hunting grounds against the blazing backdrop of the midday sun or where sedate Marston contemplates the nature of God down a deep-blue trail at sundown. But most of all this is Hazel's world, and Hazel's sense of freedom and her love of nature, an extension of her romantic impulses, is similarly visualized to rapturous screen effect, her bare feet trailing the red earth and green fields like a gliding woodland sprite. The lilting, musical qualities of the character — as supplied to folk-regional and natural order by frequent Archers' composer Brian Easdale — balanced against her roughhewn play with Foxy might have only been played to believable effect by Jennifer Jones, or at least one can only imagine the actress in the role after seeing (and hearing) her perform it; especially the range of fear, awe, and delight while rounding Little Mountain in deepest shades of midnight for magical purposes both fell and fey. In moments like these, the Archers reveal time, place, and character with the keen sensibility of filmmakers totally committed to bringing their artistic vision to vivid life.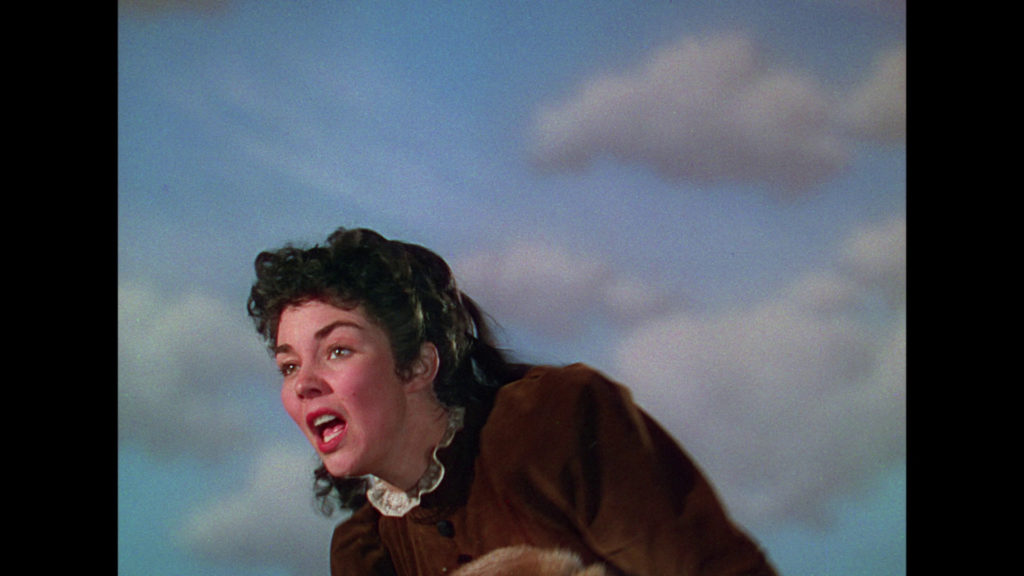 Which is ultimately why one might have more reason to think ill of David O. Selznick and his vision-shearing The Wild Heart had not Gone to Earth survived its artistic compromise. As it stands, fortunately, both versions exist, and Kino Lorber provides a fascinating basis of comparison by presenting them on the same disc. Audio commentator Troy Howarth provides historical context and production detail, including the careers of many of the film's supporting players, on his feature-length discussion of The Wild Heart, delving particularly into Selznick's strangely sympathetic motives for re-cutting the Archers' vision. One may not come away convinced this version is comparable to the original cut, but, again, the travesty one might expect is offset by an undeniably watchable presentation of already strong material. Audio commentator Samm Deighan rises to the challenge of the Archers' 110-minute cut, delving into a strong reading of character, visuals, and setting in her feature-length discussion of Gone to Earth. Of particular interest is her placing of the 1950 film as a sort of spiritual sequel to the Archers' wartime regional drama A Canterbury Tale and as a thematic companion piece to the psychosexual conflicts of a similarly strong, magnetic female character as presented in their similarly gorgeous 1948 ballet melodrama The Red Shoes.
Using the word again, as it seems particularly applicable to the atmosphere of the Archers' body of work, "gorgeous" in no way overstates the lingering viewing effect of Gone to Earth, and Kino Lorber provides strong transfers of both cuts that preserve the magic Michael Powell, Emeric Pressburger, and even David O. Selznick saw in Mary Webb's novel, the West Midlands, and star Jennifer Jones. Overlooked in one of international cinema's strongest body of work, perhaps, one hopes this strange and haunting film continues to find the appreciative audience it always deserved.
The images used in this review, with the exception of the first still appearing in the review, are credited to DVDBeaver and are taken directly from Kino Lorber's Blu-ray release. Special thanks to Kino Lorber for providing a Blu-ray copy.