DIRECTED BY ROBERT SIODMAK/GERMAN/1930
BLU-RAY STREET DATE: MARCH 15, 2022/KINO CLASSICS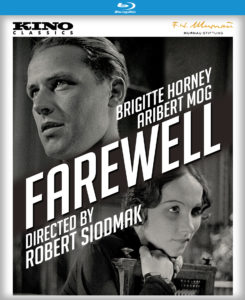 Whether by coincidence or design, Kino Lorber's recent issue of two films by German-born director Robert Siodmak offers a unique opportunity to consider works of a figure most famous for his contributions to Hollywood-style film noir in the 1940s. The films in question, Farewell from 1930 and 1957's The Devil Strikes at Night, were released by Kino a few weeks apart and the packaging doesn't link them together in any obvious way. But coming out as close together as they do, the discs serve as professional bookends of sorts as they were both directed when Siodmak worked in Germany.
Like many of his fellow contributors to 1930s German cinema culture, Siodmak was Jewish and when the Nazis took power in 1933, he joined the wave of creative talent that fled the Third Reich to practice their skills elsewhere. His first stop after leaving Germany was Paris, and he worked there for several years. But when France fell, Siodmak continued his trek westward, relocating to Hollywood in 1939 and eventually becoming a contract director for Universal Studios where he helmed his best-known works – noir classics including Phantom Lady, The Killers, Criss Cross and many others.
But this post is intended to draw attention to stuff he made before all that, so let's say hello to Farewell, a modest but rewarding example of early German exploration of the possibilities of sound in film. Earlier in 1930, Siodmak had just released People on Sunday, one of the very last silent films made in Germany, on which he famously collaborated with future film legends like Billy Wilder, Fred Zinneman, Edgar G. Ulmer, and his brother Curt Siodmak, all of whom went on to have highly successful Hollywood careers.
Farewell's opening credits feature a melodious titular song (Abscheid, in German) surely designed to be a popular, sentimental hit (and it pops up repeatedly as a refrain throughout). Immediately after the musical strains conclude, the movie starts off with a bang. I mean that literally, as a loud explosion jolts the audience before we've even met any of the characters. It must have been quite a rousing kick-off to viewers of 1930 still getting used to hearing recorded audio effects synced up to the moving images. We're quickly given the explanation that the burst was caused by a malfunctioning vacuum cleaner, and that's our entrée into this charming depiction of life in a late Weimar-era boarding house.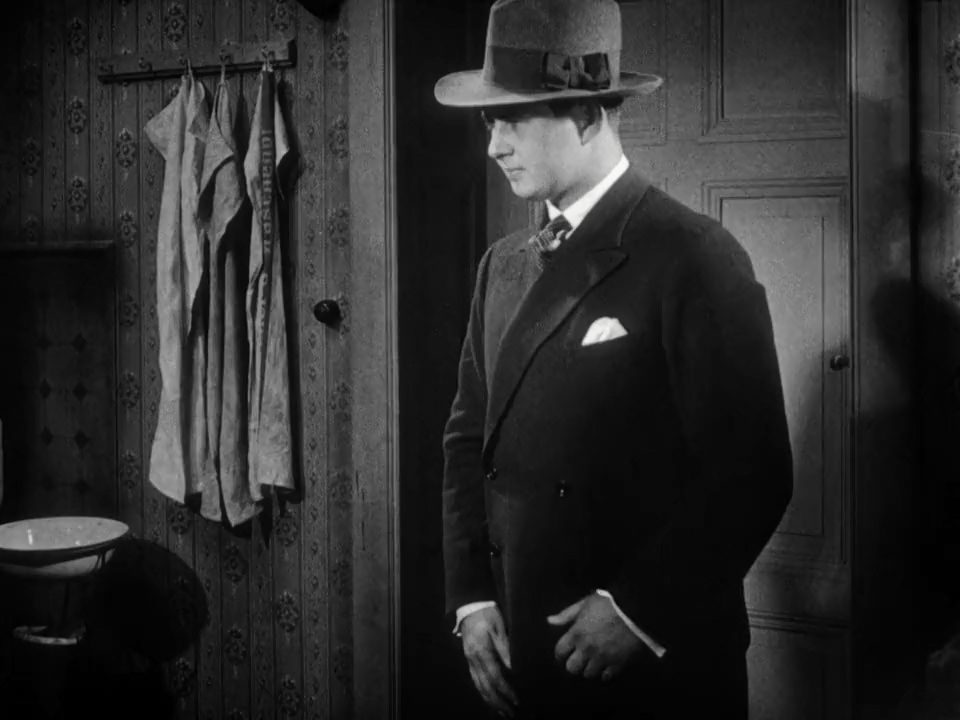 Though the main story line involves a young couple, Peter and Hella, on the verge of breaking up due to Peter's offer to take a job in another city, Farewell's strengths are found in the variety of endearing characters who populate the scene. There's Bootz, a piano player and crooner performing as himself in the film (also credited as the soundtrack composer); Mrs. Weber, the stern matriarch of this little transient community; Lina, the servant woman who bears the brunt of Mrs. Weber's continual stream of reprimands; the self-proclaimed "Baron", a mischievous petty conman who's more convinced of his manipulative genius than are any of his companions who knowingly let themselves get taken in by the schemes he pulls; and a host of winsome bit players who all do a commendable job portraying their various types though most of them were amateurs making their first, and perhaps only, screen appearances. There's the rich dandy with plenty of pocket money to lavish in exchange for a smile from a pretty girl, the pair of dancers who just moved into an apartment and get the men clambering for their attention, and more – all in all, an amusing ensemble cast that I enjoyed getting to know over the course of a breezy 72 minutes. I'm also happy to note that the film presents very well in both image and sound, thanks to a nicely restored transfer sponsored by the F.W. Murnau Stiftung and Deutsche Kinemathek.
With the dramatic stakes so low (will the couple stay together when miscommunication and mistrust threaten to pull them apart), and production values that reveal the film's small budget and very brief shooting schedule, Farewell clearly has to be appraised as a minor work best appreciated by those who already have confirmed interest in this era of European cinema and want to see what kind of movies were providing context for the work of more celebrated German auteurs like Lang, Pabst, and von Sternberg.
But there are a few points of special interest worth mentioning, including the screenwriting contributions of one Emeric Pressburger, who would go on to team up with Michael Powell as one half of The Archers, a most celebrated partnership that gave us The Red Shoes, Black Narcissus and many other high points of English film throughout the 1930s and 40s. There's also a studio-mandated upbeat ending that was awkwardly tacked onto the end of the movie without the involvement of either Siodmak or lead couple Aribert Morg and Brigitte Horney. (Her character is named Hella in the film, and isn't given a last name, but if the character just used the last name of the actor who played that role, she'd be Hella Horney, and I just had to gratuitously throw that in here…)
The alternative concluding scene does not add anything of value to the film that Siodmak intended to make, but it does offer a fascinating glimpse at studio interference that was presumably based on negative feedback they received from a portion of the early viewers. The disc also includes a helpfully informative commentary track by historian Anthony Slide that draws attention to numerous details and background stories that enhanced my enjoyment of the film on rewatch. And finally, I'll include a link here to a September 1930 review published in Variety that offers a delightful summary of Farewell's positive reception, at least according to "Maguus," who wrote the short column.
I'll follow up this review of Farewell with a companion essay on The Devil Strikes at Night very soon.