Dan Ackroyd and Daniel Stern Star in Sports-Obsession Comedy
DIRECTED BY TOM DECERCHIO/1996
STREET DATE: APRIL 3, 2018/KINO LORBER STUDIO CLASSICS
Celtic Pride is a light-hearted comedy starring Dan Aykroyd (Ghostbusters, Blues Brothers) and Daniel Stern (City Slickers, Home Alone).  They play Jimmy Flaherty (Ackroyd) and Mike O'Hara (Stern), two friends who have an extremely unhealthy obsession with all Boston sports.  Their biggest love is the Boston Celtics.  They even have season tickets in seats just behind the opposing team's bench.  They are known to take advantage of that location to taunt opposing players mercilessly.  If there is one player they hate with a passion, it is Lewis Scott (Damon Wayans – Major Payne, The Last Boy Scout), the star player for the Utah Jazz, who are playing their beloved Celtics in the NBA championship.
Mike is a man on the edge.  Not satisfied at work, where he is is a grade school gym teacher, he tends to focus a bit too much on sports, letting it dictate his moods.  If the Boston teams are winning, he's happy, if they're losing, he is miserable.  His wife Carol (Gail O'Grady – Deuce Bigalow: Male Gigolo) has had enough of it and demands a change in his life, that he puts her and their son Tommy (Adam Hendershott) above his sports obsession.
Fans of Aykroyd, Wayans, and Stern will find enough to like here, as it is a pretty straightforward plot line, meant to illicit laughs.
Jimmy is a plumber who will let any sports game interrupt the work he is doing.  Single, Jimmy lives alone in a small apartment where he is having trouble paying the rent, despite being able to afford the season tickets for the Celtics, and his nightly rounds with the guys at the local bar, where they shoot the breeze and watch their favorite local teams.
One of their friends is Officer Kevin O'Grady (Paul Guilfoyle – L.A. Confidential, Air Force One), who they kid about planting evidence, but you get the feeling that he isn't above skirting the very law he is sworn to uphold and protect.
Their hatred for Lewis Scott isn't just because he doesn't play for the Celtics, but because he is on seemingly every television commercial they watch, and he stands to be the one obstacle that will keep their Celtics from winning the championship.
Following a tough Game Six loss, Jimmy and Mike are told by a friend that Lewis Scott is at a local trendy bar.  They head over and concoct a scheme to get Lewis Scott so drunk that he'll pass out and miss Game Seven, allowing their Celtics to emerge victorious.  Everything goes as planned until they panic the next morning when they wake to find Lewis Scott there, and a fuzzy memory of their original plan. Soon, they've bound and gagged Scott, elevating their crime to kidnapping, hoping to keep him out of Game Seven.  What they don't realize, is that Lewis is a tough competitor off the court as well.
Fans of Aykroyd, Wayans, and Stern will find enough to like here, as it is a pretty straightforward plot line, meant to illicit laughs. This is especially true when Lewis Scott breaks free and blackmails Mike and Jimmy with turning them in to the police unless they humiliate themselves at Game Seven by showing up in Jazz attire, and root for Lewis.  Anyone from Boston will tell you that's a death sentence right there.  So, if the Celtics win, they go to jail, and if the Jazz win, they're home free.  There is some great supporting roles with Christopher McDonald (Happy Gilmore, Requiem For a Dream) and Darrell Hammond (SNL), with Marv Albert, Larry Bird, and Bill Walton making appearances, with Bird giving a  humorous contribution.
The most interesting thing, however, isn't the film itself but the fact that the story comes from Judd Apatow and Colin Quinn, with Apatow writing the screenplay.  Between both of them are such projects as: Heavyweights, Freaks and Geeks (TV Series), The 40-Year Old Virgin, Fun with Dick and Jane, Knocked Up, Funny People, and This Is 40.  None of this includes other projects where they came up with the story, directed, or produced independent of writing the story.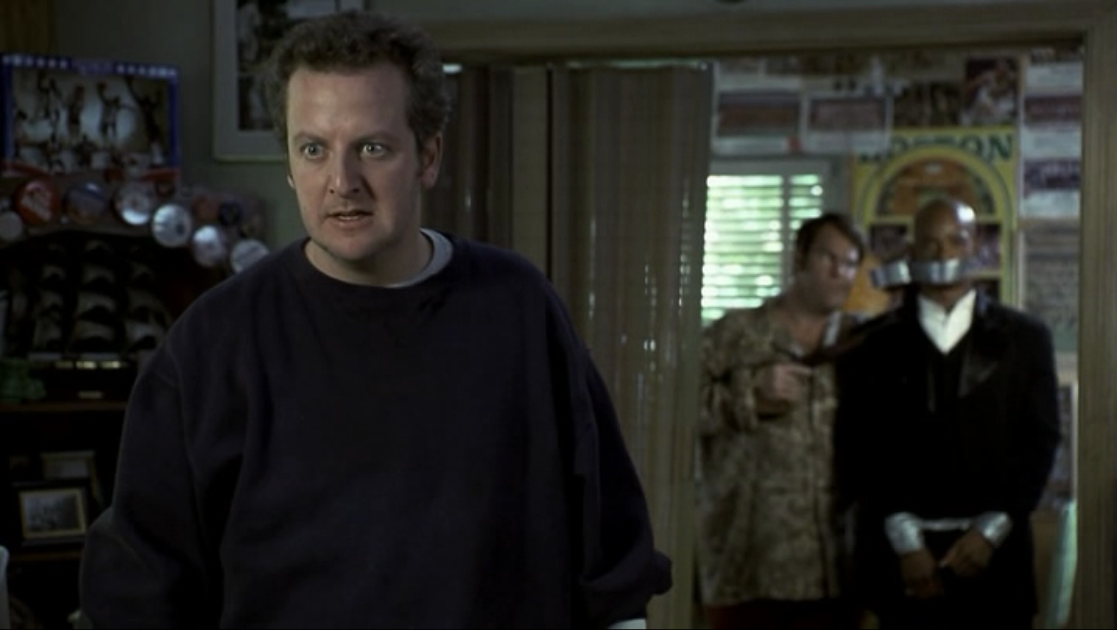 While Celtic Pride is largely a film that doesn't reach as deep as some of these others, particularly those Apatow wrote, it does have some hints of themes he would explore in his more well-known works.  Themes of the economic struggle of everyday working people, how people can miss the incredible aspects of the relationships they are already in, and learning to be content in whatever circumstances you find yourself in.
This Blu-ray edition of Celtic Pride from Kino Lorber features a commentary with director Tom DeCerchio that some will find mildly interesting, and a trailer for the film's original release on video from back in the mid-1990's.  While dubbed a "Special Edition", the lack of bonus material is more indicative of the time when it was produced where smaller comedies such as this did not really think to develop extra material for video releases.  Although, an out-take or gag reel would have been good for this project, especially given the cast.
This Blu-Ray is now available from Kino Lorber.