A Risky Year Pays Off!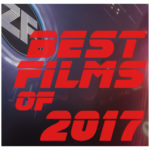 My brother says that I say this every year but for reals, "This was a fantastic year for film!" There were some risks taken that totally delivered and delighted me. From newbie directors sharing their own stories to giant blockbusters with unexpected hilarity and weird parables that stuck with me for WEEKS! Most of the film world was batting 1,000 in 2017. So with great excitement I bring you my "Best & Worst" list for the year.
Here are a couple caveats. I've only seen 43 films from 2017 and The Post, Phantom Thread, Wonder, Darkest Hour, I, Tonya, All The Money In The World, Call Me By Your Name and The Disaster Artist are yet to be seen! Secondly, if a film made my top ten it means one of three things; It was a completely original idea, it was a story that made my brain churn for a while or it's a movie I wanted to recommend to everyone!
To make this a little more fun, I'm including some awards in this list too. No, they will never be real categories for the Oscars but who doesn't want to know the "Best Dance Scene" in film for 2017? (This is just a way for me to include more movies in this list!)
It's the only film I saw multiple times in the theater, I'm still obsessed with the soundtrack and I literally recommend it to everyone! I can go on… It mixed my love for car chases, Jon Hamm and Atlanta with the charm of Jamie Foxx's perfect comic timing. It made me think that I might actually love musicals but only if they're directed by Edgar Wright. This is what the big screen is made for, this is why you go to the theater, to see Ansel Elgort screaming through traffic to the beat of Brighton Rock by Queen. It's for all these reasons and more that Baby Driver is number one. If you're into music, car movies, blockbusters that dazzle and heist films then Baby Driver should be seen pronto!
I had the opportunity to See Dunkirk at the Virginia Theater in Champaign, IL in 70mm on a giant screen with a fantastic group of friends. It was a perfect film experience complete with tears at the vision of "Home" coming to the rescue. Dunkirk is not your typical war film and I have heard some critiques that it's not at all accurate but it does convey the urgency and desperateness that I imagine is real in war. It made me thankful that a scene that terrifying is not present and it made me thankful for the men and women that served, military and beyond. It's a film that I wanted to see again on the big screen and one that I can recommend to everyone. Director Christopher Nolan is a artist and a gift to every film lover! PS… Mark Rylance deserved that Oscar for Bridge Of Spies and I hope he gets another nomination for Dunkirk!
2017 Most Endearing Moment Award
***The Meyerowitz Stories (New and Selected)***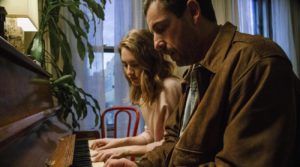 Danny (Adam Sandler) and daughter Eliza (Grace Van Patten) sitting at the piano singing a song he wrote for her when she was just a girl! Noah Baumbach's beautiful tale is worth a watch for the story but the family tradition of song is what will linger in your heart! I watched this scene three times in a row and smiled the whole time. Check out The Meyerowitz Stories (New and Selected) on Netflix.
I said it last year and I'll say it again I'm thankful for Taika Waititi! The man is ON FIRE! With 2015's What We Do In The Shadows, 2016's Hunt For The Wilderpeople and this year's Thor: Ragnarok he is quickly becoming one of my favorite directors. I heard him talk about Chris Hemsworth's humor and how he just decided to let "Chris be Chris". That flexibility and humor is what sets Thor: Ragnarok apart from all the other Marvel and D.C. films this year. And that's why it's the only one to break the top ten. Again, this is a movie that I recommend to everyone and if you can see it on the big screen go buy a ticket right now! PS… Cate Blanchett, Tom Hiddleston and Mark Ruffalo are on point and Jeff Goldblum, you are second to none!
Relevant, funny, suspenseful and an amazing original story from first time director Jordan Peele, Get Out is a perfect indie horror story! This thoughtful jab at white power and privilege is a smart social commentary to the America we inhabit in 2017. With fantastic performances from Daniel Kaluuya, Allison Williams, Bradley Whitford and Catherine Keener, Peele cast this beauty perfectly. Get Out made my brain turn for weeks and it's one that I want to see again and recommend to folks that want a little suspense in their lives.
2017 Biggest Twist Award
*** Split ***
Just watch it! M. Night Shyamalan  returns to form with Split, a brilliant suspense thriller. And the twist is so unexpected and fantastic… and that's all I can say about that! 😉
THIS MOVIE!!! I have literally thought about it almost every day since I watched it! A Ghost Story is a quiet small film from director and writer David Lowery. The premise is simple, what does life look like for the ghost? What does time and place and relationship mean to a ghost? We have looked at this from the paranormal activity standpoint but what does a home mean to the dearly departed? Honestly A Ghost Story is one of the most beautiful films I saw this year. From the cinematography to the amazing acting from Rooney Mara and the gorgeous costume on Casey Affleck and the fantastic soundtrack by Daniel Hart. And if you watch it, let's talk!!! I'm dying to talk to someone about A Ghost Story.
Mother! is not for everybody. Honestly, if you are reading this then there is a 90% chance you will be horrified, confused and possibly end the film early and angry. It is in no way a horror film but it has some truly horrific scenes that made me cringe all over. All that said, it's the puzzle and parable that made me think more than any other film on the list. And I'm just going to say this… I think it's an important film for Christians to watch and ponder through what is actually being portrayed on screen. But… I'm not recommending it. 🙂 If you have a strong stomach and you're ready for something chewy and you aren't easily offended… then Mother! might be up your alley.
2017 Best Dance Scene Award
***Ava***
A young girl and her crush are on the run with a dog. Things are a little intense until Ava decides to dance it out on a lone highway to Sabali by Amadou & Mariam. This small French film about a teenage girl losing her sight but gaining her independence is a true delight, and that dance scene is a joy to behold! I dare you not to smile!
There is power in a story involving sacrifice, redemption and forgiveness, and Three Billboards Outside Ebbing, Missouri display all three themes as a mother seeks justice for her daughter's unsolved murder. Frances McDormand is the star of this show but Woody Harrelson and Sam Rockwell are just as convincing as the sheriff and deputy of the small town. Three Billboards Outside Ebbing, Missouri is not to be missed in the Oscar season or anytime of year, it's a fantastic story.
A girl in the early 2000's Southern California struggling through love, family and where she belongs, oh, I do love a good coming-of-age story! Lady Bird is all of that and more, it hits you in the funny bone and the heart. This is another story from a first time director and writer, Greta Gerwig. I've been a fan of Greta's work for years but with this challenge and stretch I can't wait to see her future work. And the mother daughter relationship between Saoirse Ronan and Laurie Metcalf is a beautiful, real testimony to behold. Honestly ladies were killing it this year in film, which makes my heart soar. So thanks Greta, for sharing your heart and talent with us in Lady Bird!
2017 Better Than Reviews Award
***King Arthur: Legend Of The Sword***
I'm going to get flak for this but I really liked this action packed story of Arthur and Excalibur! Director Guy Ritchie's style is fun and super fast and I just dig it. Here's hoping that Guy, Charlie Hunnam and the rest of the crew can continue on and create the rest of this fantastic tale with all their rad style and panache! Check out King Arthur: Legend Of The Sword and let me know what you think.
While the world was obsessed with Beauty And The Beast I kept waiting for the Guillermo del Toro version in water! The Shape Of Water mixes fairy tale with romance, dance and a few thrills, in short it's magic! While it might seem strange to fall in love with a fish man, it seems that Elisa's (Sally Hawkins) whole life has been drawing her towards her leading amphibian man! And the soundtrack is so enchanting! I know Hans Zimmer deserves an Oscar for Blade Runner 2049 or Dunkirk but this is my favorite soundtrack of the year and I'm rooting for Alexandre Desplat! For all these reasons and so many more The Shape Of Water is a film that every dreamer should see!
Everyone needs a laugh and I love a great heist film and it's for those reasons that Logan Lucky rounded out the top ten! Steven Soderbergh delivers with a southern tale full of Nascar, thick accents and pick-up trucks! Think Ocean's Eleven meets The Dukes Of Hazzard. The cast is spot on and it's hard to choose a favorite between a one-armed, bartending Adam Driver, the camo-clad Channing Tatum or the convict Joe Bang played by Daniel Craig. Why choose? If you are ready to be dazzled with southern charm and tricks and belly laugh in the process give Logan Lucky a view.
Rounding Out The Top Twenty
11. Guardians Of The Galaxy Vol.2
12. Logan
13. It
15. Ava
16. The Big Sick
18. The Meyerowitz Stories (New and Selected)
19. Wonder Woman
20. I Don't Feel At Home In This World Anymore
Bottom Of The Barrel
The Circle, The Bad Batch, The Great Wall, Valerian And The City Of A Thousand Planets
Thanks for checking this out buddies, and here's hoping that 2018 is just as fresh for film as 2017 was. Happy New Year & Happy Viewings!