Ridley Scott Steers Christopher Plummer to Greatness as J. Paul Getty
DIRECTED BY RIDLEY SCOTT/2017
Note:  There are mild spoilers in this review, but the historical events are a matter of public record from almost 45 years ago.  Also, credit goes to Brooks Barnes excellent piece in the New York Times ("The Race to Erase Kevin Spacey") for valuable details on the production of this movie.
There are two stories behind All the Money in the World.  They are both fascinating, harrowing, implausible, and impossible to ignore in talking about this film.  The first story is the historical event on which the film is based – the 1973 kidnapping of J. Paul Getty III, grandson of the man who was, at the time, the richest human being alive.  The second is the story of how this film – released on time, starring Christopher Plummer in a central role – exists.  And that, to quote Sony Picture's chief Thomas Rothman, is "the story of two octogenarians kicking ass."
Whether you anticipate J. Paul Getty, Sr. being a central figure in All the Money in the World depends in part on which trailer you have seen.  Early trailers heavily featured clips of Kevin Spacey in the role, playing up the family intrigue of a wildly wealthy man refusing to pay the demanded ransom for his teenager grandson.  But that trailer was made before October 29th, before actor Anthony Rapp made accusations that Kevin Spacey had made sexual advances toward him when Rapp was only 14.  Spacey issued a public apology the next day, but more allegations followed and the dominoes in Spacey's career started to fall, including his removal from the cast of the Netflix series, House of Cards.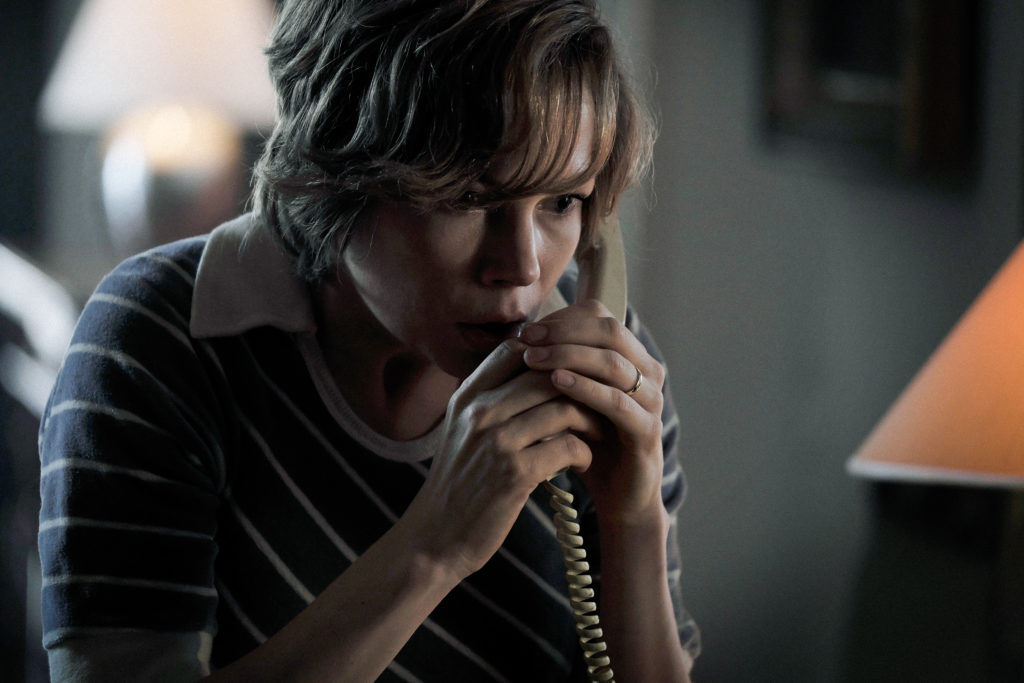 Sony wasn't waiting for other shoes to drop.  The first meeting between Sony and Imperative Entertainment, through which All the Money in the World was financed, took place on October 30th.  On November 7, Ridley Scott met with Christopher Plummer to ask if he would take over the role of J. Paul Getty in scenes that would need to be reshot in record time.  Plummer agreed, and production of the finished film resumed on November 20th.  Cast and crew reassembled, working staggeringly long hours for 9 days, reshooting 22 scenes.  And somewhere in the midst of all this, a second trailer was produced and sent into theaters.  Suddenly Spacey was gone, and Getty, Sr. seemed only a minor character in the story.  That was a perhaps necessary but false impression to give, in the scramble to reshoot without Spacey.  J. Paul Getty, Sr. looms large in All the Money in the World.  I would suggest, in fact, that the movie is about him; that his is the lead role in the film.  And Christopher Plummer kills it.
Is it necessary to know this backstory before seeing All the Money in the World?  Of course not.  The movie is not about the recasting and the reshoot.  But in this instance, I think there's value in knowing what happened behind the scenes.  Ridley Scott and his cast and crew made film history.  They stared down insane odds – Rothman himself thought reshooting the movie without delaying its release was impossible – and not only did they achieve their goal, but they ended up with a high quality film.   There are no seams showing in All the Money in the World.  Nothing seems slapdash or disjointed or odd. It is a polished and intense thriller, while also being a fascinating character study. This is certainly due to the skill of Ridley Scott:  tireless, perfectionistic, efficient, experienced.   It's also due to one of the best performances of the year, from Christopher Plummer.  He credits his theater training with helping him to memorize his many lines under scheduling pressure.  Ridley Scott is 80.  Christopher Plummer is 88.  I am, quite simply, stunned at what they've done.  Kicking ass, indeed.
As for the other story behind the story, the Getty family's financial fortune is vast, but their personal fortunes were and are deeply troubled.  If you need a reminder that money can't buy happiness, look no further.  J. Paul Getty amassed wealth through oil in the mid-20th century, but was described by almost everyone who knew him as cold, miserly, suspicious, venal, joyless.  He fathered five sons by five wives, yet seemed to have no real sense of family connection.  His descendants were objects belonging to him, no different than the artwork that he purchased and hoarded.
J. Paul Getty III (known as Paul) was 16 years old and already well known to the Italian paparazzi when he was kidnapped in 1973.  He'd moved to Rome with his father, but stayed behind when J. Paul Getty, Jr. returned to London.  Paul was a beautiful boy with long strawberry blonde hair, nicknamed the Golden Hippie by the press.  He'd joked with friends about staging his own kidnapping to get money from his tightfisted grandfather – a "boy who cried wolf" scenario that would cost him dearly after he was genuinely kidnapped and held in the mountains of Calabria for 5 months.  Paul's mother, Gail Harris, had been left with almost nothing after divorce from Paul's father.  Paying the $17 million ransom was not possible for her, but it certainly was for Paul's grandfather.  Getty, Sr. shocked the public, however, when he refused to  pay any ransom at all.  "I have 14 other grandchildren and if I pay one penny now, then I'll have 14 kidnapped grandchildren," Getty said, in a line included in All the Money in the World.  There's a certain logic to that argument, but the movie also makes clear that Getty simply didn't want to part with his money.  He was so parsimonious that he installed a payphone in his London home for the use of guests.  When he finally relented to Gail Harris' pleading and agreed to pay part of the demanded ransom, he limited himself to an amount that was tax deductible and gave the rest of the much reduced ransom (down to around $3 million) as a loan, at 4% interest, to be repaid by his son.
It would be easy to portray Getty simply as a stone cold monster (and the more one reads about his life, the more fitting that seems), but Plummer's handling of the character is more complex and far more interesting.  His malevolence is delivered with a twinkle in the eye.  He seems a doting grandfather to the young Paul in flashbacks, but he is a sinister mentor, having the little boy write dismissive replies to letters begging the senior Getty for financial help.  Gail Harris (Michelle Williams) sees Getty for who he is but desperately needs his help.  She appeals to his pride and vanity, flatters when it seems wise, and tries at all times to keep the family poison out of her own system.  Michelle Williams is one of the best actresses of her generation, and more than holds her own against Plummer's powerhouse performance.  She is physically delicate with a core of steel.  Mark Wahlberg plays the head of Getty's security, assigned to "solve" the kidnapping case.  He is solid, sometimes stolid, by all accounts portrayed as more competent and heroic than the real Fletcher Chase.
And then there's Paul (Charlie Plummer).  His kidnapping drives the story, but he is a passive player, a lost boy held in dismal circumstances and brutalized, having his ear cut off by the increasingly desperate kidnappers.  It would be consoling to think that the happy ending of the movie, in which he is rescued after ransom is paid, led to a happy life.  That underestimates how deep the dysfunction in the Getty family went.  Paul may have escaped from being shackled in a cave, but he was never really a free man.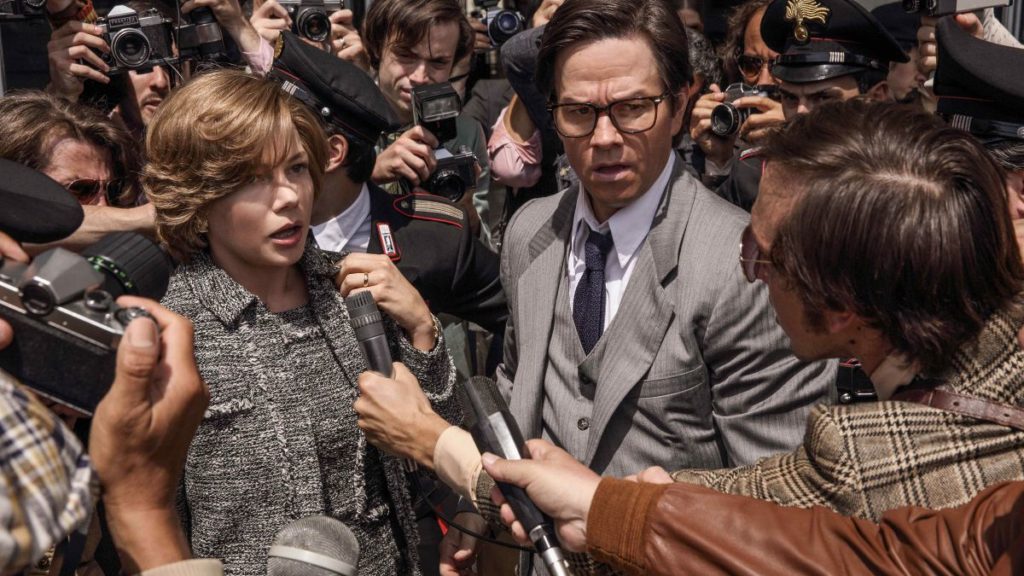 Excellent support comes from Romain Duris as a captor who becomes attached to Paul and sometimes seems to care more about the boy's survival than does Paul's extended family.  All the Money in the World also benefits from well executed period details, sharp cinematography from Dariusz Wolski, and a searing score from Daniel Pemberton.  The film only falters in the last act when screenwriter David Scarpa departs most dramatically from real events.  It becomes too obviously falsified in order to make Wahlberg's character a hero, and to provide a quick and satisfying comeuppance for J. Paul Getty.  If only life worked that way.  Perhaps Scarpa and Ridley Scott thought audiences would reject the sad coda of seeing Paul – who was really just a child – stagger out of captivity alone, or of knowing that his grandfather refused to take his call thanking him for the ransom payment.  So instead, at the end of an excellent film, we're given a false, very Hollywood finish.  That doesn't diminish the rest of the film by much, though – and it certainly doesn't diminish the extraordinary central performances and the directorial feat accomplished by Ridley Scott.