Lady Bird is the Best Comedy of the Year, and Easily a Contender for Best Picture of the Year.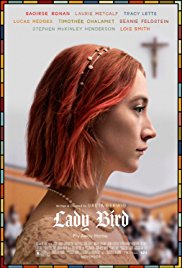 DIRECTED BY GRETA GERWIG/2017
I have been a fan of Greta Gerwig's enduring, and off-beat form of comedy since I first saw her in Frances Ha, and that appreciation grew as I saw her in other films, usually with Noah Baumbach directing, such as Greenberg, Mistress America, Maggie's Plan, more recently in 20th Century Women and Jackie.  Not just an actor, Ms. Gerwig was also the writer behind several of these films such as Frances Ha and Mistress America (which she co-wrote with Noah Baumbach), as well as what was her 2008 directorial debut, Nights and Weekends (co-written with co-star Joe Swanberg).
In each of her films, she offers a unique voice that resonates with the generation which was coming of age just around the time of 9/11 and the uncertainty of the world they were inheriting.  Always insightful and eternally hopeful, while intrinsically all-too-aware of the realities of our current state, Greta Gerwig is always a breath of fresh air as she uses her unique humor to reflect back a social commentary about our shared world in a way that is razor sharp and on-the-nose without a shred of cynicism or condemnation.  For her second film as a director, Lady Bird, which she alone wrote, Greta Gerwig delivers perhaps her strongest film to date, and one of this year's best films.
In short, Greta Gerwig has written and directed a coming of age story that is as close to perfect as one is likely to see this year, or in any year, with the film Lady Bird.
Christine McPherson (Saoirse Ronan-Brooklyn) may be her given name by her parents, but "Lady Bird" is her given name if anyone asks….as she has given that name to herself, by herself.  She is a high school girl who longs to leave the boring, small-time life in her native Sacramento, for the culturally enlightened places on the East Coast, proclaiming, "I hate California, I want to go to the east coast. I want to go where culture is like, New York, or Connecticut or New Hampshire."  She has lofty ideals, but is drowning in the sea of her own life.  Her father Larry (Tracy Letts-The Big Short), who often is quiet and submissive, is her anchor and her biggest fan.  Her mother Marion (Laurie Metcalf-Roseanne, Toy Story), on the other hand, is a more complicated person.  One moment she and her mother can be weeping together in the car as they listen to audiotapes of Steinbeck's Grapes of Wrath, and the next they could be screaming at each other, or throwing oneself out of a moving car to escape the other's barrage of negativity.
"Lady Bird" attends a catholic high-school where she on one hand participates in the mass, and then in the next moment she might be found lying on the floor in the locker room eating communion wafers like chips as she talks to her best friend Julie (Beanie Feldstein-Neighbors 2: Sorority Rising), or decorating headmaster Sister Sarah Joan's car (Lois Smith-Twister) with a "Just Married….to Jesus" post on the windows complete with strings of cans tied to the back bumper like a recent married couple's car might be decorated. She lives with her parents, her college drop-out of a brother Miguel (Jordan Rodrigues), and his girlfriend Shelly (Marielle Scott) in a small, modest house her parents bought 25 years ago on the "wrong side of the tracks" while longing to live in the large houses on the other side.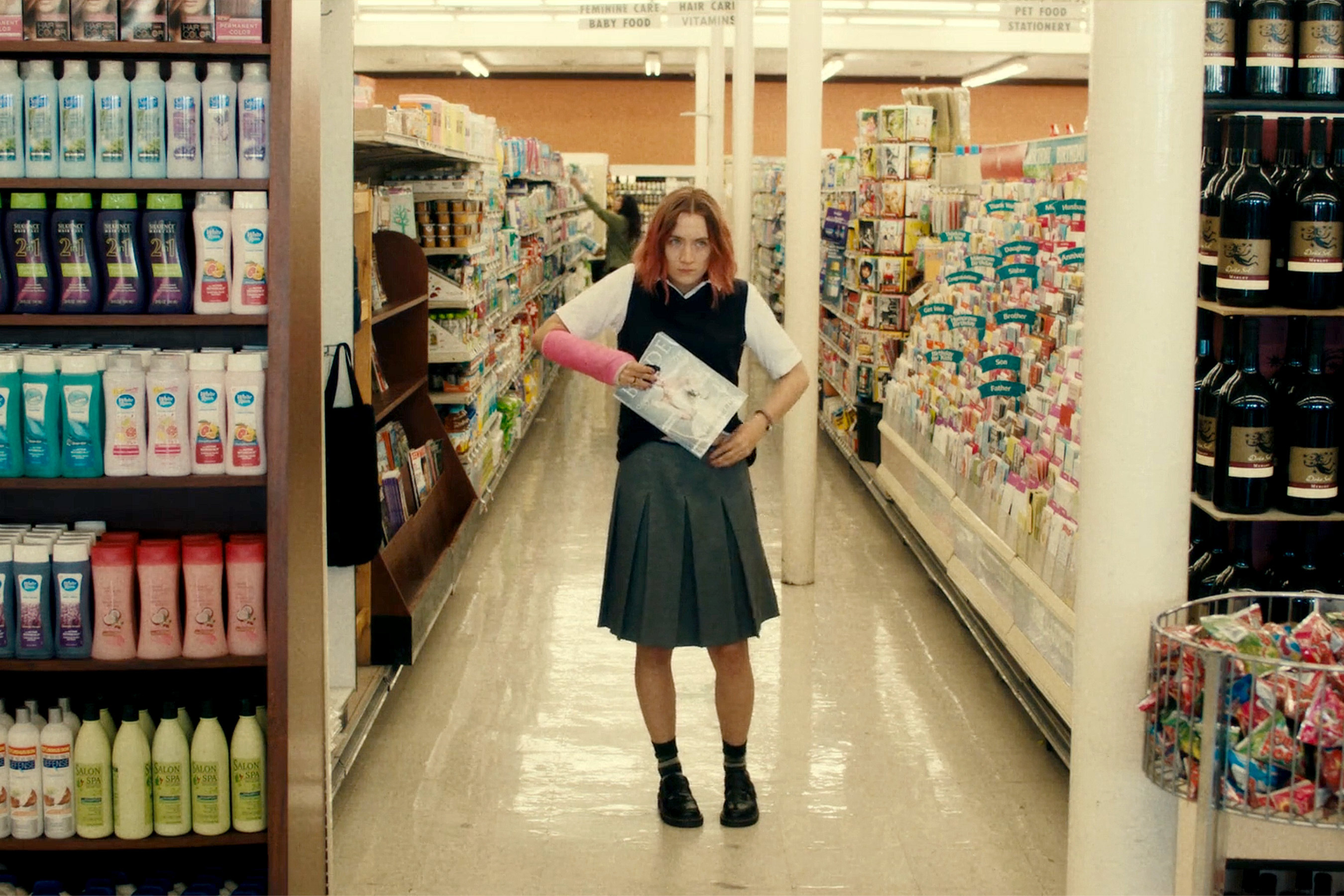 Lady Bird is the best comedy of the year, and easily a contender for Best Picture of the Year.  Gerwig's writing is crisp, clear, and not a hint of the dialogue feels written, or creatively manufactured,  but instead perfectly captures what real conversations look, sound, and feel like.  The cast is excellent, and Saoirse Ronan builds upon her wonderful performance in Brooklyn, and perfectly captures the teenage tension "Lady Bird" is living with of wanting to fly the nest and spread her wings, and yet still living at home.  She authentically embodies the desire to find true love, while realizing the reality of empty sex her first time when she discovers that the boy she has chosen to give her virginity to doesn't hold this same romantic version that she does.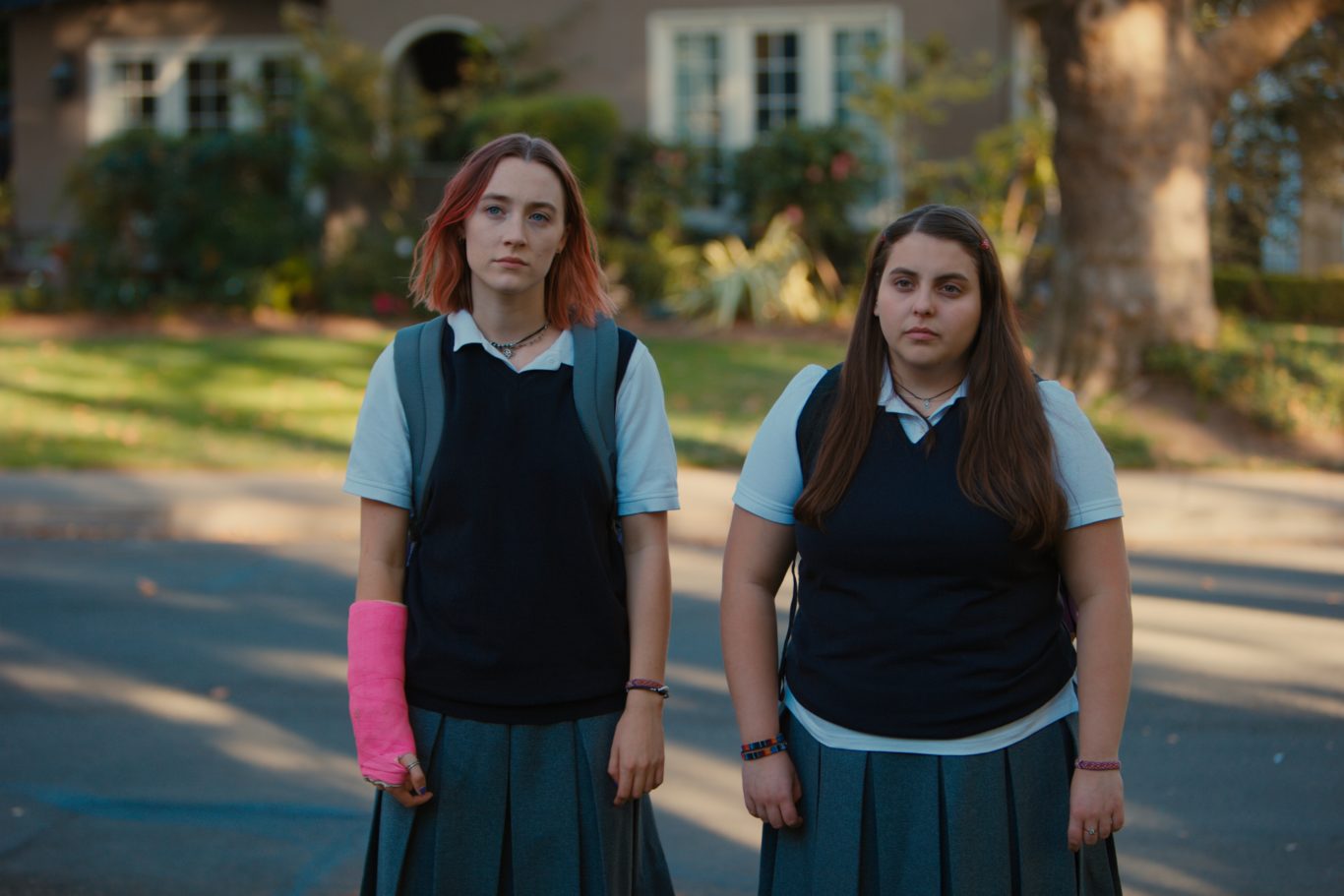 The film is irreverent, yet values the sacred nature of things like family, faith, and friendships.  No subject is above criticism in this film, but at the same time, nothing criticized is shown that it should be discarded either.  For those who are questioning everything and longing to find their true self, we find that often, the things we once criticized are often the very things we run back to to stay grounded.  Everything can have value. We see this in a touching scene where Sister Sarah Joan remarks, after reading one of "Lady Bird's" essays that it is obvious that "Lady Bird" loves Sacramento very much, despite a film's worth of evidence that she loathes it.  It is in this moment and ensuing dialogue that Lady Bird shows us one of the best examples and descriptions of what true love is, even in the tensions of life.
The film, while very funny, is also grounded in the realities of the world it exists in, like its writer/director Greta Gerwig, and doesn't shy away from some very deep subject matter.  A priest, often seen to be comforting others in his role, struggles with having no one to share his pain and struggles to as he privately seeks professional counseling.  We also see the heartbreaking struggle of a girls first heartbreak, coupled with the equally devastating struggle with it by "Lady Bird's" boyfriend Danny (Lucas Hedges-Manchester by the Sea, Three Billboards Outside Ebbing, Missouri).
We also see an honest portrayal of the economic struggles of a family and the effect it has on each member's attitude, notions of self-worth, and personal relationships with the other members of the family.  We see the effect not just of our own nature, but also how we learn from the way in which we were nurtured.  This is especially true of "Lady Bird's" mom and why she can't seem to not just love her daughter, but demonstrate that she likes her also.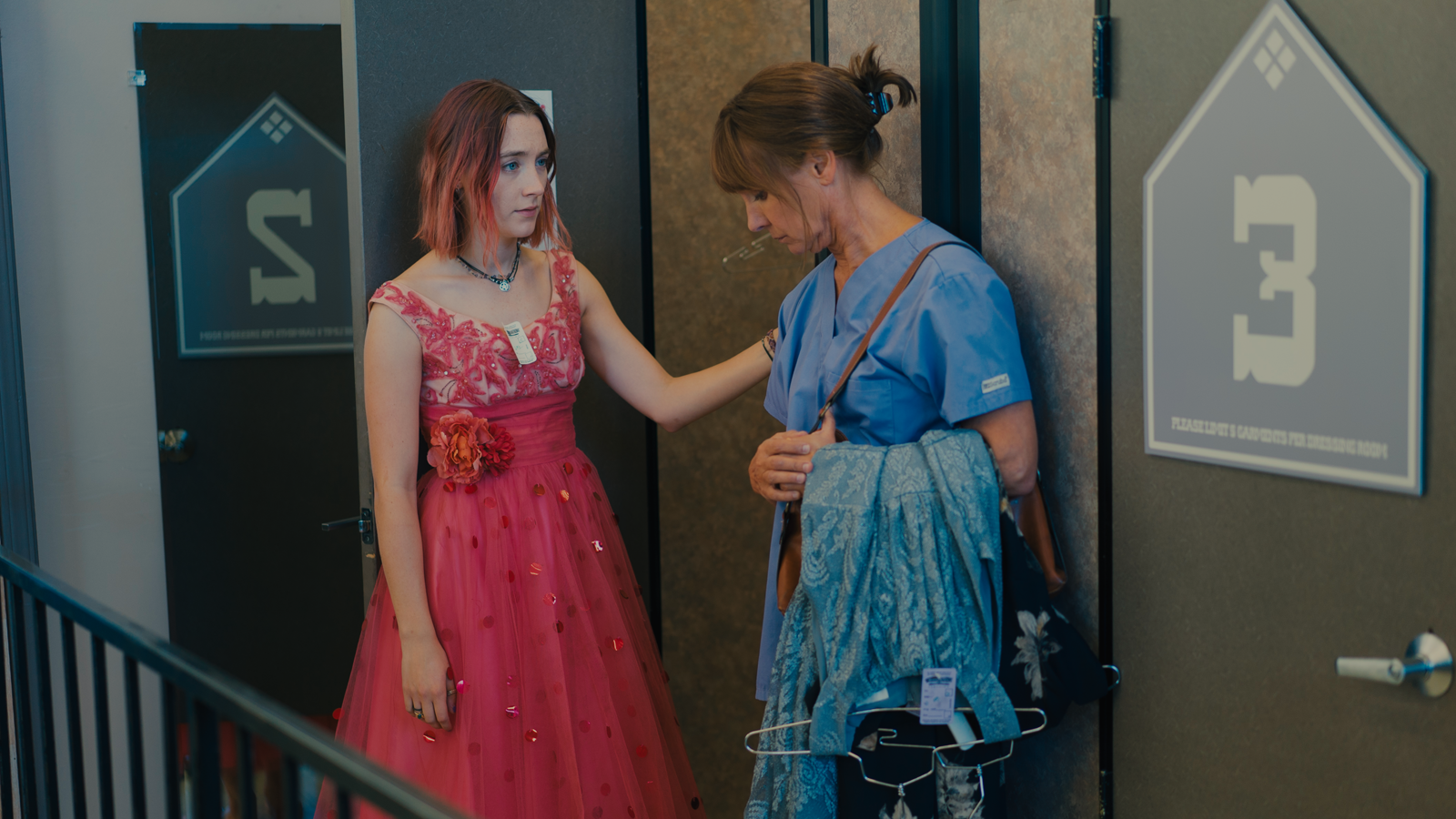 Lady Bird has already set records in its extremely limited release, scoring higher per-theater averages than any other female directed film before it.  As it opens wider this weekend, it is a film that must be seen by everyone.  In short, Greta Gerwig has written and directed a coming of age story that is as close to perfect as one is likely to see this year, or in any year, with the film Lady Bird.