Léa Seydoux is Thoroughly Blue, White, and Red in Bruno Dumont's Media-centric Melodrama
DIRECTED BY BRUNO DUMONT/FRENCH/2021
BLU-RAY STREET DATE: FEBRUARY 22, 2022/KINO LORBER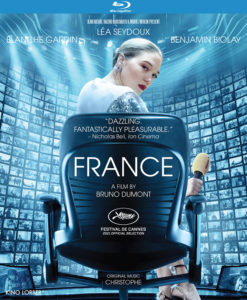 Where's France? Anyone who's made it through grade school would probably reply that it's in Europe. And of course, they wouldn't be incorrect. That, however, is not the France we're talking about. The full question is, where's France de Meur? Now, that inquiry is far more likely to be met with justified dumb looks and/or blank stares. After all, how could anyone know the constant whereabouts of the most on-the-move and most recognizable television newswoman in all of Paris?
Indeed, France is a movie about a journalist named France who lives and works in France. Directed with decompressed panache by Bruno Dumont (who's past association with the unsettling "New French Extremity" movement would be a stretch to invoke here), the film stars the ever-compelling, ever-expressive Léa Seydoux in the title role. One might expect France, what with its focus on contemporary journalism, to be a cynical and emotionally remote examination. And, one wouldn't be completely wrong in that expectation. But thankfully, that ever-predictable and tried-and-all-too-true take is not the central concern of Dumont. In fact, France pulls entirely the other way, revealing itself more and more to be a distinct melodrama.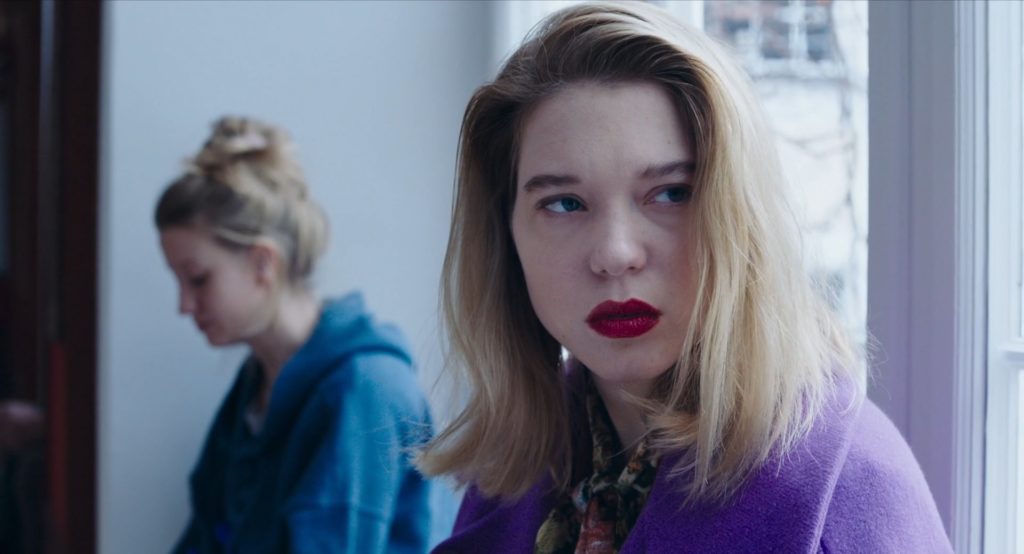 For the beguiling and talented Léa Seydoux, France is the lead role of a lifetime.  Although the one-time Blue is the Warmest Color/two-time James Bond actress may not strike one as the ideal lead in a character-driven expanse such as this, her casting proves fully inspired.  She's not here merely to pout or cry, and she's certainly not here to take her clothes off (as she's been relegated to doing in the past).  In her possession, the character France de Meur is a fully formed person who, though still on the young side, has been in the "adulting" game long enough to banish a variety of emotional callouses.  This is true of both her public life as a famous reporter and her private life as a detached wife (her husband played by Benjamin Biolay) and mother of a troubled ten-year-old boy.
Is France the resounding national commentary on its titular country and its director's homeland that one may assume? That's admittedly somewhat difficult for this midwestern American critic to definitively discern, although it seems thoroughly unlikely that there's zero such commentary baked in. The amount of Eiffel Tower peeking into so many of Dumont's pronounced framing; all the bright French flags flapping all throughout the film, the many corners of the country to which it goes (not just Paris)… all of these elements are of course fully intentional.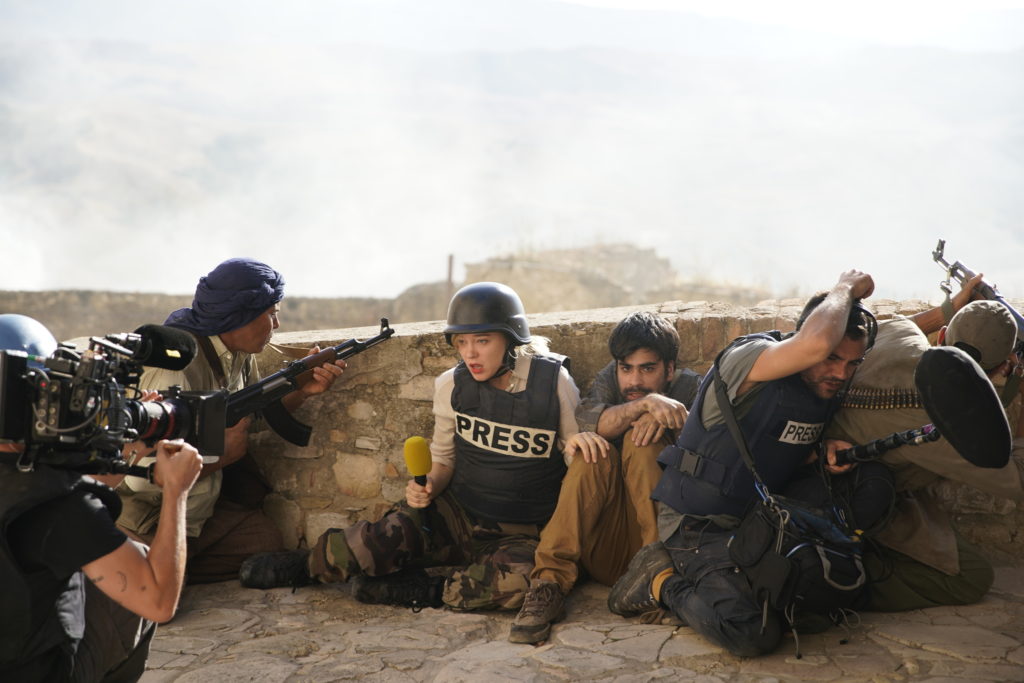 What can be said is that our protagonist begins on top of the world, and not by the end but by the middle of the story, she no longer is. The second half is the long, treacherous climb back. Challenges to her functionality and already-obscured selfhood rack up. All the while, we witness France's ego, learned (and often inappropriate) detachment, manipulative ways, and arrogance. Trying to pin down her internal whereabouts at any given time can be as difficult for us as it would be for her. Quite often, we simply ride along as she is moved passively through physical space. A revered, beautiful person but also unknowable and perhaps insufferable at times… Yeah, Dumont and Seydoux definitely have a national metaphor at work here.
Following its limited theatrical release, Kino Lorber has released France for home viewing.  With English subtitles and a robust soundscape for its nonconventional score (in part courtesy of the late composer Christophe, known for The Road to Salina), the Blu-ray edition stands as a welcome addition to any contemporary World Cinema home library.  Unfortunately, there are no bonus features aside from the trailer.  Still though, with this aloofly accomplished film on your shelf, you'd always know where France is.