The Late Sidney Poitier's Academy Award-Winning Performance Continues to Inspire
DIRECTED BY RALPH NELSON/1963
BLU-RAY STREET DATE: AUGUST 10, 2021/KL STUDIO CLASSICS
The recent passing of Sidney Poitier serves as an apt though mournful occasion for me to revisit Lilies of the Field, a 1963 film that stands as a significant landmark in his long and multi-faceted career. He was the first Black male actor to win an Academy Award, for his performance as Homer Smith, an itinerant laborer who takes room and board at a New Mexico convent for a few weeks and assists the nuns living there in building a chapel, pulling together a diverse community engaged in shared purpose along the way. In 2020, the movie was selected for inclusion in the Library of Congress National Film Registry and subsequently restored, which then led to its release last year on Blu-ray by Kino Lorber. 
Viewed today, especially by those who have never seen it before or lack a historical reference in which to engage with the film, Lilies of the Field presents some potential challenges as well as genuine pleasures. On the positive side, we are treated to a generous display of Poitier's on-screen charisma – his handsome physical features, the ease with which he commands and holds our attention as a leading man, and his ability to fluctuate between comedic and dramatic vignettes as the situation requires. The story is relatively simple, easily accessible and ultimately life-affirming, as we see Poitier's character graciously work his way through various incidents of cross-cultural miscommunication. The nuns are recently arrived immigrants from Germany, the locals are mostly people of Mexican heritage, and there's one white business owner who addresses Homer in stereotypically condescending terms, calling him "boy" for example – though this film takes a rather tame approach to addressing racism in comparison to many other movies that Poitier made both before and after Lilies of the Field. 
The reason for this somewhat timid approach to controversial issues quickly becomes clear as we recognize that the intention here is to provide winsome family entertainment that uplifts audiences of all backgrounds. Homer's encounters with casual racism and naïve assumptions about his abilities and character are for the most part mild and non-menacing, just enough to signal that he's being called upon to endure treatment that isn't quite fair and leading to Poitier's demonstration of dignity under pressure, a role he was cast into so frequently throughout the 1950s and 60s, to the point that the subtle variations in his response to such incidents can serve as a barometer of sorts as the state of the American civil rights movement at the time that the scenes were filmed. As the years went on, Poitier's characters became slightly more militant and confrontational, but at this stage, Homer Smith is much more conciliatory, bearing the struggle with poise and restraint at times, but mostly winning over those who might doubt him with resilient fortitude and a cheerful smile.
Likewise, the humorous bits are all presented 100% chaste and squeaky clean, as the nuns initially view Homer as a strange curiosity – a man in the convent, and a black one at that! – before he ultimately wins them over through his virtuous blend of hard work, good natured affability and his rendition of "Amen," a rousing, hand-clapping call-and-response gospel tune that became a popular hit in the midst of the folk music boom of the early 1960s and endures as a staple campfire singalong and congregational favorite to this day.
So with all that said, one's enjoyment of Lilies of the Field on its own terms is likely determined by the extent to which a 21st century viewer can approach it with the innocence and optimism that led to the film's creation. When it was shot in 1962, the USA was riveted by the emerging boldness of the civil rights movement and the prospect for racial reconciliation, mutual respect and understanding that it sought to achieve. While the movement was never anything less than controversial and provocative to the status quo, there was a sense in some quarters that once the issues were laid out plainly, once white people had an adequate opportunity to rethink their old assumptions and push outdated ways of thinking aside, a new paradigm could be established that would bring about a better and more cooperative future. At least, that seems to be the underlying aspiration that Lilies of the Field is pointing viewers toward, and that somewhat simplistic "moral of the story" was probably a significant factor in earning the film five nominations for Academy Awards. Though Poitier's Best Male Actor nom was the only winner, it was also given consideration for Best Picture, Best Supporting Actress (for Lilia Skala, who played the Mother Superior), along with Screenplay and Cinematography bids. That's pretty impressive recognition for a low-budget independent production that was shot outside of the then-faltering studio system. Clearly the film was able to both touch a nerve but also provided sufficient reassurance and consolation to gain the attention of many, as it became a surprising and beloved box office hit. 
Still, I need to acknowledge that there is probably a significant portion of today's audience that might be interested in deepening their familiarity with the work and legacy of Sidney Poitier and would find this film somewhat quaint and cloying, especially in comparison to many other roles he took on in earlier as well as later productions. Those who have an aversion to the phenomenon of the "magical Negro" archetype should be forewarned that Poitier's performance here checks most of the boxes – a Black character who comes into a situation seemingly out of nowhere, works diligently to address the problems of white protagonists, smiling his way through whatever demonstrations of bigotry he has to confront, and then just as mysteriously leaves the scene once the situation is improved and his work is done.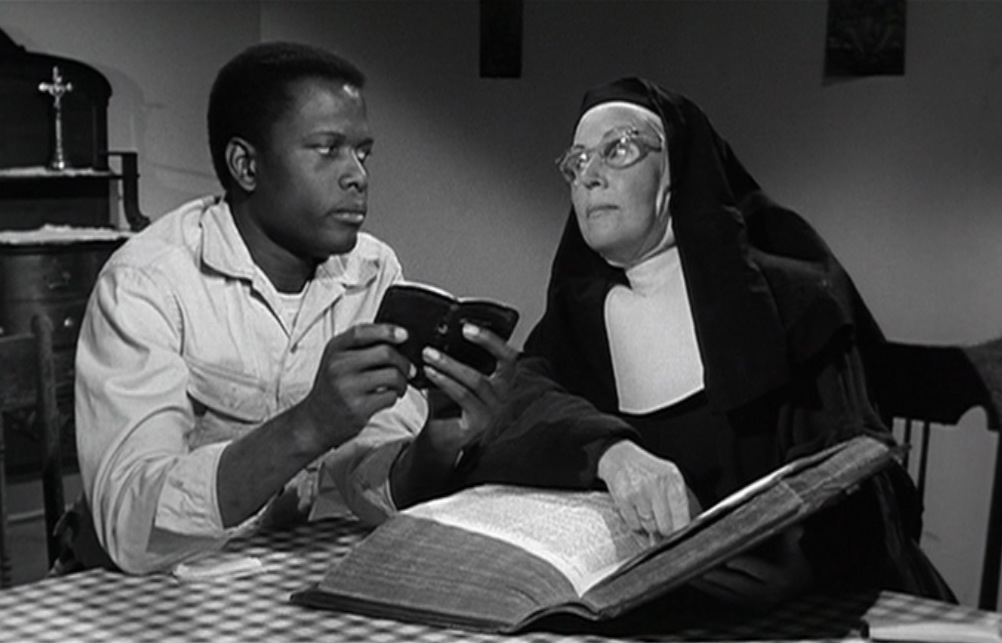 This issue is addressed at significant length in a valuable commentary track by Sergio Mims, included as a special feature on the Kino Lorber disc. Mims provides interesting background information about the  director Ralph Nelson, the film's function as a star vehicle for Poitier that wound up earning him a fortune as he worked for scale but also negotiated for a significant percentage of the gross receipts, and many other aspects of how the project came together. His speaking style is a bit halting at times, and there are even a few moments where he seems to draw a blank in making his point and apologizes for the delay in his delivery. (As a longtime podcaster myself, I could easily relate!) The commentary track also serves as an instantly dated snapshot as he speaks from within the context of the COVID-19 pandemic and expresses his gratitude that Sidney Poitier is "still with us" – even though that is now sadly not the case. Overall though, I am appreciative of Mims' perspective, as he forthrightly addresses the ample charms of Lilies of the Field along with some qualities that have not aged quite as well. 
Rounding out the disc is a generous selection of film trailers featuring Sidney Poitier – just a sample overall, most of which were mentioned at least once or twice on the commentary track. All in all, Kino Lorber's edition of Lilies of the Field looks to be about as definitive of a presentation as this landmark film is likely to get in the foreseeable future, and as such, it's an essential addition to any collection of Sidney Poitier's finest work on screen.