Jeff Chandler and Sidney Poitier Fuel Patton's Third Army in This Different Kind of WWII Film.
DIRECTED BY BUDD BOETTICHER/1953
BLU-RAY STREET DATE: AUGUST 18, 2020/KL STUDIO CLASSICS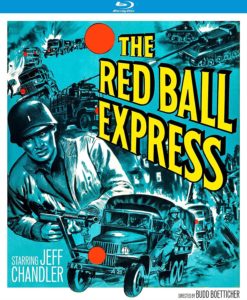 Stories of "the heroes behind the heroes" are far rarer than they ought to be.  For every grandstanding glory, there is always a team of devotees working diligently and selflessly to make victory possible.  It's the stories of these inglorious grunts that are all too often overlooked.  Something like Rogue One: A Star Wars Story comes to mind as a high-profile exception to the rule.  Considerably less prominent (insofar as it's off the collective radar by virtue of being an aged World War II film) is director Budd Boetticher's (The Tall T; Comanche Station) 1953 telling of The Red Ball Express.
Following D-Day in France, General George Patton's Third Army became a steamroller unto itself. Patton was famously churning across the country clearing "krauts" (as the U.S. soldiers derogatorily referred to their German opposition) at every opportunity. The whole world watched in awe as one character in the film puts it, "Patton is rewriting the rules of warfare". But a surge of such velocity needs constant support. This, historically, was the Red Ball Express- a 6000-truck supply line hauling food, fuel, and whatever else was essential for the Third Army to persevere.
The effectiveness of the Express as a well-oiled machine is, however, not lost on the Germans, who up their opposition in the form of ambushes, mines, and other traps.  This rising threat level imbues The Red Ball Express with a functional degree of suspense, if not all that much actual combat.  Taut but never tidy, Boetticher's fictionalized tribute to this continuous caravan of army trucks, ever loading and unloading and driving through some serious mud, was made with the full cooperation of the U.S. military.  Stocked with characters of all viable stripes (per the era), The Red Ball Express lands as not only as a diverse portrayal (not at all uncommon of World War II film depictions of the day, keen as they were to depict "melting pot brotherhood"), but one actively willing to actually talk about it.  
Sidney Poitier, in an early supporting role, imbues an upright dignity to his character's struggles with the racism he's all too often subjected to. According to Boetticher, however, that was as far as the Army let the filmmakers take it. The director has claimed that the true ethnic make-up of The Red Ball Express was far more black- more than sixty percent; specifically re-routed to this thankless grind for its perceived expendability. As Boetticher put it, it was a "kamikaze mission".
In any case, the film succeeds in and of itself, just as any film should.  Jeff Chandler (Man in the Shadow) is ideal as Lt. Chick Campbell, a "Jeff Chandler role" if ever there was one.   Although the detail he's heading up will never earn any medals, Campbell is nonetheless a man sturdy in his service and dedicated to his men and their mission.  But also, a shadow looms over him, as a festering animosity between him and fellow serviceman Sgt. Red Kallek (Alex Nicol), brews throughout the film.  Kallek holds Campbell responsible for the death of his brother, a trucking-related incident dating back to their civilian lives.  Chandler, utilized to his fullest in a dense and busy movie, is just steely enough to make us wonder if he indeed guilty of such a heinous thing.
The Red Ball Express doesn't hesitate to indulge in many familiar cliches of the WWII-subgenre (hello, pretty French girl on a bicycle!), though thanks in large part to its more unique subject matter, it is able to tweak them ever so slightly to satisfying results. For example, when Charles Drake's character makes the acquaintance of the pretty French girl on a bicycle, his emergency need to borrow her bicycle (more than once!) results in him having a more legit reason than the obvious one to stop in her village and find her. Also, the racial aspect discussed earlier pays off best in a scene consisting only of three black soldiers chatting about Poitier's plight. While the prevailing wisdom might register as a cop-out today, the fact that such a scene is even in this film speaks volumes in and of itself.
Kino Lorber Studio Classics' new Blu-ray release of The Red Ball Express features a commentary track by Filmmaker/Historian Steve Mitchell and Steven Jay Rubin, author of Combat Films: American Realism.  Mitchell refers to the film, with its respectable scope yet lack of much combat and propensity for stock footage, as a kind of "humble epic".  The implied dichotomy is not at all inaccurate.  Mitchell and Rubin are tremendously informative on the state of the combat film circa 1953, and how this one fit in.  It's a perfectly inviting, undizzying listen; one brewing continuously with interesting facts, thoughts, memories, and tidbits.
As Mitchell and Rubin studiously point out, Boetticher had a knack for filling the frame to with Army guys and their vehicular equipment. There's a lot going on throughout, but The Red Ball Express trucks along at a clip comparable to that of its titular subject matter. For fans of historical combat films, Budd Boetticher, Jeff Chandler, and Sidney Poitier, this is one ball that's a great catch.