Julie Andrews Brings Retro and Modern Together in Classic Musical
DIRECTOR: GEORGE ROY HILL/1967
BLU-RAY STREET DATE: AUGUST 24, 2021/KL STUDIO CLASSICS
Everything today makes yesterday slow, and here comes everything thoroughly modern!
Millie (Julie Andrews) is off to the city, chopping off her curls, and raising her hemlines. She'll work as a secretary, marry her boss (John Gavin), and learn all the new lingo and dance crazes. She'll make new friends at her women's hotel like the naïve Miss Dorothy (Mary Tyler Moore), she'll get a little mixed up in her feelings for the sweet Jimmy (James Fox), and she'll meet larger-than-life characters like Muzzy (Carol Channing). But not everyone loves a "modern" (that is, someone who has embraced this new way of life), and if Millie doesn't watch out, she may disappear like many of the other girls at the Priscilla Hotel for Single Young Ladies.
But before Millie discovers there's an ominous threat lurking in the background, all she sees is a teriff world just a few degrees shy of the silent films of the 1920s. With homages to the comedy of Buster Keaton and Harold Lloyd (like Safety Last!), title cards featuring Millie's thoughts (such as "Gee, I wish my fronts were so full…they sure ruin the line of your beads," when she's attempting the flapper look), and a syncopated score (Elmer Bernstein's only Oscar win), the style feels like a time machine to 40 years earlier. Since it's set just a few years before the Great Depression, we can just go ahead and call this a practice run for director George Roy Hill's 1973 Best Picture winner The Sting—well, if the The Sting had song and dance numbers.
Hill may be best remembered for his Newman and Redford collabs, but Millie is so breezy and assured it makes you wonder what his career might have looked like if he's made more musicals. I do love imagining Paul Newman and Robert Redford tap-tap-tapping away, but they'd be no match for Andrews and Moore on an elevator. His leading ladies lead this mix of original songs and Jazz Age tunes with the same breezy confidence as their director, and they're matched with a supporting cast that could have stolen the show from them if the edit wasn't careful. 
Another pair that could steal the show: Author/film historian Lee Gambin and art historian Ian McAnally, the commentators on this Kino Lorber release. I can usually take or leave commentary tracks, but Gambin and McAnally provide helpful historical context the entire run of the film that makes a world of difference in how you watch it. With resources as varied as the silent films of the '20s and Julie Andrews' memoir, the duo put this film in context of musical history as well as the messages of the contemporary '60s cultural revolution.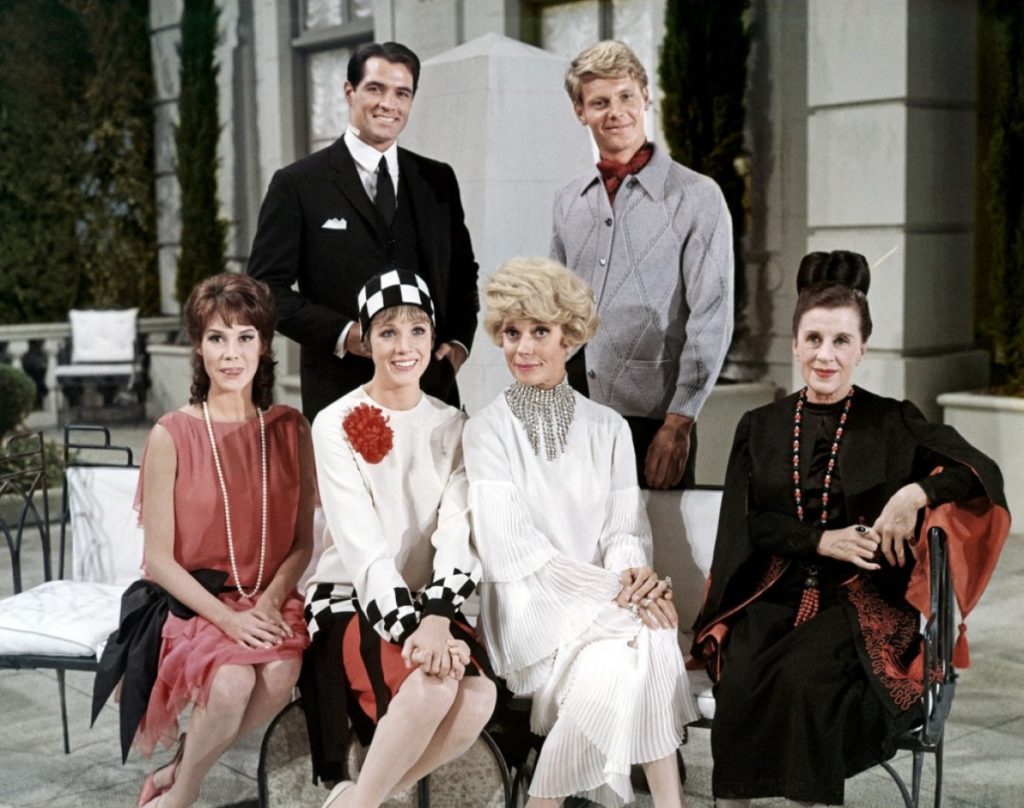 The pair are especially helpful when wading through the kidnapping subplot, which has aged as poorly as you would expect for stereotypes at home in Breakfast at Tiffany's. One of the film's establishing shots zooms in on a newspaper with the headline "INNOCENT GIRLS SOLD INTO WHITE SLAVERY" and then subjects Jack Soo and Pat Morita to roles credited as "Oriental #1" and "Oriental #2." Unlike Breakfast at Tiffany's, this storyline is too integral to the story to cut out and too prominent to be forgettable, which is why modern stage adaptations are still working through how to update it for today's audiences.
In spite of that thread (which, at best, we can called dated), Thoroughly Modern Millie still has a lot to love, including another more relevant story exploring women's roles in society and how older women help (or, in the case of Beatrice Lillie's Mrs. Mears, hurt) the next generation along. What the musical is best remembered for, though, is the swinging music, jazzy costumes, and tap-heavy choreography, which haven't aged a bit—in fact, they still feel thoroughly modern.