Action, Intelligence, and Locomotives Collide in Burt Lancaster Wartime Vehicle
DIRECTED BY JOHN FRANKENHEIMER/1964
BLU-RAY STREET DATE: JANUARY 5, 2021/KL STUDIO CLASSICS
Ramrodding across the French countryside with a bullet and Burt Lancaster is The Train, a tightly wound 1960s wartime action thriller.  Conducting the perilous trip is director John Frankenheimer, veteran helmer of 1962's The Manchurian Candidate and three other Lancaster vehicles.  (Ultimately, the pair would work together five times).
It's true that Frankenheimer has his leading man to thank for this nineteen-ton gig.  The Train initially burned through two other directors, including future Bonnie and Clyde director Arthur Penn, before landing the visionary Frankenheimer.  But while it's true that Lancaster may've had The Juice on set, Frankenheimer was fully engaged in pulling his unique switches and stops.  Being what is quite likely the final black and white studio blockbuster, this high-stakes big-budget men-on-a-mission production delivers the filmmaker's by-then signature deep focus compositions, affinity for abrupt cuts, and, for good measure, an unresolvable, ever-debatable moral load.  
As far as MacGuffins go, The Train is fully loaded. A museum's worth of history's greatest French paintings have been hastily crated up and thrown onto freight cars headed from their native country to Berlin. It's well into the fourth year of Nazi occupation in France, though with the war in its waning days, liberation is nigh. In a desperate attempt, then, to steal the motherload of Renoirs, Monets, Van Goghs, and the like, high-ranking art appreciator German Colonel Franz von Waldheim (a precisely seething Paul Scofield) puts his final move into motion. The priceless "degenerate art" of France (which he knows he should hate, but instead adores) will be his… unless a handful of French resistance operatives led by Burt Lancaster can stop them.
"Degenerate"… For centuries, conservatives the world over have liberally applied that describer in the interest of snuffing out opinions, artwork, and performances which they claimed to have found offensive to their perceived way of life. For Hitler's National Socialist German Workers' Party, the labeling of certain art as "degenerate", and subsequent banishment of said art, was routine in its viral sweep through its territories. Confiscated and verboten artworks included anything that might evoke sympathies outside the lethally ridged Third Reich worldview- varying races commingling, abstractions, implied power to the people, et cetra.
In the true-life case on which The Train is premised, the artwork's perceived value, historical or otherwise, carries less significance to Joseph Goebbels and his thugs than their dictatorial need to suppress it in the interest of their own stifling worldview. While there was a true-life attempt to do what Scofield's character attempts, that story is not nearly so exciting. The French resistance used bureaucracy, not bullets, to keep the actual train from running on time. (It never left the area). Lancaster though, looking for an action vehicle, mandated plenty of milage, munitions, machine gun fire, and major mangling of metal. The trick is to derail the train without harming its precious cargo. In realizing this story, Frankenheimer's job is to not derail The Train.
The question that the film posits is, "Is it worth it?"  Our main French resistance fighter Labiche (commandingly played by salt-of-the-earth style by Lancaster, making no attempt to sell viewers on his Frenchness) knows that people will die as the mission to save the paintings is executed.  When it comes to nationally defining artworks, are retaining them worth a single human life?  George Clooney's refreshingly old fashioned but woefully received 2014 film The Monuments Men covered much of the same moral ground, though Frankenheimer, in his ultimate refusal to land hard on one side or the other (much less sermonize as Clooney is wont to do) goes down with considerably more gravitas.
KL Studio Classics Blu-ray special edition of The Train is a terrific package that fans of Lancaster, Frankenheimer, locomotives, or war films will not want to miss. As presented here, one could get lost in the black and white deep focus photography. From the smallest details of sweat mingling with coal dirt to the film's grandiose embrace of entirely real locations and the muscle-managed mechanics of railroad work- every pained squint and rumple as Lancaster performs his own stunts- this disc shows it all off in sleek fashion.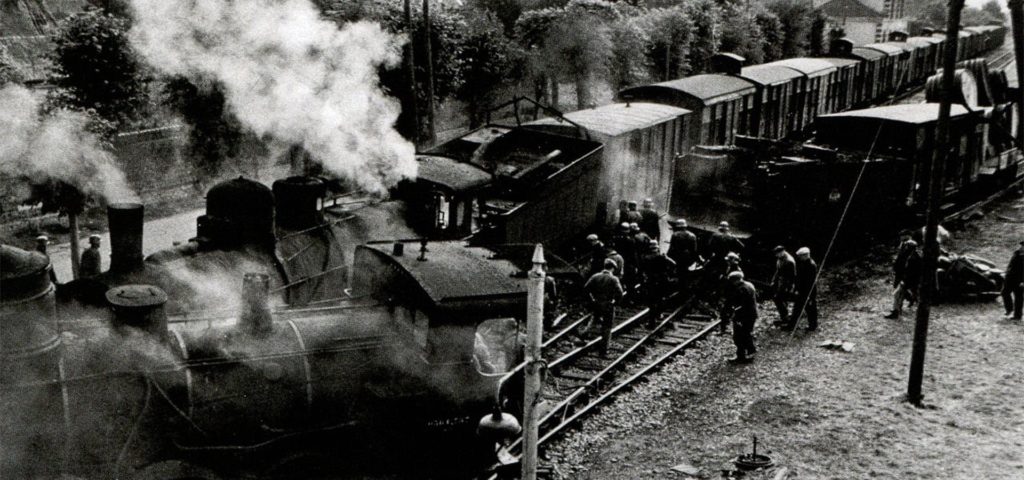 Bonus features include two optional audio commentary tracks and the robust isolated musical score by the great Maurice Jarre. The first track, featuring the late John Frankenheimer himself, is obviously an older recording (the director died in 2002 at age seventy-two), and is rife with lulls. Still, it's good to be able to hear from the filmmaker himself when it comes to one of his greatest works. The other commentary, a new one with filmmaker/historian Steve Mitchell and Combat Films: American Realism author Steven Jay Rubin, is far more formidable. The pair give particular attention to historical detail and whatnot while also detailing the production itself and its many challenges. Australian filmmaker Brian Trenchard-Smith hosts a brief "Trailers from Hell" segment on The Train, and Julie Kirgo provides an eight-page essay in the included glossy booklet.
Frankenheimer's trademark fragmentation assembly plays as more of a straight-down-the-line fluid experience than in some of his later high-speed attempts (Grand Prix, Ronin).  For this reason, among others, The Train advances as one of the finest of the director's half-century career.  For Lancaster, it proved to be a needed win in a momentary box office dip in his ultimately remarkable career.  History buffs, however, might be quite hesitant to board The Train, as highly fictionalized and adrenalized as it is.  (Though one hopes that no one is coming to movies to study history).  All in all, Frankenheimer made certain that The Train was bound for glory.