Joanne Dru and Company Dive for 3-D Treasure Hunt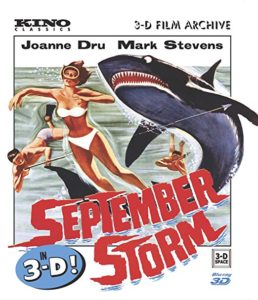 DIRECTED BY BYRON HASKIN/1960
STREET DATE: MARCH 28, 2017/KINO CLASSICS
Diving headlong into the 3-D movie craze of the late 1950s and early 1960s was the seafaring treasure hunt film September Storm. Mostly a ship-bound four-hander, September Storm follows a mismatched quartet of explorers in search of a rumored trove of sunken gold coins.
Thrust together on the fly, this is not a trustworthy lot, to say the least. The biggest name in the cast is Joanne Dru (She Wore a Yellow Ribbon, Red River), playing a gold digging woman of class. When she arrives for the expedition, its with no less than two large handbags and a poor servant carrying four matching suitcases. She gets the best room, despite serving no onboard purpose aside from eye candy. Dru is a compelling presence, silently upstaging her costars even when she's not doing anything. A shift of her eye, a nudge of her eyebrow, and that's it. The frame belongs to her.
Historically speaking, September Storm has the delineation of being the first CinemaScope 3-D movie. Perhaps that's part of the appeal?
Vying hopelessly for her attention (forget her affection) are Mark Stevens as the cocky man with the plan (but badly in need of a new shirt), Robert Strauss as his irritating crony, and newcomer Asher Dann as the young yacht hand who's convinced to take out his absent boss' vessel for this excursion.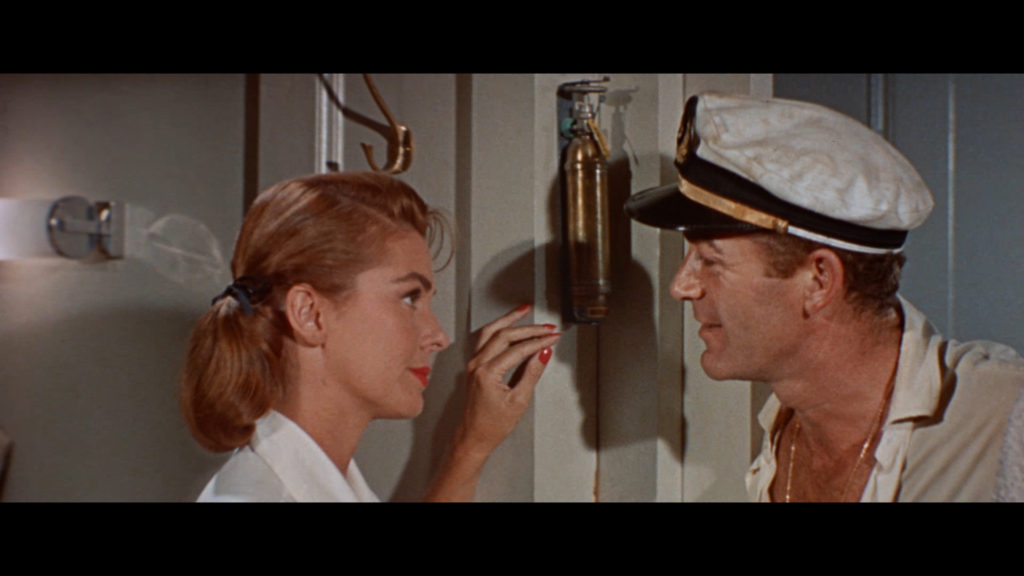 Per the screenplay by legendary screenwriter W.R. Burnett (The Asphalt Jungle, Scarface), no one trusts anyone, nor should they. The groundwork for a good backbiting crime tale on the high seas is in place, but director Byron Haskin (The War of the Worlds, Robinson Crusoe on Mars) is pretty clearly out of his element, never able to cultivate the proper intensity.
The titular storm strikes about midway through the relatively short movie, and lasts only a few minutes. Without consequence or even evidence, it moves on. As does the story. Sort of.
This restoration of September Storm arrives on 3-D Blu-Ray courtesy of Kino Classics, and was made possible through a successful Kickstarter campaign championed by the 3-D Film Archive. While any film restoration is a valiant thing, one can't help but question the mission of prioritizing this subpar work over other more noteworthy distressed films of the past. (Not that the two are of equal circumstancial comparison, but a recent crowdfunding effort to finally complete Orson Welles The Other Side of the Wind infamously crashed and burned.)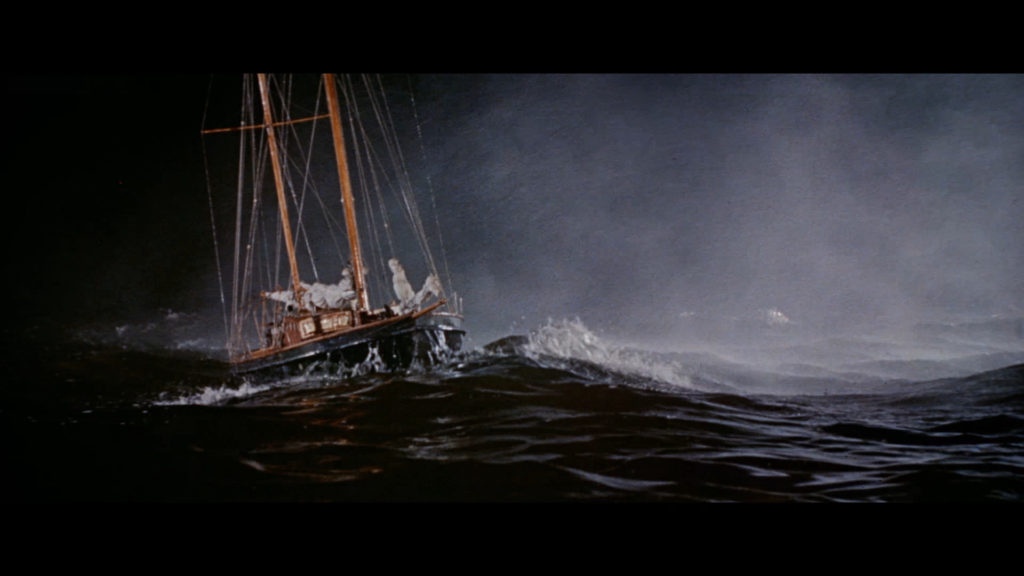 Historically speaking, September Storm has the delineation of being the first CinemaScope 3-D movie. Perhaps that's part of the appeal? Joanne Dru in a white bikini getting chased by a shark, as pictured on the poster illustration, shouldn't be taken into account, seeing how Dru never wears that outfit nor attracts that shark. At one point in the film, however, a shark does ominously swim by.
Best as I can figure, for the fans who rallied to make this happen, old tyme 3-D is less about the things that make a conventional film worthwhile, but more about a particular time or a space; a movement, a moment, when the technology was new and fresh and promising. And above all, fun.
If only September Storm itself were more fun. Nostalgia, whether firsthand, secondhand, or other, can be a strong, if slippery motivator. Sadly, the restoration of this 1960 release doesn't even look that impressive. That said, I'm operating solely from having seen only the 2-D version of the film, which of course can't be said to be the true main attraction here. Perhaps the 3-D version is a comparative revelation. I do have a hard time imaging how it's "Stereo-Vision" would enhance the overall proceedings, though. Maybe the underwater photography is less murky and deeper in the intended 3-D version? Maybe?
The disc as a whole is best looked upon as a decent little trove of vintage 3-D rarities and recollections, with September Storm merely the featured attraction. Also included is the charming stop-motion short Sam Space, and the wonderful Lewis Gilbert-directed twenty-eight minute musical/variety piece, Harmony Lane. For my money, Harmony Lane is the undisputed highlight of the package, not contingent upon the 3-D gimmick. All are here in both 2-D and 3-D.
Additionally, there's a new interview with actor Asher Dann (interestingly shot in 3-D, just for the heck of it), a trailer, a TV spot, and a quick clip of Lewis Gilbert reminiscing about Harmony Lane.
The Blu-Ray cover of September Storm makes it clear that it's stereoscopic technology is the real star. No less than four times does it remind us that this is in 3-D!!! For those happy to see technology take center stage, and own the necessary player and monitor to accommodate it, September Storm might just be a satisfying caper. For anyone else seeking a widescreen tropical deep sea treasure hunt from the same era, try the Kino Lorber Blu-Ray release of The Boy on a Dolphin, starring Sophia Loren.